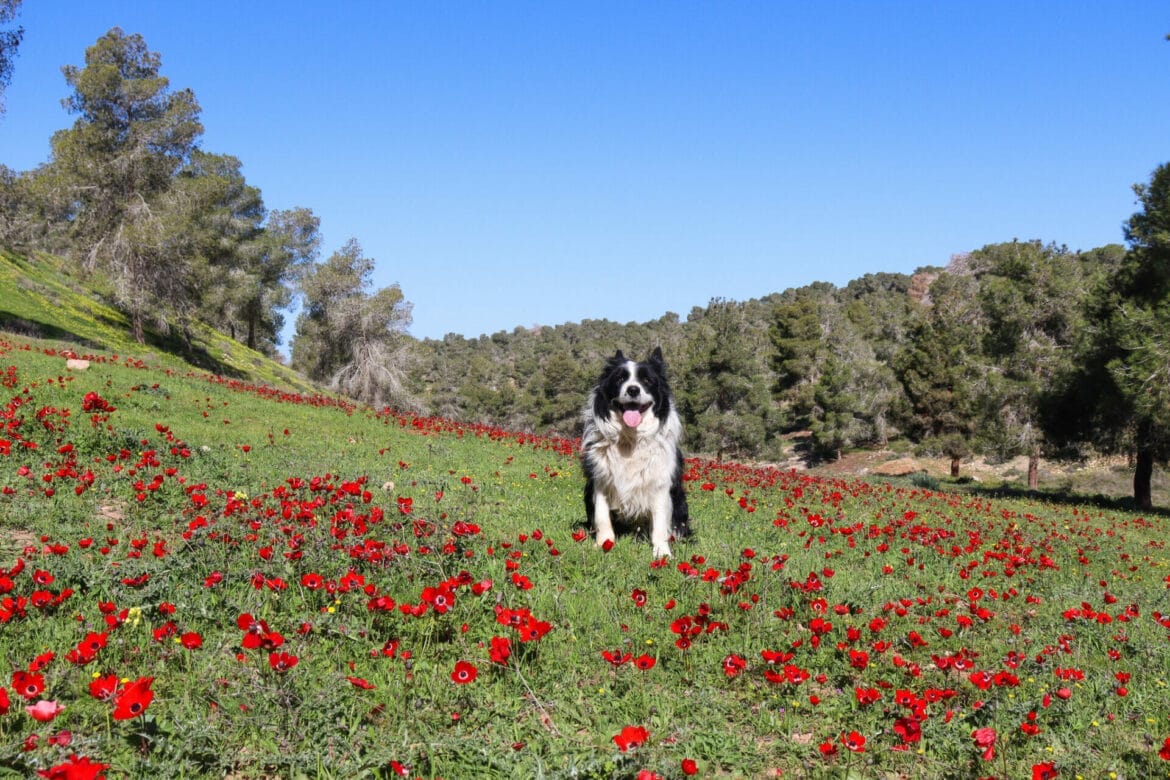 Click here to go straight to hike notes.
There are some trails that are best hiked during a particular season. In Israel, water hikes are a welcome escape from the Mediterranean heat in the summertime. Natural springs are at their best in the springtime. And for flowers, the time to hike is the wintertime. During the rainy days of winter in Israel, many trails that are a bit Ho hum during summer and fall turn into Wow!
Two Fridays ago, we hiked one such trail, a 7 kilometer loop at Sansana Forest. This forest south of Beit Guvrin is technically located in Southern Israel, an area known for deserts and flatlands. But in early March at Sansana, with everything green and blossoming under a forest of pine trees, it didn't feel much like a trail in the south.
Between the green grasses and the fields of bouncy mustard blossoms, the trail at Sansana Forest was lush and beautiful. On this low key hike, we didn't have any major stops for cool lookouts or underground caves (although there were a few ancient olive presses along the trail). But we didn't miss them – we were too absorbed in the spring beauty and quiet pace at Sansana to want anything more.
I don't have a lot to write about this trail. All I really need to do is put up a few pictures of the many, many wildflowers. But despite its quieter nature, Sansana Forest is the great choice for a moderate hike on a late winter morning.
Here's how we hiked this 7 kilometer loop at Sansana Forest:
Haven't Done This in a While
We pulled off the road onto the path and parked our car. Stepping out, we found green markers and began following a trail into the forest.
It had been quite a while since our last hike on a forest trail. On the cold wintry days of the past few months, we had been eager to get out into the sun as much as possible. But this forest trail couldn't have come at a better time. That morning, it was sunny outside, and even a little warm. We welcomed the escape from the harsh rays of the sun that the pine forest gave us.
One thing was certain– this was going to be a quiet hike. Although we would be hiking on the Israel Trail as part of this circuit, there was almost no one else around.
Soon, we reached our first field of red anemones. It seemed to go on forever.
Picture Time
I've taken a lot of pictures of anemones this winter. But I see that as no reason to stop! As I gazed upon the now familiar sight of an endless sea of red anemones, I remembered that, quite soon, these flowers would all fade away. In a matter of weeks, there would be no red anemones left to take pictures of.
So, I got down low to the ground and started snapping away – pictures of red anemones next to the forest, pictures of our dog prancing through the flowers.
I could already tell that wildflowers were going to be the main attraction on this hike.
Onto the Israel Trail
Next, we crossed through the forest on the Israel Trail, passing by the road as we hiked. This part of the trail was absolutely overflowing with cheery yellow mustard blossoms. They climbed up in the shadows underneath the trees, forming a bouncy yellow carpet that was just too beautiful to not notice.
Deep in the valley underneath the trees, we could see Nahal Sansana (Sansana Stream), also filled with yellow mustard blossoms.
After a little bit of walking, we escaped the traffic noise, and reached a spot where rows of trees were beginning to emerge from their winter slumber. Little leaves poked out of every small branch. Beneath the trees, yellow flowers danced in the gentle wind.
It was a perfect scene.
Where Do We Go from Here?
Soon, we left the Israel Trail to get onto, strangely enough, a purple marked trail. Purple is not a typical color for trail markers in Israel, but they were there alright, faded purple markers along the path.
We walked past fields of green grain and into a forest. We had seen lots of beautiful areas filled with flowers. But now, the flowers appeared in patches here and there, in little spots of sunlight that filtered through the trees.
It was getting late in the morning, and we were ready to stop for coffee. We found a spot under the trees, between a patch of red cyclamen and a cluster of yellow mustard. This perfectly quiet place in Sansana Forest was going to be our coffee spot this morning.
It wasn't the most beautiful spot we've ever stopped in, but it was supremely peaceful. And we settled into the pace of nature as we relaxed between the flowers and the trees.
More of the Same – Awesome!
After breakfast, we found the green trail (which was much less well-marked than the purple trail) and followed it through the trees along a narrow pathway. I couldn't stop myself from breaking away from the path to walk through the tall yellow flowers, blossoming with careless abandon just about everywhere.
Although there weren't supposed to be any big caves or structures along this trail, we did stumble upon an ancient olive press or two, on the side of the trail. Soon, we emerged form the trees into the sunshine. We got onto the black trail and followed a wide flat dust path all the way back to our car.
Our hike at the Sansana Forest had been just what we needed that morning: a relaxing jaunt through a pretty place. This forest trail in the south is a great choice for a chilled out, flower filled hike on a late winter morning.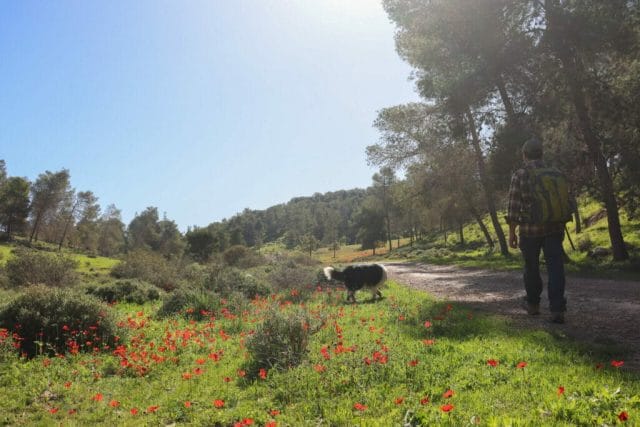 Hikers' Notes:
Here's what you need to hike this trail at Sansana Forest:
This trail is best suited to cooler days in winter and springtime.
Suitable for dogs.
This is a circular trail
To follow the trail, use the Google Earth file in the table at the top of the page.
The trail colors should be easy to follow for most of the hike, but there are some difficulties. After parking, walk to the right on the green trail. Follow green to Shvil Yisrael Trail (orange, white, blue). Turn right onto shvil yisrael. Follow shvil yisrael past blue until you reach the purple trail after the underpass. Then follow the purple trail. When you reach the blue/purple crossroads, there is also a poorly marked green trail to the left ( a cycling trail - trail markers appear in the opposite direction from the one you are walking). Follow green through the forest. When. you see the road down below, walk through the forest to reach it. Then turn right to follow the black trail back to your car.
Wear good walking shoes and sun protection and bring plenty of water to hike this trail.
Don't forget to read my guide to the navigational features in this post before you hit the trail!
Trail map from Amud Anan.
Questions? Have you hiked this trail at Sansana Forest? Let's hear about it in the comments!
Hiking can be dangerous and is done entirely at your own risk. Information is provided free of charge; it is each hiker's responsibility to check it and navigate using a map and compass.