Has this ever happened to you?
The alarm goes off at 4:30 AM. You dress, get ready, and head down to the car. As you settle in for a long ride into the desert for a sunrise hike, you look at the map to nail down the details of the trek your husband kindly planned late the night before. And that's when it hits you: you've already hiked this trail. And it wasn't even that great.
This doesn't happen to most people. But this is just what happened to us last week on our way towards Arad for a sunrise hike. That morning at 5 AM, bags packed and dog in the car, we had no choice but to plan an entirely new hike on the fly.
After some time with the map, it became clear that we had hiked all of the circular trails around Arad. Unless we wanted to hike 25 kilometers that morning (which we really didn't have time for), we were going to have to hike a one-way trail.
That opened things up quite a bit! I zeroed in on one long section of the Israel Trail through a canyon that we had never climbed through before, Nahal Kanfan.
If we hiked the trail from just outside of Arad towards a campground further south, it would be about 16 kilometers – the perfect length for the time we had that morning. We weren't sure how we would get back to the car at the end with our border collie. We also weren't sure that this trail would be suitable for a dog at all. But we crossed our fingers and set out on the trail, hoping for the best.
As it turned out, this section of the Israel Trail through Nahal Kanfan was lovely. We got to enjoy lots of climbing through a cool canyon on a long stretch of trail. It was definitely not dog-friendly, but we helped our border collie through the hard parts.
Here's how we hiked this 16 kilometer trail along Nahal Kanfan near Arad:
Just After Sunrise
All of our indecisiveness in the morning had one negative side effect: we missed sunrise. Rather than catching this magical (but fleeting) time of day out on the trail, we spent the moments of sunrise driving from one spot to the next, looking for a suitable place to leave a car on our impromptu trail.
Finally, we settled on a patch of asphalt just outside of Arad (which was actually part of a cool abandoned runway that you can pretend to be a runaway spy on).  With the gentle morning light already filling the sky, we strapped on our backpacks and set out on an adventure.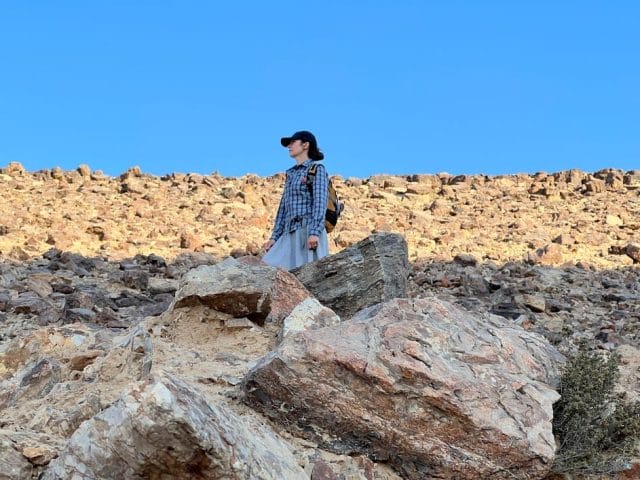 First, we had to find our way towards the Nahal. We followed sporadic trail markers through relatively flat terrain for quite some time, using Amud Anan for navigational support. Eventually, the trail dropped off the side of hill, into a rocky canyon below. We had reached Nahal Kanfan.
Life's Good in a Canyon
The minute we climbed into the canyon, the terrain became more varied and interesting. We took in the juxtaposition of smooth and jagged rock, white and tawny stone. And I always love climbing up and down over boulders, small stones, and other challenging terrain.
For the first several kilometers, the hike through Nahal Kanfan didn't' require any serious climbing. It was somewhat shallow, but still deep enough to provide plenty of shade in the early morning sunshine. On this part of the hike, we were able to lose ourselves in the scenery, the walk, and the wonderful feeling of being out on one of our first real desert hikes of the season.
Let's Stop and Feel the Silence
One of the best things about the desert is the silence. A couple of hours into the hike, we decided it was time to stop and soak it all in. Just up ahead, we could see that the canyon became deeper. On that part of the trail, we would be tackling more intense climbing and sliding, down into empty gevim (pools of standing water in the desert). Now would be the right time to take a break before the challenging part.
We set up on a smooth, flat rock and stared out at the blue sky and white cliffs just above.  Sitting there, in the silence of early morning, I felt so happy to be back in this gorgeous part of the country.  The desert is one of the few places in Israel where one can really get away from it all.  There was no noise in Nahal Kanfan: no other hikers, no traffic, just silence.
Climbing Fun
After our break, we were ready for the fun part: climbing down through the canyon over a series of rock slides and dry waterfalls.
As opposed to other desert canyons, Nahal Kanfan had no climbing rungs or ladders of any sort. That meant that we were left to our own devices, as we tried to figure out the best way to descend over smooth rock down towards the next level below. Some of these tricky spots were resolved fairly quickly. And some of them took a bit of time to negotiate.
Our Scottish border collie was out of his element on this challenging desert terrain. We had to help him down some of the steeper drops. But he made it through.
Had it been just a few months later, we would have needed water gear for this part of the trail. There were several empty gevim which we climbed through, all dry after the long summer season.
All Good Things Must Come to an End
Eventually, we climbed down the last dry waterfall and made our way out of the narrowest part of Nahal Kanfan . From here on in, we traveled on a wide path, set between tall cliffs. On top of one cliff, we could see a group of camels, looking quite at home in the desert.
This part of the trail was, surprisingly, the most challenging to follow. Although we were essentially just following the canyon, the marked path snaked back and forth in a confusing way, leading us from one side to another. Occasionally, we would lose the trail, and have to search it out again.
Soon, we reached a strange structure in the desert.  My husband climbed up on top (while I laid down in the shade below – I was tired!) and established that it was some sort of quarry.  Just a bit further along the trail, we began to see trucks driving back and forth through the desert towards a mineral factory.
Our hike through unspoiled desert was over. We called a taxi driver in Arad who agreed to take us back to the starting point, dog and all. Soon, we reached the highway where we waited for our ride.
This hike through Nahal Kanfan turned out to be a great mid-week excursion into nature. On this challenging trail near Arad, we enjoyed plenty of climbing fun, beauty, and desert serenity.
Hikers' Notes:
Here's what you need to know to hike through Nahal Kanfan near Arad:
This is a one-way trail.
This trail is not suitable for dogs.
This trail is best suited to cooler days in the fall, winter and spring. After the winter rains begin, there will be water in pools along the trail, which you may not be able to avoid going into.
Wear good hiking shoes (not sneakers) to hike this trail. Bring plenty of water and sun protection. Much of this trail is exposed to the sun.
Although this is the Israel Trail, the trail markers are not easy to follow. Many of them are faded and difficult to find. Use the Google Earth file in the table up top for assistance. If you lose the trail markers, go back to the last marker you saw and search out the next one.
Trail colors to follow: In addition to Israel Trail markers, you will see green, then black, then blue, then green again. During the last part of the hike in the wide canyon, you may see blue or black trail markers depending on where you are inside the canyon. This can be confusing. Try to just keep heading straight through the canyon and follow any Israel Trail markers you see.
Don't forget to read my guide to the navigational features in this post before you hit the trail!
Trail map from Amud Anan.
Questions? Have you hiked this trail at Nahal Kanfan? Let's hear about it in the comments!
Hiking can be dangerous and is done entirely at your own risk. Information is provided free of charge; it is each hiker's responsibility to check it and navigate using a map and compass.