Click here to go straight to hike notes.
At about 1000 kilometers in length, the world famous Israel Trail stretches from Northern Israel to the southernmost tip of the country in Eilat. Over the course of 1000 kilometers, you're bound to cross through many different types of terrain.
There are challenging stretches and easy stretches, beautiful stretches, and boring stretches. Of course, they are all worth hiking. Traversing the country from top to bottom can give a person a deeper and more complete understanding of the Land of Israel, no matter the terrain.
But this variety makes it all the more thrilling when you encounter a truly spectacular section of the trail. That's what happened to us on the fourth part of our journey just a few weeks ago, when our Israel Trail group hiked from Nahal Dishon to Nahal Tzivon.
Of course, I knew it was going to be good before I even got there. In the springtime, Nahal Dishon is a beautiful, flowing stream. Having hiked there recently, I remembered that it was one of the prettiest, quietest water hikes in Northern Israel.
But I don't think we realized how amazing the full fourth day of the Israel Trail would be.

We began the day with a walk through the water, passing by rock formations in a dramatic valley while sloshing through a stream. After reaching one particularly beautiful pool, we hopped out and continued next to the stream, through a green valley.
Eventually we reached a quiet woodland (Baram Forest), then finished the day hiking up through a dark and twisty riverbed at Nahal Tzivon. The scenery was truly spectacular.
This was a hike that I would want to take all on its own, even if it wasn't part of a greater journey along the Trail. The Dishon Stream section was a perfect hike for a warm spring day.
Here's how we hiked the fourth segment of the Israel Trail, from Nahal Dishon to Nahal Tzivon:
Returning to a Favorite Place
We began the trail where we left off last time, at Alma Bridge which crosses over Nahal Dishon. After a short walk towards the stream, we reached a shady spot under a tree. There, we stopped for a quick cup of coffee and an explanation of the day's terrain.
The Dishon stream bubbled along just beneath us, right off the trail. Our guide for the day (Barak) suggested that we depart from the marked trail and actually walk through the water. Since the Israel Trail path was parallel to the river path, this wouldn't be difficult to do.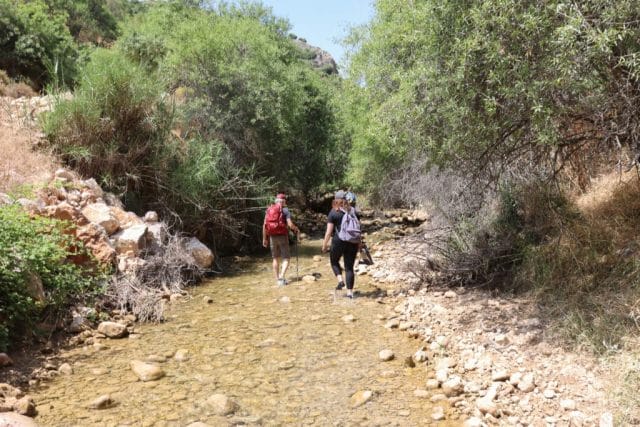 After a quick change in footwear, we descended into the stream where we continued our journey.
Splish, Splash!
Moving to the water turned out to be a great choice! On the long Israel Trail, you have to seize opportunities for extra beauty and excitement wherever you can get them.
The scenery inside of Nahal Dishon was uniquely beautiful. Between two green mountains, large rocks and boulders lay scattered through the stream. These rocks created little pools and waterfalls along the river where we walked. This made for a more adventurous hike. And it was nice to keep our feet cool in the stream.
After sloshing along through the water for quite some time, we reached a rockier area with deep pools. Although I was fully clothed (and wasn't planning on changing), I decided that I couldn't pass up the opportunity to go swimming in a waterfall pool. I crept down into the water with a few other hikers, and we enjoyed the refreshing spray of bubbly whitewater that formed in the Dishon Stream.
That turned out to be a good decision. Once we emerged from this section, we moved on over to solid ground feeling cool and wonderful. And I was dry in no time.
Cows, Purple Flowers, and Beautiful Scenery
After this pool, we returned to the main Israel Trail path, through pretty scenery next to a bubbling stream. There were cows clustered under shade trees, and there were oversized purple flowers that were almost as tall as we were.
Soon, the path took us near shady Baram Forest. It was getting late in the day at that point. Our walk through the Dishon Sream had taken some time. Luckily for us, there was a perfect place to stop and eat lunch just off the trail.
In the shade of the tall trees, we gathered round in a circle, ready to relax and drink hot tea. A gentle breeze blew through the trees. It was so relaxing there. And to make things even better, our guide Barak (who happened to also be a musician) took a simple instrument from his pocket and began to play.
I can think of no better way to eat lunch than under a canopy of trees, with a breeze blowing, tea in hand, and listening to the sound of music.
Twisty Beauty at Nahal Tzivon
After our lunch break, we picked up and moved on. We continued along the Dishon Stream, through the Baram Forest for a little bit longer. Then, we turned onto the blue trail and began hiking through shady, Nahal Tzivon. The trail at this twisty stream bed was made up of rocks and tree roots.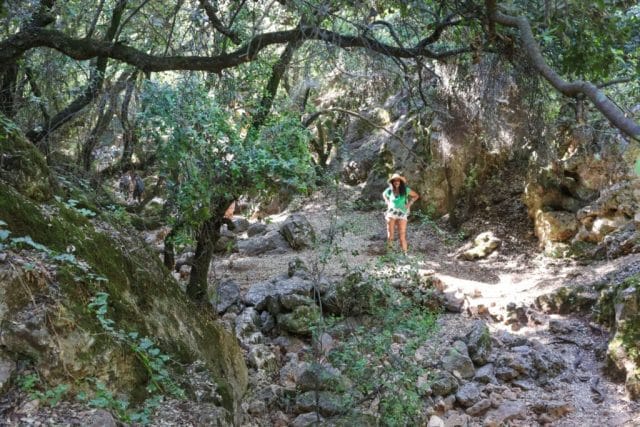 Up we climbed through the shadows. This was probably the most technical part of the day, and we had to take it slowly as we navigated the rocky pathway. But it was supremely beautiful.
Midway up to the top, we stopped for a break under the trees. With the help of a bottle of water, Barak demonstrated the magic of a common tree moss. Much of the year, this moss looks brown and crumbly. But expose the moss to water, and it turns green within minutes, activating its chlorophyl to photosynthesize.
After hearing more about the geology and plant life of the area around us, we were ready for the final push up to the Leah and Yitzchak Rabin campsite where our day's journey would end.
Let's Celebrate!
Twenty minutes later, we reached the campsite at the top. We poured out iced cold rose and red wine, cut up a melon, and took a breather after a long day on the Israel Trail.
This 4th day of our long journey was one of the best so far. Our hike from Nahal Dishon to Nahal Tzivon in the Galilee was full of varied beauty and fun surprises in nature.
Hikers' Notes:
Here's what you need to know to hike this section of the Israel Trail at Nahal Dishon:
This is a one way trail.
This trail is best suited for fall, winter, and spring. The water crossings may be quite difficult in the winter, so come prepared with water shoes. The stream dries up at some point during the summer.
Wear good hiking shoes and a hat to hike this trail. Bring sun protection and water shoes. Hiking poles can be useful.
To follow the trail: Beginning at Alma bridge, follow the Israel Trail markers into Nahal Dishon. Follow the Israel Trail Markers (orange, white, blue) until you reach the blue trail turnoff. Then follow the blue trail up to the Yitzchak and Leah Rabin campground.
Use the trail map and the Google Earth file in the table at the top of this page to help you find your way on the trail.
Don't forget to read my guide to the navigational features in this post before you hit the trail.
Trail map from Amud Anan.
Questions? Have you hiked this trail at Nahal Dishon? Let's hear about it in the comments!
Hiking can be dangerous and is done entirely at your own risk. Information is provided free of charge; it is each hiker's responsibility to check it and navigate using a map and compass.