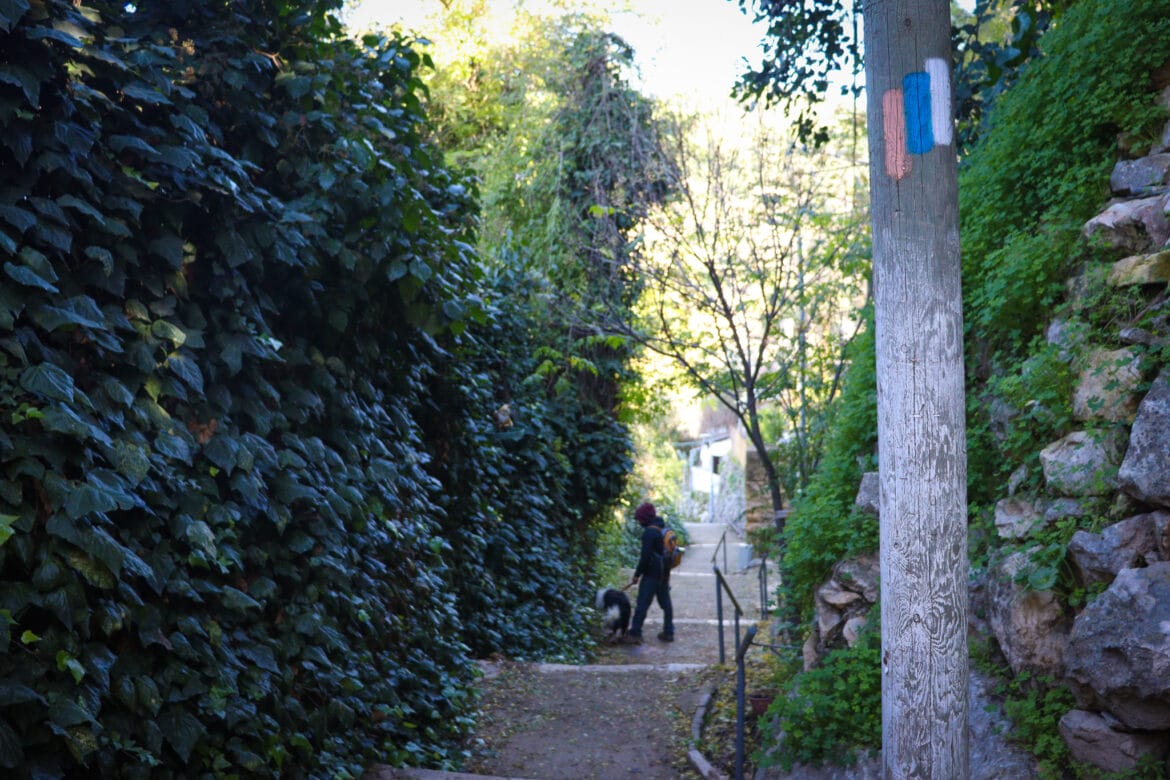 Click here to go straight to hike notes.
Jerusalem is a holy city. It's well known for its temples and synagogues, antiquities and religious sites. Locals also love it for its urban appeal: restaurants, walking pathways, and museums make Jerusalem a fun place to live and visit.
But unbeknownst to many, Jerusalem is surrounded by of the most beautiful natural terrain in Israel.
The city sits inside a natural area known as the Jerusalem Mountains. Out here one can wander through pine tree filled forests, taking in incredible views and soaking up mountainside scenery. But even right on the outskirts of Jerusalem, walkers, hikers, and bikers can take advantage of more rugged terrain.
From the cute little neighborhood of Ein Karem and beyond, there are KKL parks and forests. We've hiked in this quieter part of the city before (try Cheater's Hike if you'd like a taste!). But this week, we decided to take an alternate route through the countryside to visit one of Jerusalem's lesser-known gems: the Beit Zayit Dam.
The Beit Zayit Dam (right near the neighborhood of Beit Zayit) blocks the Sorek Stream from flowing through the city. In the wintertime, the area ahead of the dam fills up to form a large lake right outside of Jerusalem. The grassy, tree lined area near the lake is a great place for a picnic or some quiet relaxation.
Here's how we hiked this surprisingly beautiful loop trail through the Jerusalem countryside to the Beit Zayit Dam:
Familiar Territory
We began our journey the same way we began Cheater's Hike: at a little parking lot in the quaint neighborhood of Ein Karem. Ein Karem is always a pleasant place to visit, if only for a few minutes. Artsy shops line the streets, along with a monastery, pubs, and restaurants. Life seems to be moving at a slower place in this part of Jerusalem.
We crossed the street and found our way onto the Israel Trail, walking past shops towards a set of stairs known as Madragot Gan Eden (The Garden of Eden Stairway).
Down we continued, underneath overhanging vines and past grey stone thick with ivy. For a city stairway, this one was pretty close to paradise. Moss, clover, and flowering plants hung over from every side.
Soon we had reached the bottom of the staircase. As the pathway flattened out, we continued left onto the Israel Trail, parting ways with our Cheater's Hike trail.
It's a Feel-Good Kind of Morning
That morning, the sun shone and a cool breeze blew on our faces: it was simply a feel-good kind of morning. The trail we now traversed added to the day's appeal: olive trees lined the paths, beautiful in their subdued color and gnarly appearance.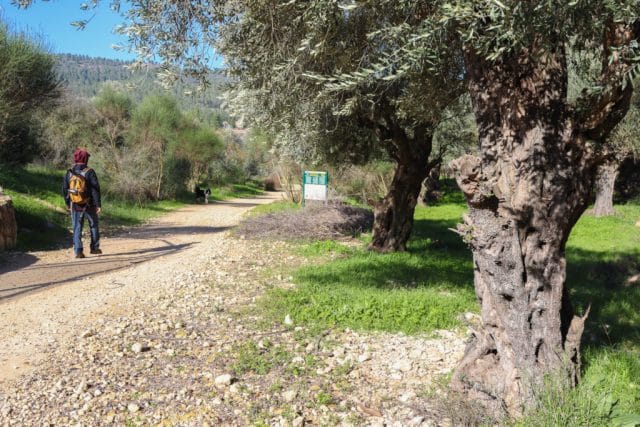 Tall grasses and low trees filled out the other side of the trail. And in the distance, pine trees covered the side of a mountain, creating a picture-perfect view.
We walked along happily, thrilled to have (re) discovered this pathway down to the Beit Zayit dam. After a little walk, we soon reached the bottom of the hill, and the breakaway bike trail towards Beit Zayit.
The Dam!
Hey, do you get excited about a dam? I know that some people get really excited about dams. Take my husband for example: when he sees one of these manmade feats of engineering, he starts to space out into his happy place.
So, as we walked along the bike trail, I found that the conversation was thinning out. My husband was simply taken with the dam once again. We walked along a beautiful, tree lined bike trail, looking for a place to get closer to the lake down below (most of the area is fenced off).
Soon, we found our entry point. And down we went towards Jerusalem's winter lake.
Since it's still early on in the season, the lake wasn't full. But it was still super cool! On one side of the lake, trees lined the bank. On our side, dried mud and tall reeds made up the "shoreline", soon to be covered in water as the winter rainfall accumulates.
Picnic Place
This was most definitely the place to stop for a while. We pulled out our thermos of coffee and banana muffins and got comfortable on a flat patch of grass.
As we sat there, it was really hard to believe that we were actually in Jerusalem. It was silent by the lake, empty except for a few birds and butterflies. On a beautiful day like that, it seemed to us that a place like this, right outside of the city, would be full of people. But no one was there. We had it all to ourselves.
So of course, we stayed there for much longer than we intended to. After several cups of coffee, we finally pulled ourselves up and made our way back towards the bicycle path.
Beit Zayit to Ein Karem on the Green Trail
We backtracked along the bike trail, then turned left when we saw a sign for Beit Zayit. This road brought us all the way up to the little neighborhood, past plots of farmland, right to the road where our favorite cafe is located (Café Derech HaGefen). We passed on by, following familiar signposts for the cemetery, then turned right when we reached what would soon become the green trail.
At first, we walked along a path we already knew, past pine trees, over beautiful views of the countryside. But then the green path veered to the left and we followed it, covering terrain that was new to our eyes.
We walked along a rocky pathway, under shade trees, past narcissus flowers. After a little ramble, we were treated to an incredible view of Ein Karem and the wild area just beyond. We stuck to the green trail along all of its twists and turns until we were almost in the city and the thick of things. Then continued onto a black marked trail.
Not Bad Back Here Civilization
The black trail brought us right back into Ein Karem. We found ourselves on the road near the monastery, where people were lined up outside waiting to get in. Down one street and then another and we were back: at the Garden of Eden Staircase. From here, it was a short walk through Ein Karem to our car.
From familiar terrain to new discoveries, this circular hike from Ein Karem to the Beit Zayit Dam and back had been a perfect way to spend a morning in nature near the city. The beauty of the outdoors, peace, and quiet charm come together on this fantastic city-side trail.
Hikers Notes:
Here's what you need to know to hike this trail from Ein Karem to the Beit Zayit Dam and back:
This trail is suitable for all seasons. Of course, it's much more interesting after the winter rains have begun, once the lake has started to fill up!
Suitable for dogs.
Wear good walking shoes and bring water. Don't forget to pack a picnic for your time by the water!
If you'd like to take a nice, stroller friendly walk on the bike pathway near the dam, park at Point B. You can walk back and forth for quite a distance and have a picnic near the water.
This trail isn't too convoluted, but there are some parts that are "off trail" and not exactly easy to follow. Use the Google Earth map paired with the trail marker gallery for best results.
Don't forget to read my guide to the navigational features in this post before you hit the trail!
Trail map from Amud Anan.
Questions? Have you visited the Beit Zayit Dam? Let's hear about it in the comments!
Hiking can be dangerous and is done entirely at your own risk. Information is provided free of charge; it is each hiker's responsibility to check it and navigate using a map and compass.