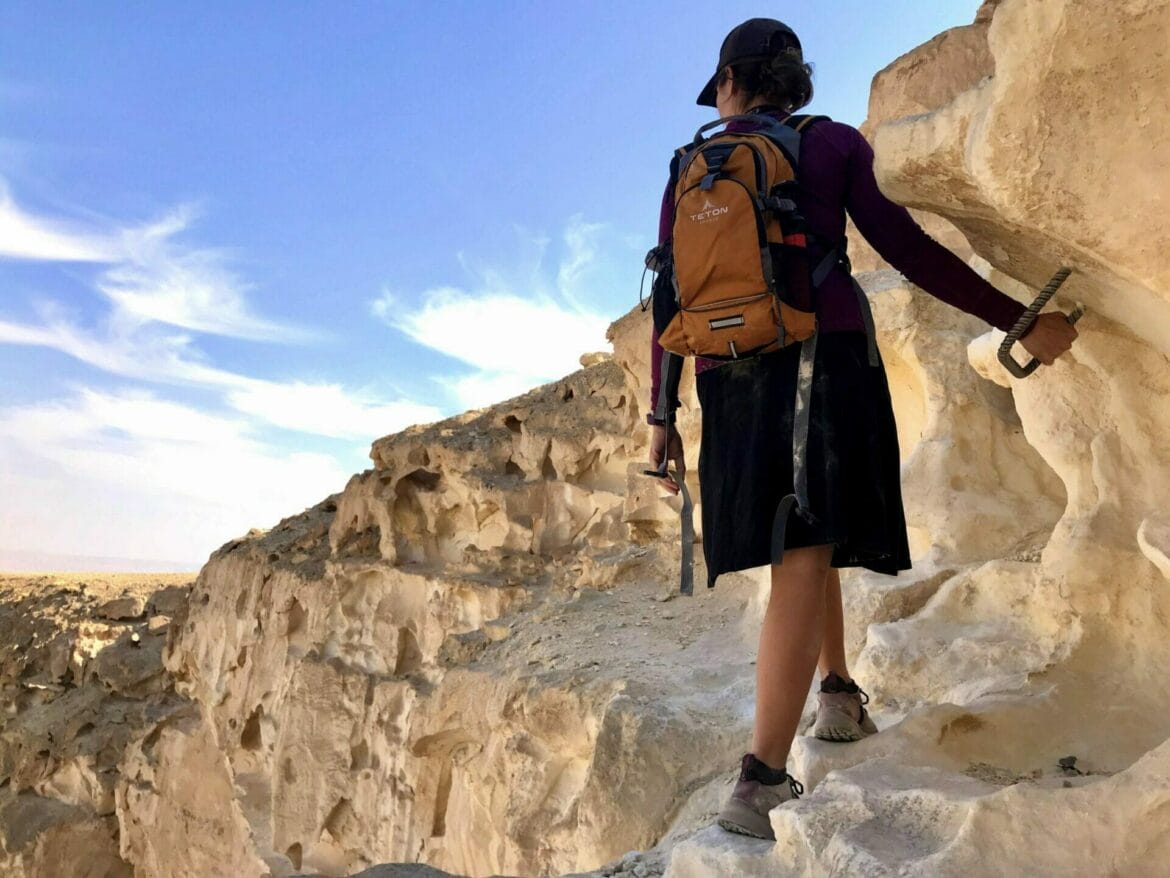 Click here to go straight to Hikers' Notes.
It's desert hike season here at Hiking the Holyland. And today's post brings us to Hod Akev, perhaps one of the most surprising, beautiful, and surprisingly beautiful hikes we've been on this month.
I'm not sure exactly how it happened, but I had no idea what we were getting into when we set out to hike Hod Akev. I knew we were in for the long haul – the very shortest version of the hike was at least 10 kilometers. And the longer version (which we were sure we wouldn't have time for) was 17K.
Well, guess what? Somehow we managed to turn our excursion to Hod Akev into a 20 kilometer hike. That's right.
And while we were at it, we climbed 550 meters into the sky.
But the crazy thing about this hike was that it was just so beautiful. It was worth every step to climb the chalk white mountainside, see the incredible views at the top, and then discover a magnificent desert oasis (total surprise).
Even the short walk through Sde Boker at the end of the trail would have been a highlight on its own.

Here's what our epic hike through Hod Akev was like:
Ho Hum, Another Day, Another Desert
We started the hike in a lot on the outskirts of Sde Boker. While we made our way through an opening in the fence and followed the red trail into the desert, we discussed which version of the hike we would follow.
As we walked, the red trail led us down through classic desert scenery. There were rocks and small pebbles beneath our feet. And we began to see cliffs and mountains emerging from the shadows in the distance.
On this part of the trail, we really had no idea what lay in store. At all. We hoped for canyons and riverbeds, or maybe a really cool mountain to climb. And then, after turning onto the black trail and several kilometers of walking, a very large mountain appeared.
My husband wondered if we were going to be climbing the mountain. I said: no way. It was far too large. But, I added: if it was part of the hike, then that would be fine too.
The Part Where We Climb the Mountain
At the end of the black trail, we made a right onto red. We crossed through an off the beaten track campground. And then it became abundantly clear: the red trail would be leading us right up the mountain.
The scenery as we approached Hod Akev was other-worldy.
The sky was the crispest shade of cerulean, with cirrus clouds spattered around like white paint on a blue canvas. The mountain rock was stark and chalky in some places, like cut clay. In others, piles of sandy stones gathered to form sharp peaks.
We began to climb, moving from the sun into the shade of the mountain. We followed the trail through the rocks. And then we followed a white stone "stairway" which led into the heavens.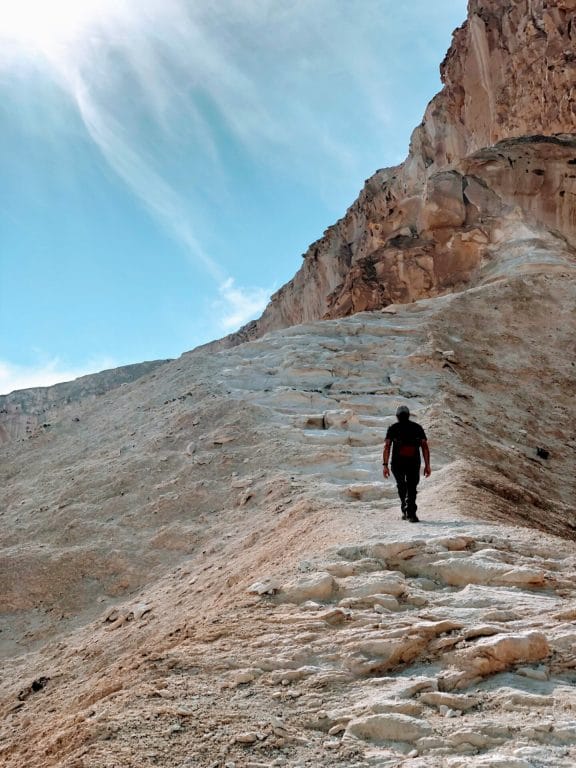 Finally, when we were almost at the top, we decided to break away from the path onto an alabaster cliff. This Sunday's brunch was going to be eaten while gazing out upon an absolutely spectacular view.
Breakfast of Champions
We unwrapped our sandwiches and poured coffee. It was one of the most memorable picnic spots we've ever been in.
At this point, it was clear that Hod Akev was something special. Even if we turned around right after brunch and went home, it would have been worth the one and a half hour drive.
But we weren't turning around. Instead, after a full on meditation on the wonders of nature, we got back on track and finished climbing to the top of the mountain.
We emerged from the shadows of the white cliff and into the sunshine.
Mountain Climb – Part II
Funny enough, at the top of the mountain there was another mountain peak in the distance, steady and steep. The red trail actually led around the peak, giving hikers the chance to follow the path without doing any climbing.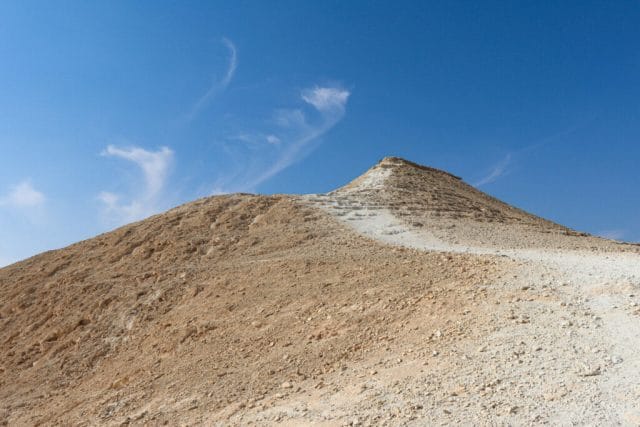 But there was a green breakaway trail which led up to the top of the mountain and back down, meeting up with the red trail on the other side. Or course, we had to see what was up top.
The climb was challenging, and we were winded as we reached the summit of the mountain. But, the view from this tippy top point of Hod Ekev was even more beautiful than before. And standing up on the summit, we truly felt that we had reached the "Hod" or "sharp tip" of the mountain.
Discoveries in the Desert
From here, we followed the path back down, then proceeded to take a long and beautiful walk in total isolation. Desert cliffs rose all around us. There were boulders to climb and beautiful landscapes to photograph. And wherever there was a channel in the stone, plants flourished and flowers bloomed.
We saw purple flowers and yellow flowers, all eagerly awaiting the next flash flood to replenish their water supply.
Several kilometers later, we had a decision to make. Would we follow the black trail back to cut this hike to a short 12 kilometers? Or would we choose the 17 kilometer trek and get in a full day of exploration?
We studied the map and decided on something different: a whole new trail that would lead us through what looked like a beautiful riverbed (Nahal Zin), and hopefully be somewhere in between 12 and 17 kilometers in distance. (Spoiler alert: the new trail we chose was even longer! But still totally worth it.)
Right to a Secret Oasis
We made a right onto the blue trail. And there, a white stone riverbed opened up before us. There were a few tourists there. And wet footprints. And reeds. Which led us to suspect that there was something more going on here.
We glanced at the signs – Ein Akev. We hadn't seen it on the map. But if there was a spring, it was definitely worth making a two minute detour to the left to see what it looked like.
And wow…were we surprised.
Ein Akev
This was no ordinary desert oasis. We weren't looking at a few plants growing out of trickle of water.
Instead, it was a full-on crystal pool, in surroundings of white rock. A waterfall poured down into the pool, creating layers of algae on the walls around it, along with ivy and other trailing vines.
There were people here enjoying the desert oasis, bathing suits on, basking in the shade. We wondered if there was a way to easily access Ein Akev – these tourists didn't look like the type to hike ten kilometers to get here.
Near the first pool sat another, equally beautiful, but without any swimmers
We just couldn't believe that this incredible watering hole (with two waterfalls) sat right here in the middle of the desert. And we were also pretty surprised that we hadn't heard anything about it before.
It was late in the day, so we couldn't give Ein Akev the time it deserved. We made plans to go on a real vacation sometime soon – one where we could relax at every beautiful point on this hike without feeling the need to push forward and return home.
I Know Your Secret
As we left Ein Akev, the mystery of the tourists was cleared up. Several jeeps sat lined up in the parking lot. And as we followed the dust road back through the desert, the jeeps passed by one by one, filled with contented travelers at the end of a great day.
As for us, we were happy to be walking. We may have left the mountain and the spring behind, but the desert remained quiet and beautiful – with some of the most spectacular scenery we've seen on any of our desert hikes.
We followed the blue trail a bit further, then made a left onto red which took us on a journey through Nahal Zin and approached Sde Boker.
Little Trails, Each a Unique Snowflake
The last part of the hike required careful attention to the map and the trail markers as we followed the red trail past several crossroads, all the way up to the large road around Sde Boker. As we neared the top of our ascent out of the riverbed, our favorite desert friends came out to greet us.
It wouldn't be a desert hike without an ibex.
Once we were back in Sde Boker, we followed the final trail – a beautiful sunset walk along a promenade on the outskirts of the city. Even this little walk was absolutely gorgeous, quiet, and quaint.
Children rode their bicycles over the sand framed by a desert mountain back drop. And one family used the great lighting and pleasant weather to snap some family portraits in the setting sun.
Just twenty kilometers later, we were back at our car again. The hike to Hod Akev had been an amazing journey that was full of surprises.
All in a day's work. Or a day's play. Or both, I guess.
Hikers' Notes:
Here's what you need to know about this hike:
Best suited to fall, winter, and spring.
Not good for dogs.
Bring plenty of water, sun protection, and good hiking shoes.
Don't forget swim gear for Ein Akev.
Not suitable for those who have a fear of heights.
As with all desert hikes, always keep an eye out for trail markers! If you lose the trail, go back to the last place you saw a marker and look for the next one.
Check the weather for flash flood warnings before you go.
Once you get back to Sde Boker, you must find your way back to the car. I recommend you use Google Maps (your parking location can be found in the table up top).
This hike will take at least six hours. Plan accordingly, and make sure you return before dark.
Use the trail map, Google Earth file, and trail marker gallery in the table up top to find your way. Amudanan.co.il is also highly recommended. This hike should not be attempted without thorough planning and preparation using the tools in the table.
Trail colors to follow: Red, Black, Red, Green, Red, Blue, Red. See trail map.
Don't forget to read my guide to the navigational features in this post before you hit the trail!
Trail map from Amud Anan.
Questions? Have you hiked Hod Akev? Do you want to?? Let's hear about it in the comments!
Hiking can be dangerous and is done entirely at your own risk. Information is provided free of charge; it is each hiker's responsibility to check it and navigate using a map and compass.