If I had to think of how I would best describe Ramon Crater it would be this: the largest variety of colorful rocks and cool geological formations that I have ever seen.
I've been to The Grand Canyon, but the Grand Canyon is just so…grand, that I wasn't able to hike through it. (It didn't help that I was with my six children ages 2-16.) So as wildly incredible as the inside of the largest canyon in America must be, the Ramon Crater is still the craziest geological phenomenon that I've ever trekked through.
For a while now, I've been waiting to hike through this crater on a winter vacation. So last week, we headed out to the Negev for a three day trek through Ramon. (I know it's really late fall – but in Israel there's not that much of a difference.)
For our first hike of the trip, we decided to pick something that might be good for families – a three hour adventure on the Horseshoe Loop trail, Nekarot. This trail was a little over six and a half kilometers long, and wove its way through the desert, past Saharonim Spring, and through a water filled canyon before returning through a different section of the crater.
The Hike
Getting to the Nekarot Horsehoe Loop was a bit of a rocky ride. The trailhead is located well off of the main road, past the well-known Beerot Campground, and down an extremely bumpy, pebbled path. At the end of the path was a parking lot near the ruins of an ancient Nabatean village, and the beginning of the blue trail.
We carefully followed the trail markers into the desert. (Keeping your sights on trail markers is a must in this place. It's easy to get lost if you don't pay attention.) Just a few minutes into our walk, we found small pools of water bubbling up from Saharonim Spring. I'm guessing that these little springs really fill up after a good rain. Plants and short trees grew around the pools. There were large animal prints in the mud nearby.
We continued along the blue trail for a while, over desert sands and through white walls of rock. Every time I visit the Negev, I am struck by the fact that a desert is nothing like I imagined it would be when I was growing up (in the swamps of New Orleans). I always pictured endless monotonous dunes of sand. Like a beach piled high without any ocean in sight.

But the Negev is nothing like this. There are sand dunes in some places. But in many places in the desert, and especially here in Makhtesh Ramon, there is a plethora of multicolored geological formations. There are hard rocks and soft rocks. Red ones and black ones. Chalky white dirt and deep red sand. There's nothing boring and uniform about it.
Before long, we arrived at a smooth rocky basin, with tall white walls. There were giant boulders flung about haphazardly. We chose one to put our bags down and eat lunch. But then I noticed something up on the wall.
Apparently, ibexes are kind of like the North American squirrels of the desert. They are everywhere. And while they will run away if you spook them or get too close for comfort, they'll allow you to approach for a picture.
After meeting our new friend we went back to our boulder. It was quiet on that rock. The silence was deafening. I don't remember being able to use that phrase before and really mean it. But that's all I could think of as we sat there eating lunch. In between mouthfuls, there was just nothing to hear. The quiet rang in our ears.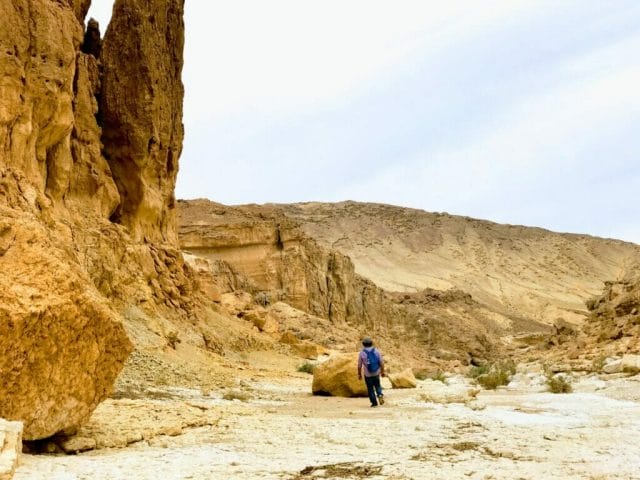 When we were ready to move on we found the next blue trail marker. Further into the high walled gap, we met a whole family of ibexes. They seemed to be gathering here, attracted to the greenery that sprung up between the rocks – clearly this was a prime spot for water accumulation and flash floods.
A few more minutes walk, and we arrived at the highlight of the trail – a narrow and beautiful canyon wrapped around a reflective pool. This 60 meter stretch of the path was filled with deep water – the depth changes with the seasons. You can't walk alongside it, because the white walls climb vertically on both sides.
Depending on the time of year, the water can be ankle deep or much much deeper. The only way through that day was to swim. (In some places the water was a bit deeper than the height of an average man. No way to wade through there.)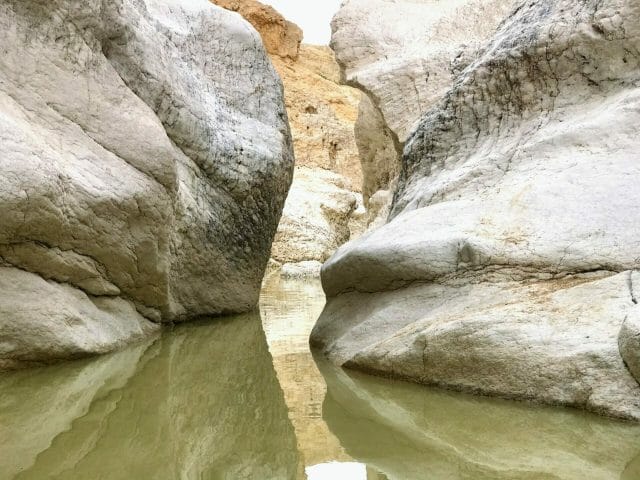 Since we weren't prepared to get soaked, we decided to go off road for a bit. We climbed the walls right before the canyon and walked along, peering in from above. The views were incredible, and we were happy to stay dry in the cool weather.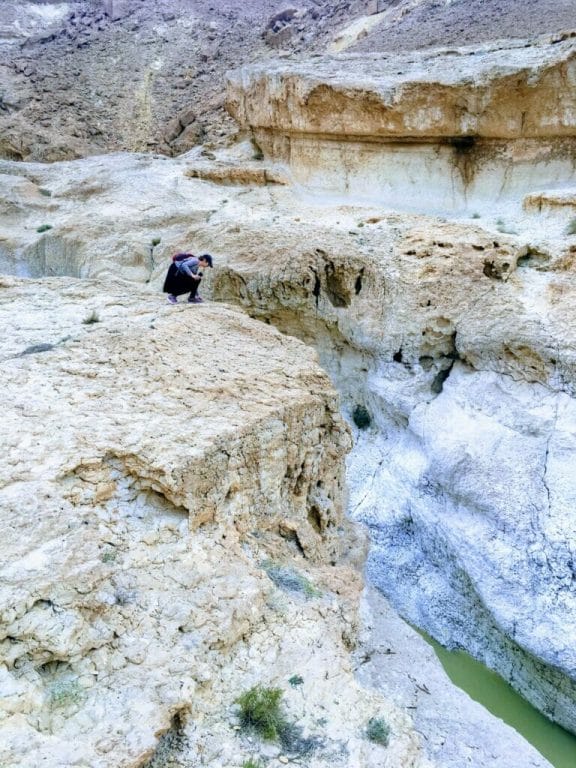 After the wet canyon, it was further through the crater, past a shortcut (the green trail, which brings you back faster) until we reached the crossroads. Continue straight and you stay on the Israel Trail, which will take you all the way to Eilat. Turn left onto the red trail and it's back through the crater toward the starting point.
We turned left. The scenery continued to change around us. From a desert oasis to a ruddy red moonscape. The sky and clouds cooperated that day, forming a picture perfect panorama.
A few more kilometers on the red trail through the beautiful landscape and we were back at the starting point. Our last view on the right was of Ardon Mountain in the distance.
Between the puffy cloud-filled crisp, blue sky and the altogether different landscape of the Ramon Crater, the beauty of this hike was unparalleled. Is it just me, or does Israel have an incredible variety of jaw dropping scenery for such a tiny little geographical area?
Two hours from the crater are the forests and holy sights of Jerusalem. An hour from there is a Mediterranean beach. One more hour to the northeast are waterfalls and rivers. Vineyard valleys in between. Just a bit further to a snowcapped mountain. Israel's natural beauty is a gift that waits to be treasured.
Hikers' Notes:
So was this the family hike I'd hoped for? Well that all depends on the ages and abilities of any children involved. I would say that after a period of heavy rain it's a hike for strong swimmers (or climbers) only. It's not too long or hard, but it's probably best for children at least eight and above. If you get to the canyon and don't feel safe getting through, turn back and you'll still have enjoyed an amazing hike!
If you go in another season, the water may be shallow enough to make this a family hike for all ages.
The beginning part of this hike is a bit tricky as far as finding the trail goes. Just look for the blue trail markers and pay attention – you'll pretty much always be able to keep one trail marker in your line of sight. Download the Google Earth file up above and follow it on your phone to help you stay on track. And pick up a map of the hike at the Ramon Crater Visitor's Center before you start. (You can ask them about the water levels too.)
You could also take the trail backwards, from the red trail (leaves from the same point as the blue trail) to the green shortcut which will lead you straight to some flat rocks where you can enjoy the water in the canyon without having to swim through it.
New! Read this guide to how to use navigational features in this post.
Have you hiked this trail? Let me know how it was in the comments below!
Hiking can be dangerous and is done entirely at your own risk. Information is provided free of charge; it is each hiker's responsibility to check it and navigate using a map and compass.