Click here to go straight to hike notes.
Darja.
For outdoorsmen around Israel, this name evokes images of epic adventure. Darja is one of the most well-known Judean Desert trails in Israel. Nahal Darja has got a great reputation – anyone looking for an intense, fun, full body hike is going to want to try this trail.
Funny enough, after many years of Hiking the Holyland, we had only ever hiked Upper Nahal Darja, an intense loop trail that covers the upper part of the canyon. And yes, it was a challenge – an awesome one! But after we hiked Upper Nahal Darja many years ago, I was ready to try the lower part of the trail. Lower Nahal Darja is a one way adventure that leads all the way through the canyon down to the Dead Sea.
So after Upper Darja, we spoke to some adventure-loving friends and made plans to tackle Lower Darja together. Aside from the fun of hiking it with friends, it would also be far more convenient: with two cars and our friends' rope, we could easily get through Nahal Darja. Plus, they'd hiked it before. They could show us how it's done.
The problem was, we just couldn't find the time. Rainy season after rainy season came and went, and as they passed, the desert pools in Darja filled up and then evaporated again and again. Darja is one trail that is worth hiking under very specific conditions. It's best to hike it on a warm-ish day right after a good rainstorm. But that free day never seemed to appear.
In Memory
And then, just a few weeks ago, something happened which made me decide that the time had come to hike Nahal Darja: Lucy Dee and her two daughters were murdered by terrorists. At the funeral, Lucy's husband spoke about how they had hiked Darja together – and how after the euphoric challenge of the trail, she had exclaimed that she would never hike it again. Lucy, who lived in nearby Efrat, had been in touch with me before and after her hike, offering to carpool and tackle Darja together.
Since I had promised my friends that I would hike it with them, I hadn't seize the opportunity. But now, there would be no more delays.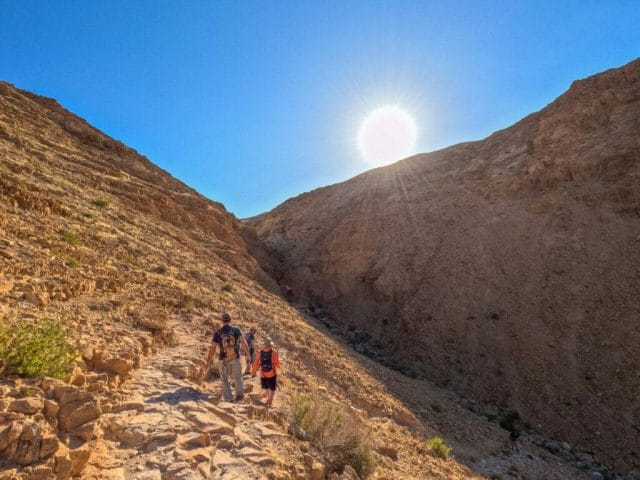 With late season rain running through the canyon, now was the time to hike this trail. I wanted to breathe life back into Lucy's experiences, to hike in her footsteps, to tackle a trail that had been a dream of hers and a major accomplishment. We were going to hike Nahal Darja in the next few days.
The big day arrived on Yom Hazikaron (Israel's Memorial Day): it was shaping up to be a beautiful morning with sunny skies, just after a rainstorm. Before sunrise, we grabbed the bags we had packed the night before and set off for Darja.
Here's how we hiked it:
It's a Great Day for an Epic Hike
We parked one car at the end of the trail near the Dead Sea, then drove up the bumpy rock road to the trailhead at Upper Nahal Darja. As we emerged from the car, we were greeted by a jackal, who scurried away into the shadows. We were here – in wild country.
After slathering up with sun screen, we headed out on the trail. Pretty soon, we were following a rocky descent into the canyon below. Nahal Darja was just up ahead.
Along the way, we paused for some pictures. Sitting at the edge of a rock cliff, we were looking forward to what lay ahead in the deep valley below.
On our way down, we also passed the Muraba'at Caves, where scrolls from the time of the Bar Kochva Revolt were found long ago (including letters written by Bar Kochva himself – now on display in the Israel Museum). We had explored this cave before, so we passed on by.
Rock Bottom
After one or two sharp descents along hand hold rungs, we were in the bottom of the canyon. Alabaster rock surrounded us in smooth surfaces, shaped by the water that runs through the canyon. We followed the trail towards the first pool of water.
Of course, we had gone into this trail expecting to get wet. But that doesn't make it any easier to take the first plunge! For the first couple of pools, we skirted the sides of the canyon, twisting our bodies into precarious positions in order to steer clear of the water.
Taking the Plunge
And then, all of a sudden, our dry time was over. We reached a beautiful, cold pool of water that we would have to traverse. I tiptoed in, feeling my way along with my feet, wondering just how deep this water would get.
Soon, I was immersed to my shoulders. This was it! We were heading through the standing pools of Darja.
Rope Time
And on we continued, using hand hold rungs and notches in the rock to make our way further and further down the canyon. We were wet and slippery now, so we had to be extra careful as we tackled the descents. Still, we had managed so far without a rope.
And then, halfway down one set of rungs, it suddenly became rope time. Perched precariously on one foot notch, I had no place to put my hands or my other foot. Our friends attached the rope to the metal ring at the top and I safely made my way down into the pool below.
High Times at Nahal Darja
And thus it continued, from one pool to the next, we used ropes, ladders, and rock slides to move forward along the trail. Sometimes, the water in the pools was just waist high. But other times, we had to swim through to get to the other side. Sometimes, the ladders were easy to climb down. But other times, the descents presented a serious challenge, even with a rope.
Before not too long, I was absolutely freezing. Despite the warm weather, we were hiking mostly in the shade. My discomfort meant that I began to speed along through the obstacles ahead of our group, in order to get to the next patch of sun. Once I reached the sunshine, I would stretch out on the rocks of the canyon, trying to absorb every bit of heat into my frigid body.
Break Time
About halfway through the trail, it was clear that we needed a break. Although I absolutely love rocky obstacle courses and climbing, it's exhausting terrain! And I really, really wanted to spend some time warming up in the sun.
I found a large patch of sunshine with some nice, oversized boulders and perched myself on a rock to wait for our friends. When they arrived, I announced break time, and we took out our coffee and brunch to enjoy a relaxing twenty minutes in the canyon.
As we sat there, I wondered about Lucy's experience in Darja. She had hiked there one mid-March and had warned me afterwards about the many obstacles – including the frigid feeling that settles into your bones after wading through several pools.
Luckily for me, my friend was done with his wet suit shirt – he said it was way too hot. So, I did a quick wardrobe change before we packed up our stuff and set back out on our way.
Heaven
Once I was nice and warm, the trail was a piece of cake (well, maybe not exactly!) Although there were many challenges, they were just the type of challenges I love. We climbed over and under boulders, trying to scope out the right way to get to the next section of trail. We jumped into cold pools and used ropes to navigate steep descents. It was awesome.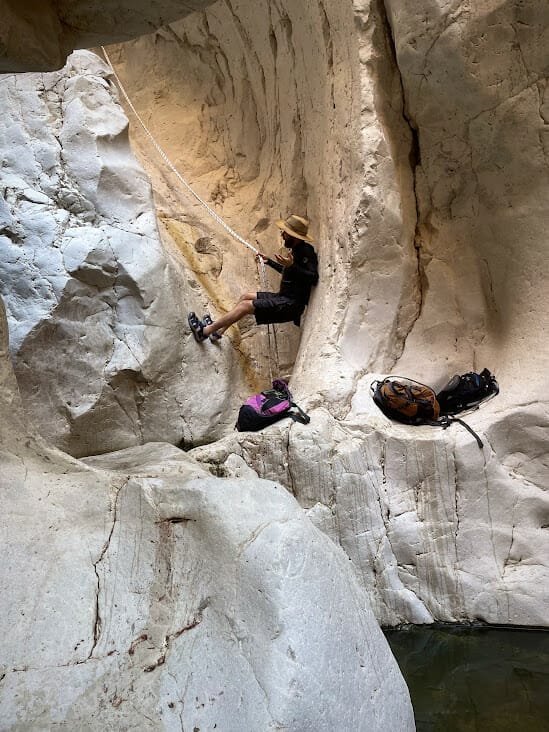 Eventually, even I began to warm up, so I switched back into my t-shirt. As we emerged into the wide open canyon, beautiful white butterflies greeted us, flitting between the desert shrubbery and flowers. I found another rock to sit on and took in the magic and beauty of the desert as I waited for our friends to catch up. The birds sang and swooped through the shadows.
When the rest of the group arrived, we finished up the last bit of trail together.
Our experience at Darja that day was absolutely incredible, and well worth waiting for. This awesome desert trail in the beautiful Judean Desert is a must for every adventurous hiker.
May the memory of Lucy Dee, her joy for life, spirit of adventure, love of family, and love of the Land of Israel continue to be a blessing for our people.
Hikers' Notes:
Here's what you need to know to hike this trail at Lower Nahal Darja:
This is a very challenging trail. It can be dangerous. If you are not a frequent hiker, this may not be the right trail for you.
This is a one way trail.
Do not hike this trail on rainy days. Check for flash flood warnings before you go. The ideal time to hike this trail is after rainy days.
Make sure to reserve your spot on the parks website before you go.
You need to come equipped with a 25 meter rope to hike this trail. Better to bring a mid-weight rope, as a heavy rope will become even heavier when soaked with water. Loop the rope through the metal ring and climb down both ropes, or knot it on one side, leaving a long stretch of rope hanging on either side and then climb down just one. The last person down must climb down both ropes and then pull from the other side to free the rope. This sounds complicated, but it's actually quite simple. You can watch other hikers on the trail to get it right.
Ideal apparel for this hike would be a shortie wetsuit (for warmth), climbing gloves (to protect your hands from the rope), and climbing shoes that can get wet. Of course, nobody's got all this stuff! So in a pinch, use regular water hiking shoes (closed toe ones are best), a dry fit t-shirt, etc.
Prepare for this hike by enclosing all food and valuables in ziplocs or waterproof bags inside your backpack.
If you'd like your backpack to float across the pool, use this neat trick that my friend Eli showed me: just blow into the tube of your water bladder, filling the free space inside with air.
To follow the trail, use the trail marker gallery and trail map at the top of this page. There is almost no reception in Lower Nahal Darja, so if you'd like to use Amud Anan, download the trail maps before you go.
Although we drove all the way to the start of the trail (black trail), your car may not be able to reach that spot as it is on a rocky road. Drive as far as you can, then walk up the green trail the rest of the way until you reach the turnoff to the black trail.
Don't forget to read my guide to the navigational features in this post before you hit the trail!
Trail map from Amud Anan.
Questions? Have you hiked this trail at Lower Nahal Darja? Let's hear about it in the comments!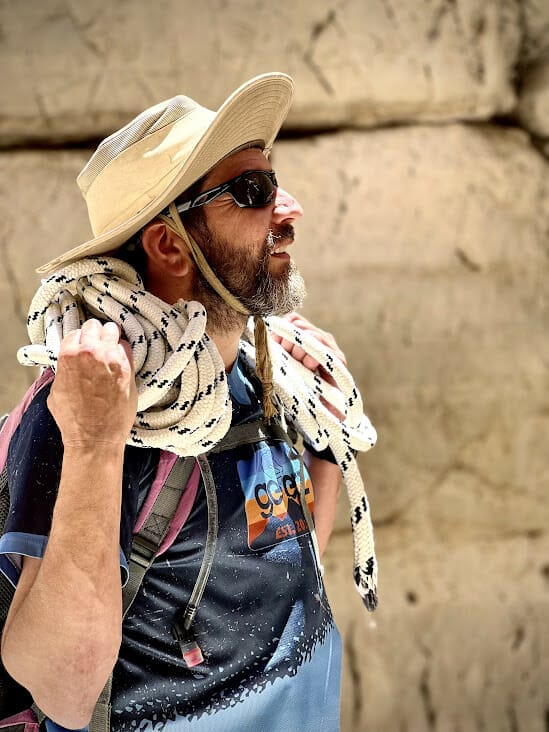 Hiking can be dangerous and is done entirely at your own risk. Information is provided free of charge; it is each hiker's responsibility to check it and navigate using a map and compass.