Click here to go straight to hike notes.
Deserts, at least in Israel, are nothing like what I imagined as a little girl growing up in New Orleans. From the cartoons and the movies, it seemed that deserts were endless piles of sand, dune after dune doing nothing to break up the endless monotony, the stark lifelessness.
But Israel's Negev desert bears no resemblance to this picture of empty nothingness. Deserts in Israel are fascinating. There are rocks – lots of them – arranged in crazy formations and shaped by rushing wind and water. There are animals – drawn forward by the promise of acacia leaves and small desert shrubs which are nourished by the flashfloods that run through during Israel's rainy season.
Desert trails are often the most fun and adventurous – equipped with climbing rungs and ropes, it's a challenge to get through a desert canyon in Israel. This is especially true during the rainy season (the best time for desert hiking!), when gaps in the canyon fill up with rainwater, making traversing the trail an awesome experience.
We're lucky to live near Jerusalem, quite close to the Judean desert, which spills into the Northern Negev, then leading to the Southern Negev. There are lots of options for desert trails around here. But it's rare that we get all the way down to the Southern Negev. So, when we planned a trip to Eilat a couple of weeks ago, we knew that we would be doing a lot of Southern Negev hiking on our vacation.
Nahal Barak is an awesome climbing trail about an hour from Eilat. Equipped with rock chutes, ladders, and climbing ropes, a hike through Nahal Barak is an adventure in any season. The trail gets even more intense after flash floods wash through the canyon, filling up the standing pools so that the hike requires swimming as well. At sunrise and sunset, birds and animals come out into the open, adding another element of excitement to an already awesome adventure.
The loop trail through Nahal Barak is not that long – only about 7 kilometers. Since we were looking for a really long adventure, we added about 8 kilometers to the hike, but this extra bit is easy to skip.
Here's how we hiked through Nahal Barak, an incredibly cool canyon in the Southern Negev:
We Just Started, and I'm Already Tired
To get down to the Southern Negev, we woke up at 4 AM to start driving. Not only that, but we scheduled in two hikes for that day. Nahal Barak was the second hike of the morning.
By the time we pulled into our parking spot at the trailhead, I was more than a little ready for coffee. We groggily strapped on our hiking backpacks and followed the flat trail towards the canyon, our eyes peeled for a perfect coffee spot – ASAP.
There was no obvious coffee spot. But there were hills of rock, which could be climbed to have a better view of the canyon snaking down below. We picked a hill and climbed on up.
It seems like almost any spot is the perfect picnic spot in a desert canyon. We were out of the sun, enjoying the cool morning breeze. About twenty minutes, many cups of coffee, and a couple of blueberry muffins later, we were energized and ready to go.
Ready to Go
We entered the narrow walls of the slot canyon, taking in the gorgeous beauty of white rock, smoothed by rain. The sides of the canyon were more jagged and glowing a fiery orange in the morning light. Blue skies peeked through at the top of Nahal Barak, completing the picture.
We stepped over boulders and small stones, still hiking rather than climbing. This part of the trail was fairly straightforward, giving us a chance to adjust to the pace of life in a canyon.
Climb Time
And then, we reached our first ascent, as the marked trail took us up a chute equipped with a climbing rope. We started to climb.
We started and we didn't stop. After this first rope, the trail just became more awesome with every passing moment. We climbed up tall ladders and climbing rungs, from one level of the canyon to the next. Our full bodies went into motion as we ascended through Nahal Barak.
Since it was still late November, the winter rains had not yet had a chance to thoroughly saturate the canyon – so we were on a dry hike.  But we could see from the water lines along the way that in some parts of Nahal Barak we would have had to swim through a pool to get from one ladder to the next.  Awesome!
This was a trail like no other. The ladders and ascents in Nahal Barak were awesome. It was one of the few trails I had been on in Israel that required no special climbing equipment, yet still tackled massive ascents (or descents if you hike the other way).
Next Steps
All of this climbing took us quite a while – and we enjoyed every minute of it. But several kilometers later, we found ourselves ascending up and out of Nahal Barak.
Now we had to make a decision – should we head back to complete the shorter loop trail? Or should we continue along unknown terrain to complete a much larger loop out into the desert?
We were having so much fun hiking that, of course, we chose plan B! And we set off into the desert to take a long meditative walk along an unknown trail.
Desert Wandering
From here on in, the hike got very silent. We followed marked trails for kilometer after kilometer, through typical desert terrain. Our walk was mostly flat at that point, save for a hill or two that we climbed as we followed the trail out into the distance.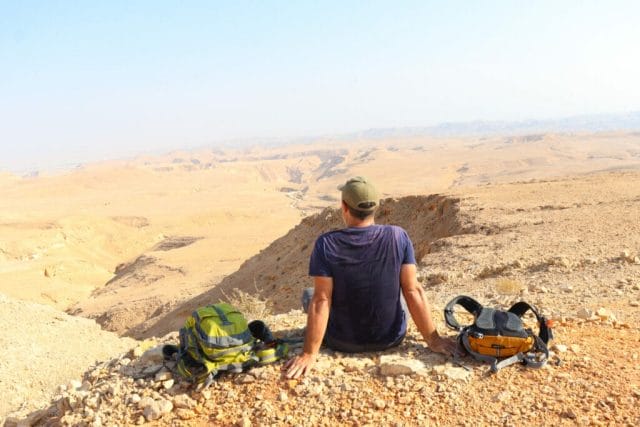 After many kilometers, it was time to turn around. We took another trail back through the desert, losing ourselves in thought as we followed trail markers. Eventually, we got close to Nahal Barak again. Now, we had the opportunity to take in the crazy views of Nahal Barak from up above as we traversed the path back along the canyon.
Down We Go
Eventually, we reached the spot where we had wandered off of the usual path into the vast openness of the desert. From here, we followed the trail down, descending along hills of rock to get back to the entrance to Nahal Barak.
When we had reached flat ground, we saw them again: herds of ibexes munching on acacia leave. Now, the sun was setting, and all the animals were coming out for their evening meals. Birds flitted from place to place, eyes peeled for their next bite of food.
I approached the herd of ibexes to take some photos, and they all scattered- just as expected. All, that is, except for one great horned ibex, perched on top of a rock. Rather than run, he stood and stared at me, posing like a super model. He turned this way and that, showing off his horns, his glistening fur. And I took lots and lots of pictures.
Eventually, he got bored of his photo shoot and climbed down from his rock to follow the rest of the pack. On we continued, back along flat terrain between tall canyon walls to where our car was parked.
Our hike through Nahal Barak had been awesome, a mixture of adventure and contemplative moments. This cool canyon in the Southern Negev is a must-do for any serious hiker in Israel.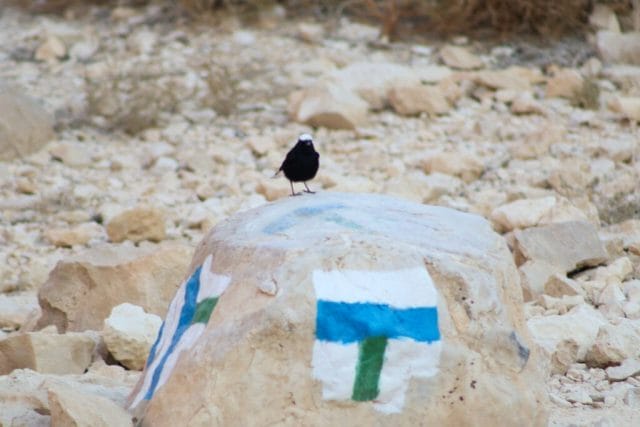 Hikers' Notes:
Here's what you need to know to hike this circular trail through Nahal Barak:
This trail is well suited to cooler days in fall, winter, and spring. After heavy rains and throughout the winter time, there will be water in Nahal Barak! Expect to swim through in some places.
Take the short, circular route or the longer trail, as we did.
Wear good hiking shoes, sunscreen, and a hat to hike this trail.
Not suitable for dogs.
Not suitable for those with a fear of heights.
Nahal Barak is a free entry site. There are no facilities at the trailhead.
In order to get to Nahal Barak, you have to drive down a dirt road. It is not very smooth. Whenever you feel that you've had enough, just get out and start walking (that's what we did).
To follow the short trail: Follow the blue trail/ Israel Trail up through Nahal Barak. Then follow the green trail back towards the trailhead.
To take the longer hike: Follow the blue trail/ Israel Trail up through Nahal Barak. Then turn right on the black trail and follow it all the way to the blue trail. Turn right on the blue trail. Turn right on the red trail. The red trail will take you back to the black trail. Follow the black trail back to the green trail. Follow the green trail back to the Israel trail and walk back to the trailhead.
Use the trail marker gallery and trail map to help you find your way.
Don't forget to read my guide to the navigational features in this post before you hit the trail!
Trail map from Amud Anan.
Questions? Have you hiked this trail at Nahal Barak? Let's hear about it in the comments!