Click here to go straight to hike notes.
The Southern Negev is known for its multi-hued rock and beautiful desert mountains. It's hard to find a hike in this part of Israel that isn't spectacularly beautiful. From Nahal Barak to the Timna Valley, the hiking trails in the Southern Negev are awesome.
A few weeks ago, we traveled down to the Southern Negev for a couple of days of hiking adventures.  Our first trail of the trip was at Paran, on a short, circular trail through Nahal Asus and to the top of Kipat Eshet.
This moderate hike was a great way to start the day. It was easy to follow and took us through some picture perfect desert sights that were even more beautiful in the early morning light.
In the quiet of early morning, we got to see cool rock formations and spectacular views. We felt welcomed to the Negev by the stream beds, desert mountains, and cave like rock formations we traveled through. And we passed through areas that have been settled by ancient peoples of the past.
Here's how we hiked this straightforward trail at Nahal Asus, near Paran:
People Live Here
We began the trail inside of the town of Paran. I'm always amazed at just how pretty these middle-of-nowhere desert towns really are. Beautifully manicured gardens greeted us at the entrance, along with carefully sculpted trees filled with yellow flowers. Early morning sounds of daily life filled the air – the birds, the delivery truck driving in, perhaps from Eilat.
We parked our car and exited the gate to scope out the trailhead.
Into the Desert Mountains
The trail led us alongside the gate of Paran towards the desert mountains that loomed large in the distance. After passing the town, we saw trail markers which led out into a few different places. Our trail that day was the green trail. This path would climb up into the mountains, towards Kipat Eshet (Eshet Hill), where spectacular views awaited.
We started to climb.
Up we went, stepping easily up the mountain, no hands required. We ascended through the desert, heading higher and higher into the sky.
Are We There Yet?
After climbing for a while (I have to admit that pre-coffee, I was still in somewhat of a groggy morning state), we finally reached the top – Kipat Eshet. Here, we threw down our bags for a quick breather. It was chilly up there! And our bodies were already soaked in a layer of sweat.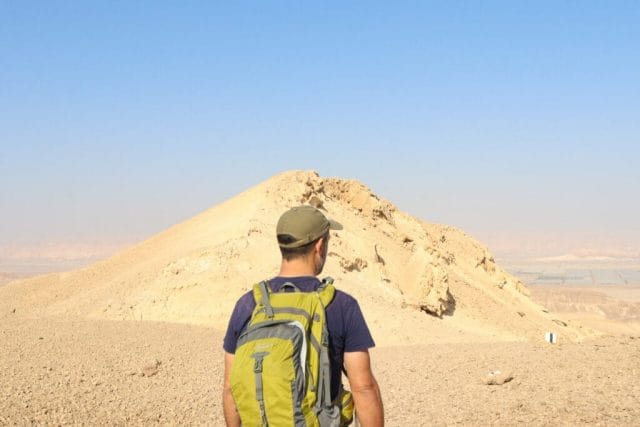 We climbed around the "kipa", looking for the perfect vantage point. Beautiful desert mountains stretched out all around us, rolling in waves under a bright blue sky. I was happy to be back out there in the desert.
From what we had read online, Kipat Eshet was not only a beautiful vantage point, it also held evidence of settlements of long ago. To our untrained eyes, there wasn't much to see, but we imagined that layers of history were probably hidden beneath our feet.
On the Descent
After reaching the peak, we were finished with the hard work for this hike. From here, there was nowhere to go but down. We traversed the desert hill towards another lookout, the picture completed by a series of rock cairns that dotted the terrain.
And then we headed down.
At this point, we were on the search for some sort of cave – a man that we met on the trail at the beginning of the hike had foretold of its existence. We found one small cave peeking out from the rock. It wasn't particularly impressive, and we continued searching.
Eventually, we found it – a series of layered rocks forming a massive cave in the side of the mountain. The rock layers sat perched at impossible angles, making climbing into the shadows a challenging feat.
Some say that part of this cave is heart-shaped, and it also called "HaLev Shel Eshet." I backed up a bit to see the heart shape while my husband climbed inside on the rock layers.
All in a Morning's Adventure
And that was it. From here, the hike took us down, down, down, back towards the long road around Paran. By the time we finished, we were ready for our next adventure of the day- Nahal Barak.
This short loop trail at Nahal Asus and Kipat Eshet was a great way to spend a couple of hours immersed in desert serenity.  From beautiful views to cool rock formations, there's plenty of beauty to soak up on this simple hike in the Southern Negev.
Hikers' Notes:
Here's what you need to know to hike this trail through Nahal Asus to Kipat Eshet:
This trail is best suited to cooler days in fall, winter, and spring.
There is no shade on this trail. Wear a good hat and sun protection
Wear proper hiking footwear and bring plenty of water to hike this trail.
As with all desert trails, keep a close eye out for trail markers and don't wander. Check for flash flood warnings before you go.
To follow the trail: After parking in Paran follow the green trail markers all the way to Kipat Eshet. Next, follow the black trail down past the caves. When you reach the black/green crossroads, follow the green trail back to your car.
Don't forget to read my guide to the navigational features in this post before you hit the trail!
Trail map from Amud Anan.
Questions? Have you hiked this trail to Kipat Eshet near Paran? Let's hear about it in the comments!