Click here to go straight to hike notes.
Which national park combines a relaxing day of swimming with a fascinating exploration of recent and ancient history? Gan HaShlosha, otherwise known as Sachne, near Beit She'an provides a perfect mixture of education and fun.
On a trip to the Jordan Valley over Hanukah, I had the chance to revisit Gan HaShlosha for the first time in a while. We had been to the park many years back. But on our last visit, I hadn't fully appreciated what Gan HaShlosha had to offer. Last time, we had spent the entire trip parked at the shallow swimming area, (which our little kids thoroughly enjoyed). This time around, we discovered that there is a lot more to Gan HaShlosha than swimming.
Gan HaShlosha National Park houses two historical attractions, and we made sure to check both of them out. First, we visited the reconstructed stockade tower and settlement of Tel Amal, built in the 1930s, one of the first of its kind. Afterwards, we moseyed on over to the Museum of Regional and Mediterranean Archeology, a fascinating collection of historical finds, with much to see from the Beit Sh'ean area.
In between these two awesome attractions were other smaller points of interest: an old flour mill, a "bell garden" that displays early settlement bells from around Israel, and an old Roman theatre.
After exploring all these sites, we spent time in the pools and waterfalls of Sachne. These hot springs stay at a temperature of 28 degrees Celsius year-round. Swimming in the Sachne pools was delightfully fun, even on a cool December day.

I couldn't have asked for a more perfect National Park experience with kids. True, there wasn't really any hiking involved, but we did walk from place to place as we explored Israel's history and nature in a beautiful place.
Here's how we visited Gan HaShlosha, in the Jordan Valley:
To the Stockade Tower!
We stopped at the entrance booth to pay the fee (this National Park is not completely free, even for Matmon members!) and parked our car. Then we got out and took in the easy beauty of Gan HaShlosha – turquoise pools and green grasses surrounded by pretty trees.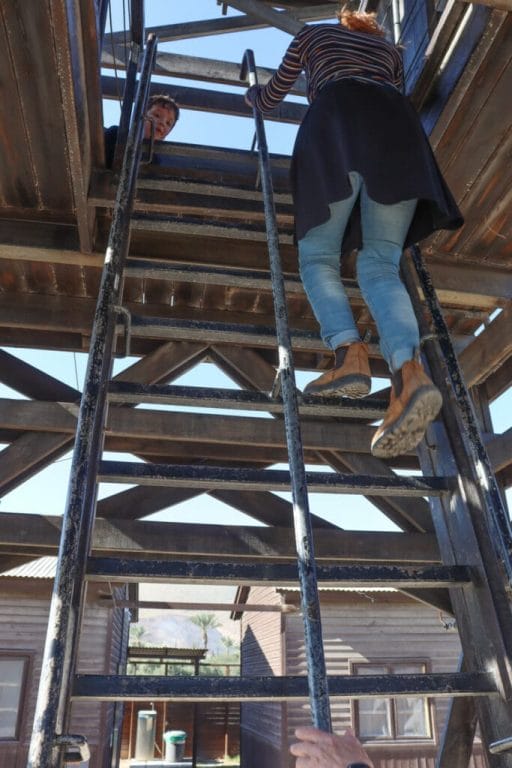 Our plan was to start with the museums – it would be hard to get back there once the kids were all wet from swimming. Unfortunately, the ranger was out of maps, so we used an online map to guide us along the inner road in the direction of the stockade tower.
We reached the tower in less than ten minutes. Walking towards the wooden structure, we were pleasantly surprised to find that an entire historical museum had been constructed to teach visitors about Tel Amal.
What is this Place?
In the late 1930's, the Jews in Israel realized that they had to take measures to protect themselves from the violence directed towards them. They began to build tiny, walled bases, complete with a tall tower at the center of each one. Many of these mini-settlements were erected in just one day, the element of surprise being the Jews' best chance of success.
This stockade tower (Tel Amal) was one of the first of its kind.
Of course, the first thing we did when we got there was climb the reconstructed tower to the very top. From way up there, we had a wonderful view of the surrounding area – a perspective that would be essential to soldiers defending a post. We also tried out the "telephone", a long pipe which carried our voices from the bottom of the tower to the top.
Next, we set about exploring the rooms of Tel Amal. Inside, we could see how the early settlers lived, with basic possessions, in beds covered with mosquito netting. In some of the rooms, dramatic dialogue between the settlers played over speakers.
The entire display was really engaging – my kids loved exploring the place and immersing themselves in Israeli history.
To the Museum!
Next, we dragged our kids away to visit another piece of history: The Museum of Regional and Mediterranean Archeology. Upon our arrival, we were lucky enough to be greeted by a young volunteer, completing her year of service as a guide at the museum.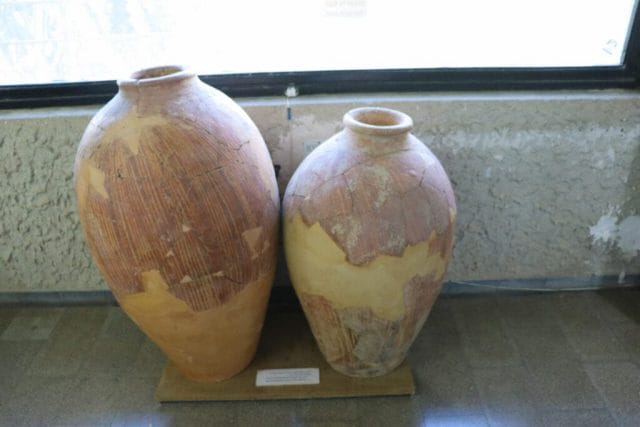 She gave us a complete tour of the place, which was full of fascinating artifacts from many time periods. We saw large storage jugs from the First Temple period, oil lamps from the Second Temple period, statues and columns from Roman times, Byzantine glass, and more, and more, and more.. It was incredibly cool to see how the materials and artistry changed over time. Most of the finds displayed in this first room of the museum were actually from the ancient Beit She'an area, an archeological treasure trove which now serves as its own national park.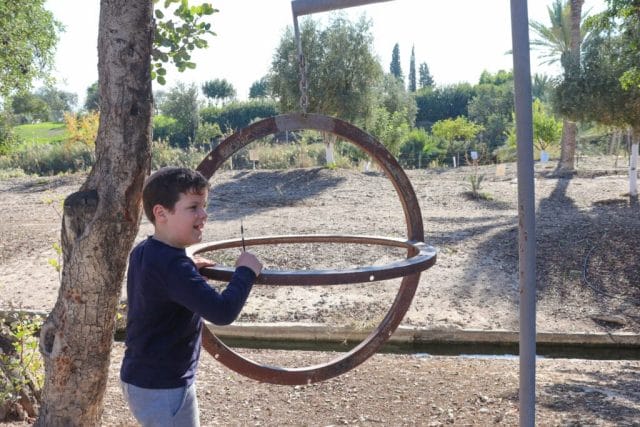 My kids really enjoyed this part of the day too. But once we moved from the first room towards discoveries from other parts of the world, they became less engaged. We sped through the rest of the Mediterranean artifacts and continued back towards Sachne pools, stopping to ring all the dinner bells at the early Yishuv Bell Garden along the way.
And the Pools…at Last
Finally, we were ready for the highlight of the day: swimming in Sachne Pools. The kids changed their clothes in the conveniently located changing room, and we went to find a spot in the shade.
After a quick picnic lunch, the kids jumped into the water. And then they swam. And swam, and swam, and swam. Dipping my feet in, I could see that the water was a perfect temperature. Despite the slight chill in the air, the kids weren't cold at all.
At some point during our time in the pools, we went off in search of the waterfalls. Those were a surprisingly awesome attraction that we seemed to have missed last time around! The kids enjoyed the rush of water on their bodies as the falls crashed into the pool below.
Afterwards, we returned to the pools. My kids couldn't believe how beautiful and fun this place was. It seemed like Sachne Pools should have been packed with people, but instead, there were only a few swimmers. The kids had plenty of space to roam free and play in the water
All in a Day's Fun
After a full morning of fun, we were ready to call it a day (at least the parents were). We had one more place to visit that day – Kochav HaYarden, a nearby fortress. With a bit of coaxing, we managed to extract the kids from the water and head towards the changing rooms.
Our day in Gan HaShlosha had been absolutely awesome. This gorgeous gem in the Jordan Valley is a unique place in Israel, a national park where you can learn a lot and have fun while you're doing it.
Hikers' Notes:
Here's what you need to know to plan a visit to Gan HaShlosha:
This is an all season activity. Beit She'an can be extremely hot in the summertime, but that's what the pools are for.
Prepare with a bathing suit for this national park.
The entrance fee to Gan HaShlosha is 39 NIS per adult and 24 NIS per child. Matmon members pay half that price. You can reserve your spot online before you go by clicking on this link.
This park has all the facilities you need for a great day. There are bathrooms and changing rooms, along with a store and a restaurant.
This park has all the facilities you need for a great day. There are bathrooms and changing rooms, along with a store and a restaurant.
Questions? Have you been to Gan HaShlosha? Let's hear about it in the comments!
Hiking can be dangerous and is done entirely at your own risk. Information is provided free of charge; it is each hiker's responsibility to check it and navigate using a map and compass.