Click here to go straight to hike notes.
Timna Park: This vast reserve near Eilat is home to impressive geological formations, along with layers of history. One could hike for days at Timna. There are hundreds of kilometers of gorgeous trails within the park to choose from.
A few weeks ago, we had the chance to travel south for a full day of hiking in Timna Park.  We spent most of the day on a long loop trail, covering some of the most impressive sights in the park – from ancient copper mines to climbing arches.
For our last hike of the day, we drove over to Solomon's Pillars. This awesome rock formation, located closer to the park's entrance, is named for King Solomon. Some say that the copper mines in Timna were operated under this biblical king thousands of years ago.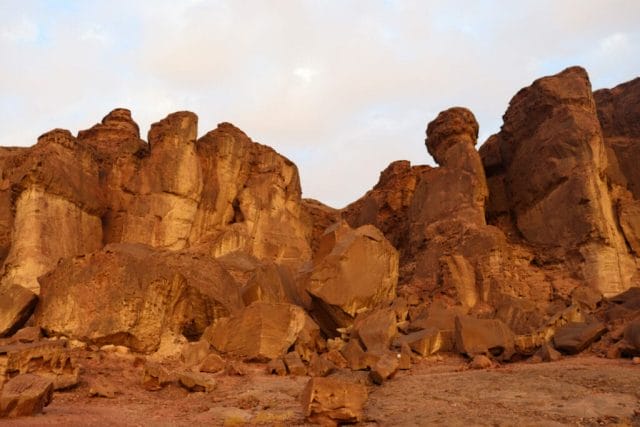 With the daylight fading fast, our plan was to quickly tackle the little loop trail before exiting the park at sunset. According to the Timna Park map, the circular trail at Solomon's Pillars was just a few kilometers – it seemed like it would be an easy way to end the day.
Boy were we wrong.
The Solomon's Pillars trail turned out to be a short – but hard! – hike. Without an accurate topographical map to follow, we had no idea of the ascents and descents we would be covering over the course of the trail. Instead of an easy stroll around the pillars, we actually climbed them. Using our last energy resources, we completed this amazing trail as the sun was setting in the sky.

Here's how we hiked this awesome loop at Solomon's Pillars:
Ho Hum, a Walk in the Park
We pulled up to Solomon's Pillars after hiking 20 kilometers earlier in the day. Our plan was to tackle this last, easy stroll during the last hour of daylight. From the appearance of the trail on the map, this hike would be a piece of cake.
We began by heading towards the pillars to see the rock engravings and an ancient temple.
Right away, we realized that we would be exerting a little more energy than expected. A steep set of stone steps lay before us, leading up towards the inside of the pillars where we would be able to see rock carvings. We started to climb, figuring that this would be the only challenge of the loop.
Up we climbed, in between the red pillars, to see an ancient Egyptian hieroglyphic engraving. Depicted in the 12th century BCE engraving is Ramses the III, holding out an offering to the goddess, Hathor.
After checking out the rock carving, we continued down the steps towards Hathor's Temple. This remarkably intact cultic site was used by both Egyptians and Midianites. With the informational signs to guide us, we could see the alter, basins, and standing stones.
A Job Well Done
With our short foray into the pillars complete, we followed the trail to loop around the giant rock structure. We walked over flat desert terrain, Timna's mountains on one side and the pillars on the other. From here on in, we figured that this would be an easy hike around the pillars.
But after a few good minutes of flat walking, we saw the trail veer sharply left, up and into the pillars once more. We started to climb.
Climb Time
And we climbed, and we climbed, and we climbed. If I had known what to expect out of this hike, I doubt I would even have noticed the constant ascent up hills of rock. But as it was, I was kind of drained after a long day of hiking, and each step seemed like a major accomplishment.
On the positive side, the views were absolutely stunning. The sun was beginning to set in a sky dotted with grey clouds. This half-light illuminated the red rock of Solomon's Pillars, casting an otherworldly glow upon the layers of color contained within the stone.
On the negative side (at least for me at that moment), the climbing never ceased. It seemed that every time we rounded a corner, we saw the trail markers appear in the distance, higher and higher each time. I pulled myself up a hill of rock, using all of my energy reserves, eager to see what awaited at the tippy top of Solomon's Pillars.
Flying High
And of course, it was worth it. As we neared the very top of the pillars, a cool breeze picked up, sending my skirt flying this way and that. I climbed up on top of the highest rock to take in the magnificent panoramic views of Timna Park. Deep desert valleys and rolling red and golden mountains lay under a sky peppered with streaks of pink and grey. It was beautiful. And I was happy that we had had the chance to climb to the top of Solomon's Pillars.
At this point, it seemed like there was nowhere to go but down. But, surprisingly, after leading us downhill for a little while, the trail veered back up again, bringing us up and down the steep rock of Solomon's Pillars to complete the trail on the other side.
We Made It!
After what seemed like a very long trek on Solomon's Pillars, we finally began to descend, down hills of rock. This was actually a really fun part of the hike. We raced down the rock hills against the setting sun, looking for the right rocks to place our feet as we moved quickly down the pillars.
Eventually, we were at the bottom, right back where we started. With the sunset, the pillars had taken on a golden glow, looming large above the flat desert ground all around. Looking up, I felt that we had accomplished something big during that last hour at Timna.
The hike around Solomon's Pillars was an amazing end to a spectacular day at one of the most beautiful desert parks in all of Israel.
Hikers' Notes:
Here's what you need to know to hike this loop trail at Solomon's Pillars:
This is a circular hike.
This hike is best suited to cooler days in fall, winter, and spring.
Not suitable for dogs.
There is a fee to enter Timna, 45 nis per adult and 36 nis per child. There are bathrooms, a shop, and a restaurant in the park along with many other fun attractions.
Wear good hiking shoes and sun protection to hike this trail. This hike is for people who are comfortable on rugged terrain. Not great for those with a fear of heights. Hiking poles can be useful too!
To follow the trail: Just follow the blue trail markers the entire way through the hike. Use the trail map for assistance.
Don't forget to read my guide to the navigational features in this post before you hit the trail!
Trail map from Amud Anan.
Questions? Have you hiked this trail in Timna Park? Let's hear about it in the comments!
Hiking can be dangerous and is done entirely at your own risk. Information is provided free of charge; it is each hiker's responsibility to check it and navigate using a map and compass.