Click here to go straight to hikers' notes.
Timna Park: positioned just north of Eilat, the park includes over 15,000 acres of quiet wilderness and gorgeous desert terrain. Timna, operated by KKL/JNF is probably the only park in all of Israel that feels similar to large national parks of the United States.
In Timna, ancient copper mines and temples sit alongside crazy rock formations and fossilized trees. The area has a rich history, having once been used by Egyptians, Edomites, Israelites, Nabateans and Romans as a source of copper ore, an important metal throughout the ages.  There are ancient cave drawings in Timna, featuring animals that one can still see there today, like gazelle and ibex.  Ostriches are also carved on the stones in the walls, suggesting that these large birds once roamed the landscape at Timna in ancient times.
My husband and I were lucky enough to spend some time in Timna a few weeks ago. We had visited the park before, but we had never really hiked there. Our one day in the nature reserve was eye opening – it was a place that we now want to return to again and again.
Since our time in the park was short, we decided to try to cover many of the main sites at Timna in one long loop trail. While other visitors to the park drive between the various view points, we were going to tackle Timna by foot, giving us the chance to explore the quiet hiking trails in the depths of the park.
It was an absolutely incredible day.
Here's how we hiked one fantastic 14.5 kilometer loop trail in Park Timna:

No Shortage of Great Views Here
We pulled into the park on an overcast morning. Our first stop was the visitor's center, a cute little building where we paid the entrance fee and picked up a park map.
Our next stop of the day was the Valley Viewpoint. We drove into a small lot with a few other cars and set out on our long journey between the many magnificent sights of Timna.
Normally, a hike like the one we took that day would have been our first hike of the morning. But since we so rarely get to the Eilat area, we had already taken a sunrise hike at the Red Canyon. So by the time we reached Timna, we were ready to stop for coffee and breakfast. We began searching for the perfect picnic spot.
And this was an easily accomplished task. As we made our way towards the "Mushroom and a Half", we passed by a picture perfect rock hill with beautiful views out to the valley and the surrounding mountains. We climbed up for our quiet and peaceful breakfast with a view.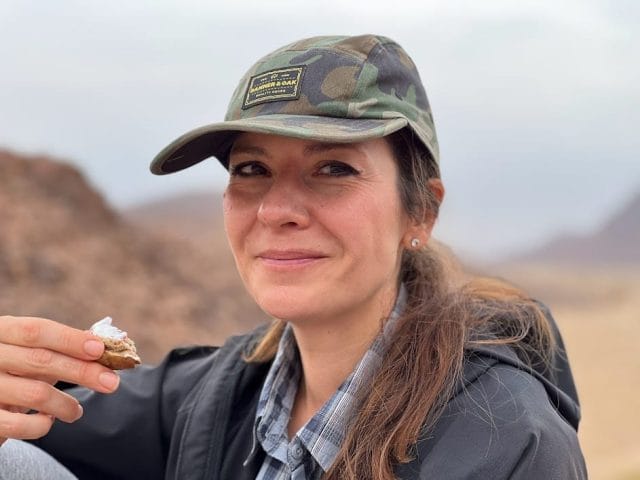 Half a Mushroom and Beyond
Timna is full of huge, colorful rock formations with playful names.  After our visit to the Mushroom and a Half, we were on our way to the "Screw," a giant pillar of rock that swirled round and round to a pointed tip on the very top.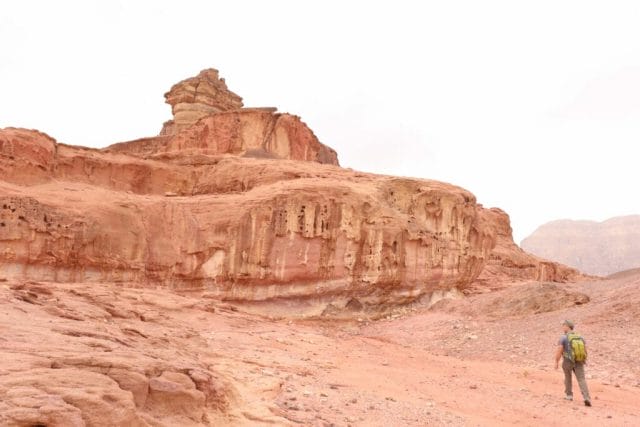 It's hard to describe in words the beauty of the rock formations at Timna Park.  The Screw itself looked like an oversized strawberry ice cream sundae, dripping with a caramel syrup.  We looped around and followed the flat trail towards the golden mountains, which glowed under the overcast grey sky.  It was stunningly beautiful.
And want to know the best part about this hike through Timna? There were no other people there. And I mean no other people. Throughout all of our time on the trail from one popular site to the next, we were all alone. The only other people we saw were at the main sites themselves.
The Chariots
After traversing several kilometers of incredibly beautiful desert terrain, we reached the next point on the map: The Chariots.
From my experience with the first two sites, I assumed that the Chariots would be some sort of chariot shaped rock formation. But instead, it was an ancient mining shaft and a series of wall carvings from Egyptian times, thousands of years ago.
We climbed up to look at the cave drawings. On the rock, we could see chariots and stick figures, throwing boomerang spears at galloping ibexes.
In another part of The Chariots area, there was a mining shaft that we squeezed into. Here too, there were cave drawings, battle scenes carved into the wall that had remained intact for thousands of years.
Towards the Fossil Trees
Next, we set out on a separate loop within a loop called the Fossil Tree Trail. The trail itself was quite beautiful, and we had a great time climbing over colorful rocks and taking in the beautiful scenery.
The trouble was that we didn't see any fossilized trees. Not that we really knew what a fossilized tree would look like.
A few kilometers into the trail, as we completed the loop, the mystery was solved. Behind a metal grate, there were many rocks that looked like oversized lumps of coal. As the sign explained, these were actually fossilized fern trees, remnants of life that existed in Timna 150 million years ago.
The Arches Trail
Our time at Timna was running out. With just a couple hours of daylight left, we saw that we were going to have to make some tough decisions. Which cool site should we eliminate – the Arches or the Canyons?
Since we had already done some canyon climbing that morning, we decided to head over to the arches, skip the canyon trail, and then return to the Valley Viewpoint where our car was parked after stopping along the way at the Mushroom.
I'm not sure what we missed at the canyon trail, but the Arches were truly spectacular. When we reached the site, there was a school bus full of children getting ready to embark on a little loop. We raced ahead to get in front of the pack.
This part of our long journey was so cool. We climbed up and down ladders, over large arches that framed picture perfect sections of sky. Rays of late afternoon sun peeked through the dark clouds.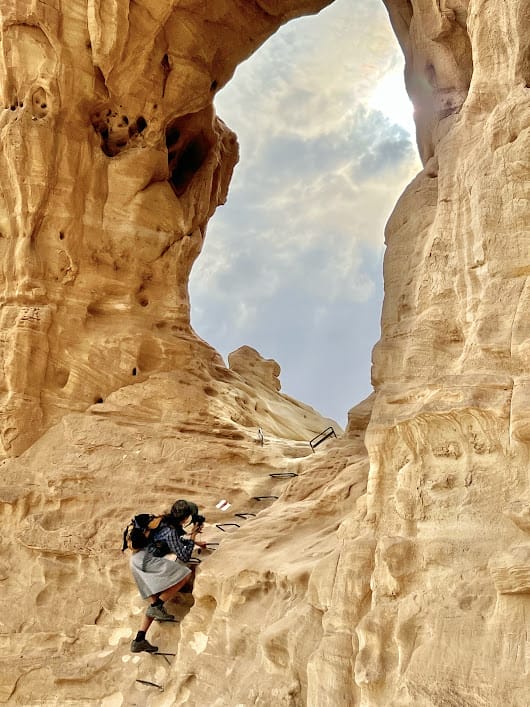 We climbed higher, and higher, and higher, through a mine shaft, out to an awesome lookout. Then we climbed back down to return to the main trail and head off to the mushroom.
A Giant Mushroom to End the Day
Our last stop of the long trail was an oversized red mushroom made out of stone, perched all by itself in a flat desert area. We walked out to take some pictures and then hurried off to complete the loop at the Valley Lookout.
Many hours and many kilometers after our breakfast at the half mushroom, we had completed a massive loop through Park Timna. From here, we would be driving off to our final sunset hike at Solomon's Pillars.
It had been a spectacular journey – a quiet day, filled with beautiful sights and amazing hiking trails. Timna Park is so much more than a tourist attraction. For hikers, it's a paradise of geology and history, a silent world of nature near Eilat waiting to be explored.
Hikers' Notes:
Here's what you need to know to hike this trail at Timna Park:
This hike is best suited to cooler days in fall, winter, and spring. The trail is mostly exposed to the sun.
There is a fee to enter Timna, 45 nis per adult and 36 nis per child. There are bathrooms, a shop, and a restaurant in the park along with many other fun attractions.
No dogs allowed.
A visit to Timna Park is great for families.
To follow the trail: use the trail marker gallery and trail map. Make sure to pick up a trail map at the visitor's center! (The English map may be incorrect, so pick up a Hebrew map too to be safe.)
There are climbing ladders on this trail. May not be suitable for those with a fear of heights (or just skip these parts of the trek).
Wear good hiking shoes, a hat, and sun protection to hike this trail.
Don't forget to read my guide to the navigational features in this post before you hit the trail!
Trail map from Amud Anan.
Questions? Have you hiked this trail at Park Timna? Let's hear about it in the comments!
Hiking can be dangerous and is done entirely at your own risk. Information is provided free of charge; it is each hiker's responsibility to check it and navigate using a map and compass.