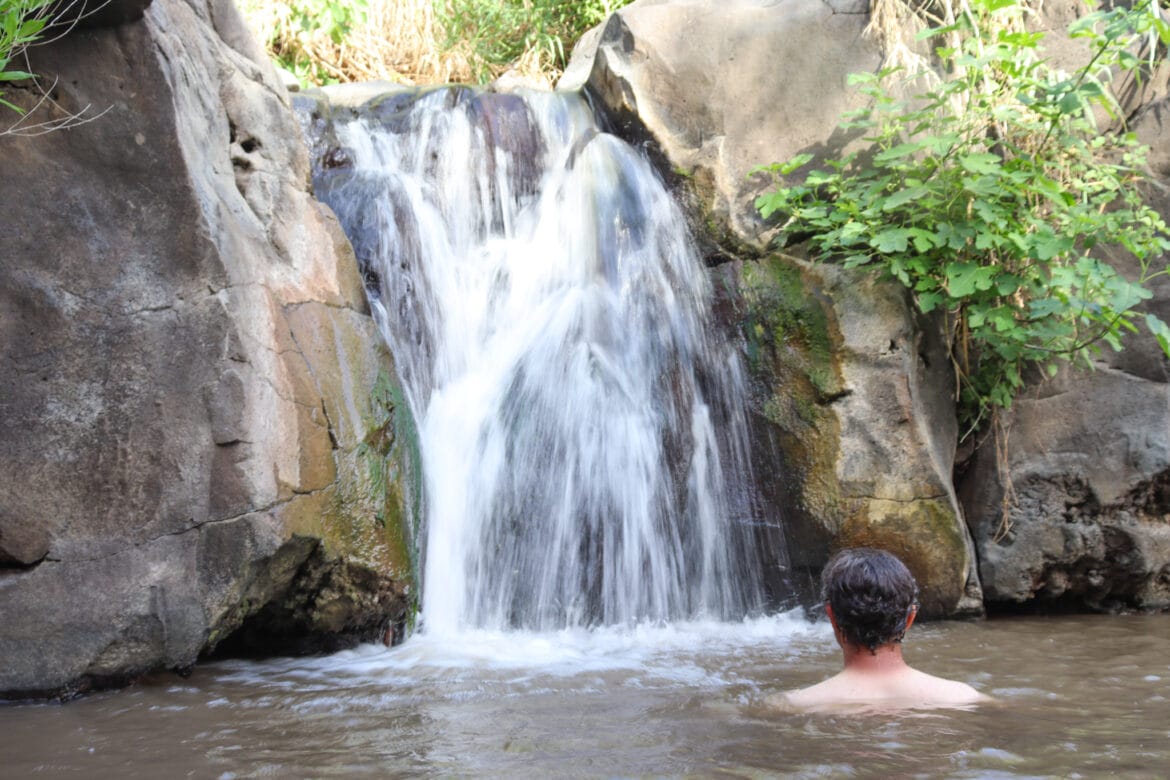 Click here to go straight to hike notes.
Imagine a quiet spot with a rushing white waterfall. At the bottom of this waterfall, a cool pool of clear water is surrounded by grey rock and greenery. Bright pink flowers hang from shrubbery all around. Dragonflies flit from flower to flower. Tall reeds block out the rest of the world.
Now, imagine that this spot exists here in Israel. And imagine that it's a hot spring day and you have it all to yourself! All afternoon long.
Sounds impossible? It's not! It may come as a surprise, but hidden gems do exist here in Israel. These are spots that aren't marked by any organized parking lot or a marked trail. Somehow, these spots remain quiet and unknown. But that doesn't make them any less beautiful.
Two weeks ago, we just visited just such a hidden gem: Ein Nachum in the Golan Heights. This incredible waterfall pool was so special. During our visit to the pool, it was really hard to believe that we had it all to ourselves. Especially because, just a short ride up the road, a very popular and far less spectacular spring was hopping and popping with afternoon swimmers.
We visited Ein Nachum after a long day of hard hiking. So, we were thrilled to be able to cool off and rest our tired muscles in a beautiful water oasis. We brought a bottle of wine along (mostly for the pictures, but that didn't stop me from deeply enjoying my hiking mug full of red wine).
We'll never forget those few hours we spent at Ein Nachum, and how happy we were to find the place. It was one of those magical feelings you get when you've discovered something truly special.
Here's how we made our way to Ein Nachum, a hidden oasis in the Golan Heights:
Working for It
We followed precise directions step by step. Or at least we thought we did. In our search for Ein Nachum, we began by parking on the side of a small road and walking towards a popular spring nearby.
We reached the spring, a shallow watering hole without much ambience, and we weren't able to find the path to get to Ein Nachum.
Try as we might, we couldn't figure out where we had gone wrong.  That's when we realized that we were in the wrong place altogether.  According to our instructions, Ein Nachum was a bit further down the road.  We were going to have to get back in the car and drive.
Past the Bee Boxes
So that's what we did. Moments later, we pulled up a few meters away from a cluster of manmade beehives and found an almost unrecognizable path off to the side of the road. If we hadn't been searching, we never would have even thought that it was a pathway. The trail was completely overgrown with tall grass and weeds.
So we climbed through the brush – down a golden hill, past clusters of white flowers and towards the sound of rushing water.
The noise of the waterfall was unmistakable. As we got closer, it got louder. We were so eager to find the hidden pool that we broke left through a wall of reeds in haste. And there we were…in paradise.
A Perfect Scene Revealed
A white waterfall crashed down into a large pool. We were completely cut off from the rest of the world by greenery and walls of grey stone. I was so hot from our day of hiking that I jumped right in. The cool water was delightfully refreshing.
I swam towards the waterfall to feel the rush of water and bubbly spray on my face. Just near the waterfall, there was another little place to sit on the rocks under the trees. So, I hopped up with my camera to take pictures.
Neon dragonflies flitted between the leaves of overhanging trees. Pink blossoms fell into the pool and floated on the water. It was picture perfect.
Ein Nachum was just so picture perfect, in fact, that we decided to take more fun photos. I cracked open a bottle of red wine (we really just happened to have it in the car) and poured some into a tin hiking cup. And we savored every last drop.
Let's Just Live Here
After that, we swam some more – in and out of the waterfall, all around the pool. We wanted to just camp out at Ein Nachum and stay there forever, in our own little world of peaceful natural beauty. But as the sun faded into late afternoon, we realized that it was time to get going.
Happy and refreshed, we got out of the water to dry off a bit and then laced up our hiking boots. After one last look at our secret oasis, we climbed through the reeds and the path back up the hill. The scenery on the hills was beautiful in this late part of the day, as the golden rays of sun shone on tall reeds and clusters of flowers.
Soon, we were back at our car. Except for the faint sound of a waterfall, it was impossible to tell that a little world of wild beauty was waiting just down below.
That afternoon, we discovered that hidden gems really do exist. With a few careful directions and a bit of perseverance, you can find your own private piece of paradise in Israel's great outdoors.
Hikers' Notes:
Here's what you need to know to visit Ein Nachum:
Best for spring and summer days.
Good for all ages. The water is deep, for swimmers only!
Suitable for dogs.
This spot is part of the Meshushim River. If Nahal Meshushim is contaminated, you may want to avoid the water at Ein Nahum.
To get there, follow the Waze link. There are many pathways to the right, across the road from the rectangular, white bee hives. Follow one of the pathways downhill towards the reeds and the sound of rushing water . Climb through the reeds, and there you are!
There is no trail map or trail marker gallery for this spot. Just follow the Waze point and follow the directions above. This spring is right past Ein Ampi, a popular ma'ayan.
Don't forget to read my guide to the navigational features in this post before you hit the trail!
Have you been to Ein Nachum? Let's hear about it in the comments!
Hiking can be dangerous and is done entirely at your own risk. Information is provided free of charge; it is each hiker's responsibility to check it and navigate using a map and compass.