Click here to go straight to hike notes.
A couple of weeks ago, I was given a rare opportunity: a Friday morning with the kids at home. My youngest son was getting over a bug. He was feeling mostly fine but needed another day's break from school.
Luckily, I had recently set my eye on a family friendly hike in Central Israel: the Hiriya, or Ariel Sharon Park. Since my son was home from school anyway, we decided to head out for some kid-friendly nature therapy. We asked the other kids if they wanted to join, packed up a picnic, and grabbed a few pairs of binoculars for our little adventure at Ariel Sharon Park.
What's makes Ariel Sharon Park so special? Well, it's actually pretty unique. The park is an ex- garbage dump that has been transformed into a beautiful natural area, right in the middle of Central Israel. Word on the street was that were tons of birds that gathered at the Hiriya, attracted by the nearby streams. We had also heard good things about the walking paths and gardens inside.
It poured rain on the drive over. Armed with jackets and waterproof boots, we hoped the weather would clear up enough for us to enjoy our excursion. And it did. By the time we arrived, the rain had stopped, leaving us all alone to enjoy Park Ariel Sharon. Nobody seemed to be heading out that day. We didn't see another soul the whole time we were there.
The Hiriya was everything we had hoped it would be and more. This fascinating reserve in Central Israel far exceeded our expectations.
Here's how we explored Ariel Sharon Park, a garbage dump turned natural paradise in Central Israel:
Game Plan
We pulled into the empty parking lot and got situated. The area all around was glistening with dewy raindrops. Up ahead, we could see a small visitors center with maps of the park. We headed on over.
First, we read all about the park's history. Ariel Sharon Park was once called simply, the Hiriya, after an old Arab village that once stood there. Prior to 1928, the village had been called Ibn Ibraq, referencing the ancient city of B'nei Brak located nearby.
In 1952, the site became an official garbage dump, the main garbage collection area of Gush Dan (the Dan Region). Mountains of waste gathered there from 1952 until 1998, when the site was eventually shut down due to environmental concerns. At that time, the mountain of garbage was a half a mile long and 80 meters above sea level.
In the early 2000's innovators brainstormed possible ways to turn this environmental hazard into something positive. Plans for the Ariel Sharon Park began to take form. After tackling such obstacles as dangerous gasses, instability, and contaminants (which would impact the water and vegetation), the Ariel Sharon Park project progressed bit by bit. Finally, the park opened to the public in 2015.
On the Trail: Way Side Story
After catching up on the park's history we were ready to start the trail. Conveniently, there was a map and self-guided tour in the park, called "Way Side Story." Our plan was to follow the trail as outlined on the map and visit the various points of interest along the way.
As we headed out on the path, we stopped for a moment to check out some unusual trees. There were large, sweet-potato shaped fruits hanging from each one. We picked up a fallen fruit and brought it along, hoping to figure out what it was later (we never did).
Perhaps it was just the beauty of the early morning rain, but Ariel Sharon Park was gorgeous that day. Under the cloudy sky, it looked like a little paradise. It was hard to believe that this green area was once a stinky garbage dump.
As we walked, we stopped to read each sign: the first pointed out trash and refuse sticking out from the hilled layers, only visible upon careful observation. This was surprising, and also very cool to see.
Towards the Lookouts
We ascended along the path, noticing layers of concrete that had been formed into pretty terraces. The concrete itself was old construction refuse, pulled from garbage dumps in massive quantities and rearranged to form the walls of the mountain. Between each terrace, native trees had been planted. There were olives, carobs, and more.
We passed by some built up overhangs, covered in bright orange flowers and walked to the edge of the park to the first lookout. Ancient B'nai Barak was visible in the valley just below.
We weaved our way towards the main lookout, covered in a large canopy of geometrical pergolas. From here, we could see the two main streams that run by the park: Ayalon and Shafririm Streams. Birds gathered nearby, flying between tall poles, trees, and puddles of water.
We took out our binoculars and began birdwatching. There were Eurasian Jays, Kestrels, and others. My kids examined our bird book closely, trying to identify the different types they saw.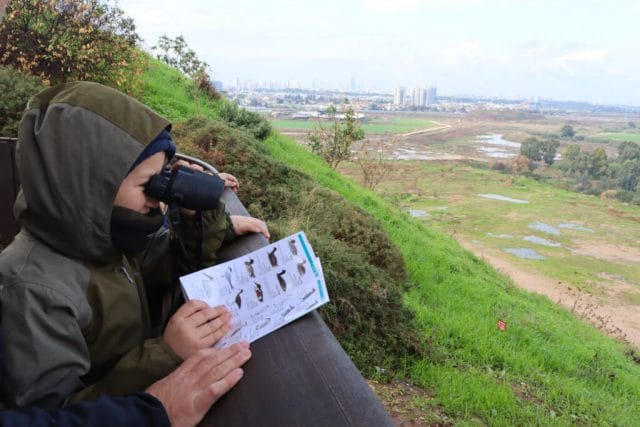 Onward
From the lookout, we continued along the rest of the trail. We passed by the gas processing plant, a trash man sculpture, and more pretty lookouts.
At this late hour in the morning, my boys were eager to stop for brunch.  Rather than head back to the picnic area at the front of the park, we sprawled out in a huge grassy area in the sun. 
As we sat there drinking our coffee, I noticed all types of wildflowers getting ready to unfurl their colorful petals amidst the grasses. In a few weeks, this area would be even more gorgeous. We felt the wind blow in our faces and a few stray raindrops. Overhead, an occasional airplane swooped low in the sky, coming in for landing.
We relaxed there for a while, then packed up our stuff and continued on our way.
A Pond and a Picnic Area to Finish up the Day
Soon, we reached the large pond near the front of the park. There were lily pads and flowers. According to the signs, fish had been raised in the water, but we didn't see any.
We passed the closed visitors center, a gorgeous picnic area, and eventually, found ourselves back at the parking lot. Our journey was at an end.
It had been a perfect rainy-day excursion into nature for kids. We left the park that day committed to figuring out ways to reduce our family's own trash output. Yes, the park was now a beautiful place, but it had taken tremendous cost and effort to turn around what was once an environmental hazard. Our visit was eye opening.
At Ariel Sharon Park in Central Israel, pretty walking trails await at this trash pile turned to natural treasure.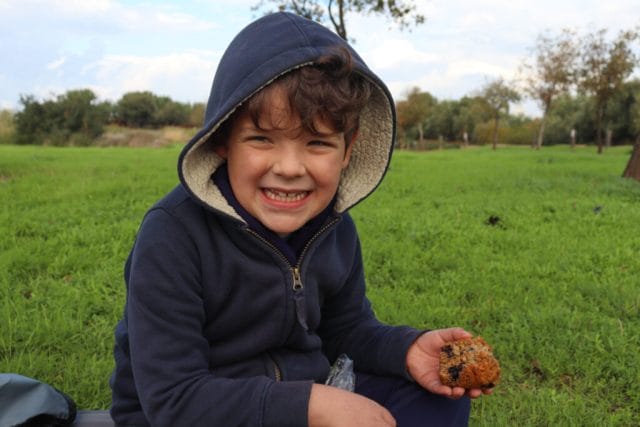 Hikers' Notes:
Here's what you need to know to walk the trail at Park Ariel Sharon:
This is a year round trail. That said, the park can be quite hot in the summertime. It is at its best on cooler days in fall, winter, and spring.
Great for kids and people of all ages.
There's a nice, shaded picnic area inside of the park.
Dogs are allowed, if on a leash.
There is a sign at the entrance to the park which gives info about the trail to follow. Follow the trail as suggested, or just wander.
There are water points and bathrooms located around the park.
Don't forget to read my guide to the navigational features in this post before you hit the trail!
Trail map from Amud Anan.
Questions? Have you been to Ariel Sharon Park? Let's hear about it in the comments!
Hiking can be dangerous and is done entirely at your own risk. Information is provided free of charge; it is each hiker's responsibility to check it and navigate using a map and compass.