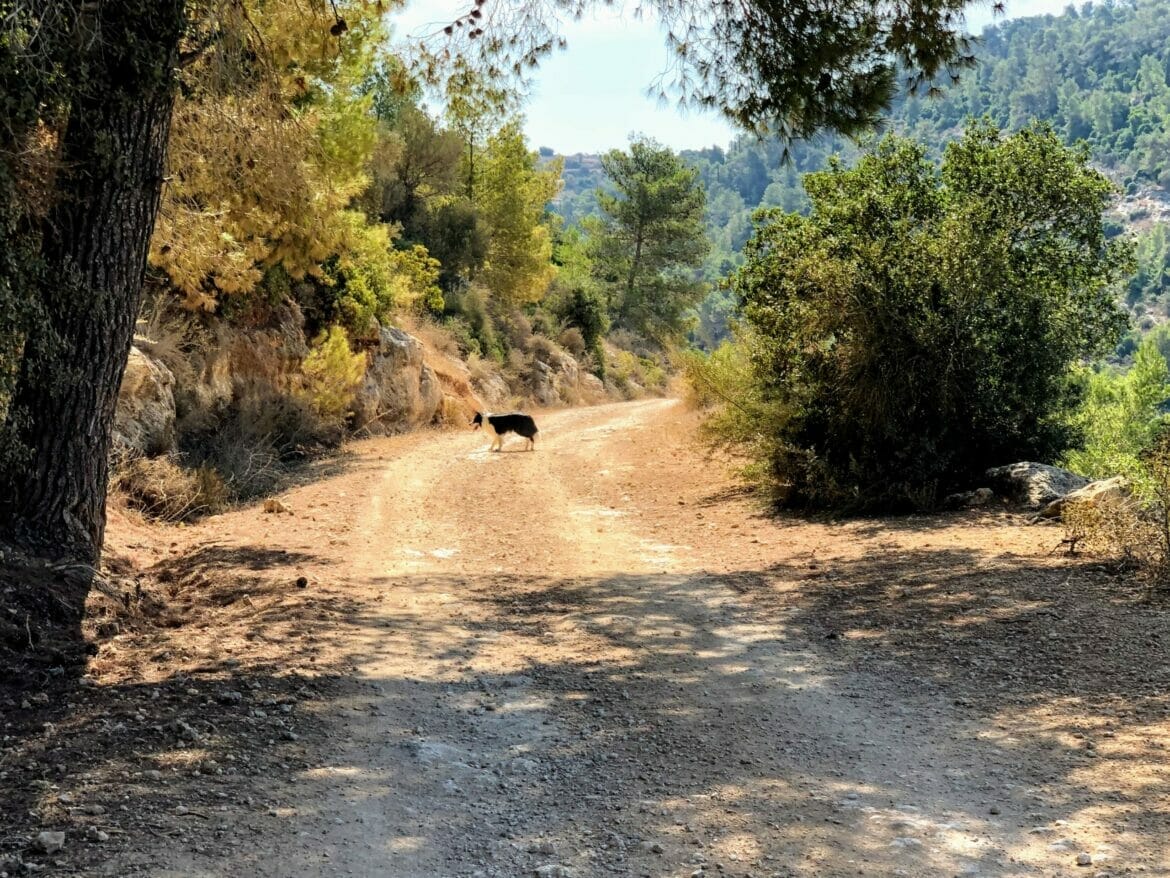 Friday again.
This time, we were looking for a hike in a very specific location: near the Kedoshim forest in the mountains of Jerusalem.
Today was not going to be like our usual rambling, hike for hours Friday treks. My brother and sister in law were in town (yay!) . Together we had planned an 11 AM wine and cheese tasting at Flam Winery, a quaint, family-owned spot tucked away in the forest.
The Shayeret Trail is located less than ten minutes from Flam. This path leads through the woods and uphill, winding through mountainous woodland. An added bonus: we knew that we could see how far we were progressing and shorten the trail as needed. Although Shayeret was a circular hike, there were different ways to cut through to make it a three, six, or eight kilometer walk.
We ended up taking the six kilometer version of the hike. And it was a beautiful prelude to the winery outing. We even ran into a surprise on the trail.
Here's what we saw on our early morning walk along the Shayeret Trail near Jerusalem:
A Forest to Ourselves
The trail began in a quiet forest campground. The early morning light filtered through masses of tall pine trees. Neatly arranged picnic benches sat along the stone pathway below.
We got set up with all our gear and my little one year old niece in a backpack, and then we scouted the trail head at the far end of the picnic area. Our slow and steady climb through the forest was off to a great start.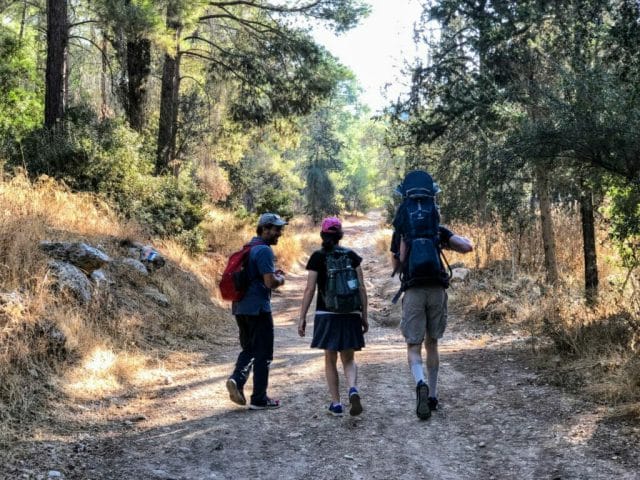 I hadn't actually expected a beautiful hike. In early October, before the winter rains, the landscape is at its driest and can't always be called gorgeous. But the canopy of trees up above and the golden grasses at our feet combined to create truly picture perfect scenery.
Where the Going Gets Tough
After we ascended through the woods, we emerged out of the dark forest onto a mountainside, the wide expanse of Jerusalem mountain views spreading out around us.
Since my brother in law was carrying a 50- pound baby backpack, it wasn't an easy ascent. In my head, I was quickly upgrading the difficulty of this hike from moderate to strenuous.
So, as we passed the steepest part, we sought out a place to stop for iced coffee and a much-needed break.
The cool part of the Shayeret Trail is that there are pine groves to sit in almost the whole way through. Even though some of the path is exposed to the sun, you don't have to go very far to find the shade. We set ourselves up in one of these clusters of pine trees, perfectly situated to look out at the blue skies and mountains beyond.
Where the Tough Get Going
After our break, we redistributed the weight and were ready to go again. At this point in the morning, it looked like we were going to end up taking the medium route (we had passed the three kilometer turn-off long ago). This piece of the trail (from our coffee spot until the breakaway path) was probably the most beautiful part of the whole hike.
The terrain became flatter and easier to navigate. We walked through classic Israeli mountainside scenery – overhanging trees on one side, gorgeous views on the other.
Lost in conversation, we suddenly noticed our border collie chasing something up ahead. Before I could get my camera ready, a gazelle popped out of the trees. One, then two, then a small herd, bouncing away from our dog up into the more protected area in the forest up above.
It was the first time we had seen gazelles in the wild while hiking in Israel. Just another unexpected benefit to taking the road less traveled.
We're Late for a Very Important Date
After our wildlife sighting, we turned onto an unmarked trail to cut through the forest onto Burma Road. We passed a few old KKL information signs, then started hoofing it downhill back towards the forest campground.
We didn't have much time left to stop and take in our surroundings. But I couldn't help stopping to look out some fluffy white flower stalks on the side of the path as we progressed back through the trees. I snapped some pictures, and we continued in the sun towards our car.
A couple of kilometers later, we were back at the picnic area where we had parked.
The Winery
From the Shayeret Trail 6K, we took a short drive to the morning's main event: wine tasting at the Flam Winery.
This family owned wine business is located in a truly magical setting. Rows of vineyards stretch out, hidden from civilization by forests all around. The winery itself seems too quaint and quiet to be minutes from Beit Shemesh. It feels more like an experience in the Tuscan countryside.
We sat down at the outdoor patio, on a table covered with fallen yellow flowers. Wine, cheese, and a basket of artisan breads with olive oil and rosemary were placed in front of us.
We all hung around, relaxing after our hike, talking and enjoying the fantastic wine. A gentle breeze blew petals down from the tree above our heads.
A great workout, a beautiful hike, a gazelle sighting, and wine with cheese. The Shayeret Trail 6K was a perfect beginning to an incredible morning outdoors in the Jerusalem Mountains.
Hikers' Notes:
This hike is just a nice little trip from a quiet forest up and over a mountainside. Like I said, there were a lot of really special places to stop throughout. For the most part, it's just a classic Jerusalem area hike.
If you do want to take it up a notch, make reservations at the Flam Winery for a post hike treat! All together, the whole experience was beautiful and unique.
Make sure to wear proper footwear for this hike. The climb up is a bit rocky, and you need sneakers or hiking boots to navigate the trail. I wouldn't take this hike on a super hot day – better in the fall, winter, and spring.
If you're skipping the winery, the picnic area at the beginning and end of the hike is a great spot to have lunch.
Trail map from Amud Anan.
Don't forget to read my guide to the navigational features in this post before you hit the trail!
Questions? Tips for fellow hikers? Leave them in the comments!
Hiking can be dangerous and is done entirely at your own risk. Information is provided free of charge; it is each hiker's responsibility to check it and navigate using a map and compass.