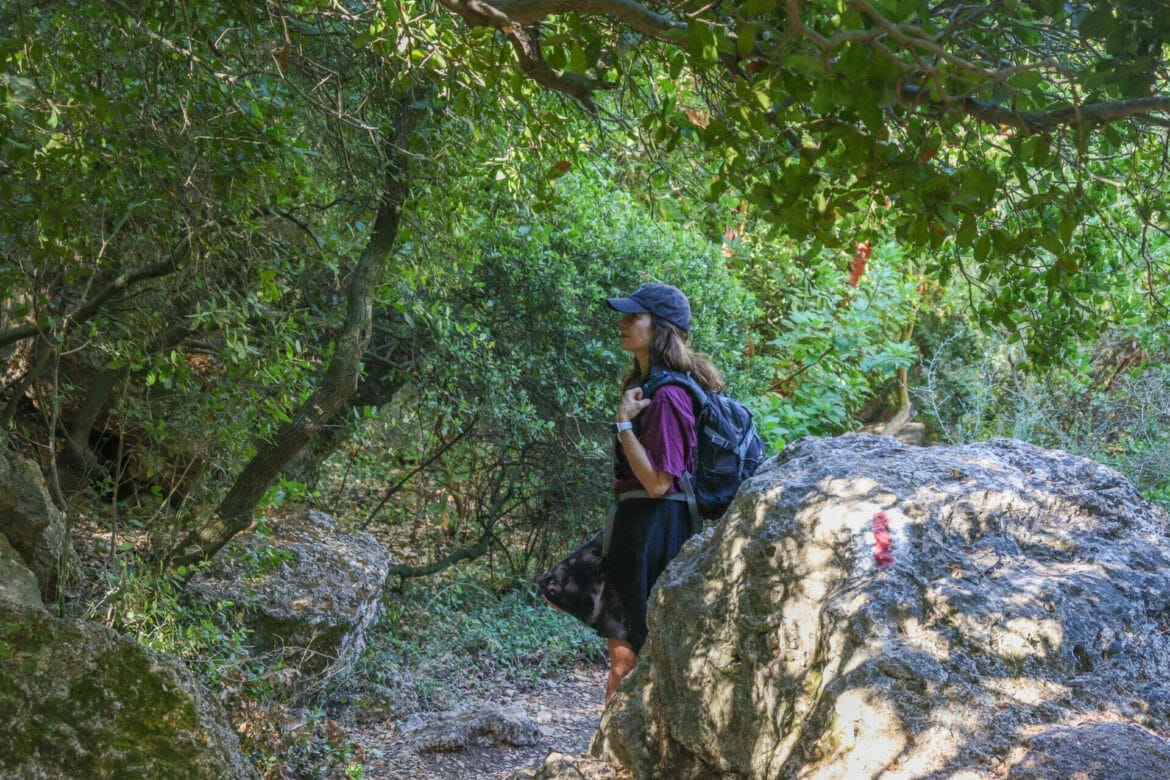 Click here to go straight to hike notes.
This week, I realized something. After many years of hiking all over Israel and writing about it, I had never written about the full, one way trail at Nahal HaMeara. And that's really just not okay.
Nahal HaMeara is a beautiful stream bed in the Jerusalem Mountains. Beginning in the Nes Harim area, it's a perfect starting point for anyone who lives in Beit Shemesh, Gush Etzion, or even Jerusalem. The hike is shady, beautiful, and includes many interesting features, like a spring, a bat cave, and the remains of a Crusader fortress. It's also a great hike for summertime, as long as you begin early in the morning.
So, we decided that this Friday would be our opportunity to hike Nahal HaMeara and get pictures for the site. We had to be home early anyway – it was our kids' last day of school, and we wanted to celebrate! If we left home at 6:30 AM, we would have no trouble completing the hike before their return.
Going in to the hike, I wasn't expecting to have such an amazing time. After all, we'd hiked this trail before. In fact, I had hiked the first part of the trail with my daughter and granddaughter just a few days earlier.
But this trip to Nahal HaMeara proved to me that every time you hike a trail it can be different. It was absolutely, unquestionably magnificent. We saw and experienced things at Nahal HaMeara last Friday that we simply hadn't noticed before. I'm really happy we decided to go back.
Here's how we hiked this beautiful, 6.5 kilometer, one way trail at Nahal HaMeara:
Shhhh…People are Sleeping
We pulled into the parking lot bright and early in the morning, and were surprised to find cars already parked there. A minute later, we realized: there was a whole group of tents set up under the trees. These families were having a camp out.
We got onto the red trail in a whisper and followed it along, past fenced off vineyards, glowing in the early morning light. It was cool outside on that summer day, so cool that I was wishing I had worn long sleeves.
Soon, we had reached the turnoff to the black trail. When we take this hike with our kids, we always hike the shorter, circular version, climbing up to the caves on the black trail, hitting up the ruins at Beit Itab, and then hiking back on the red trail. 
This time, we decided to do something different and stay straight on the red trail.
Things Look Different
And that turned out to be a great decision. Somehow, things look so different when you hike in the opposite direction. What we normally perceived as sort of a boring walk turned into something spectacular. We noticed the vineyards, green and golden in the morning light. Katlav trees, oak trees, and more hung down from the sides of the path. Purple spiky flowers and delicate caper blossoms dressed up the scene, and the scent of rich thyme, hyssop, and sage accompanied us as we walked.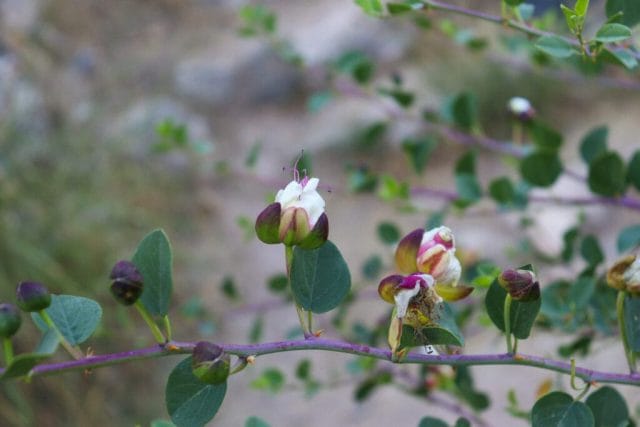 Down below, we could see the nahal, the valley that would lead us all the way through this hike. The views were really beautiful.
Soon, we reached Ein Hod, a spring that we've passed a thousand times. This time, we read about the spring. Although the entrance is covered by a grate, we could see the water just underneath. According to what we read, there is a long underground tunnel that leads through the water. I hope that the gate is open next time we go!
Up to Beit Itab
From Ein Hod, we followed the steps up to Beit Itab, a village that was inhabited until 1948. Although remnants of First Temple burial caves have been found near Beit Itab, the site was predominantly inhabited by Arabs throughout the centuries, and temporarily by Crusaders, as well.
We climbed up to the top of the fortress – this spot is well known to us. Often, we come out here with the kids and sit on top of the fortress (or in a nearby eucalyptus grove) for a picnic dinner. In the early morning breeze, I sat down at the edge of the structure to watch the birds in the valley. They swooped through, taking turns gliding on the wind, diving down, and flying back. The panoramic scene was simply divine.
Onward
From Beit Itab, we continued towards the main Nahal HaMeara Trail. We started out in the sun, and we were thankful that it was still early in the morning.
Along the way, we met up with one or two challenging descents – the path took us down over steep rocks with no handholds. This was an added bonus for us!
Soon, we found ourselves heading into the shadows. It was so shady and beautiful – perhaps the most beautiful trail in the Jerusalem mountains. This was the Nahal HaMeara that I remembered from previous visits.
Just Beautiful
We walked along in the shadows, past rock formations, gnarly trees, and more. There were many katlav trees, their red bark peeling to reveal the smooth, bright green new bark below. The trail felt like one in the Carmel area – there was so much shade and beautiful greenery. And here we were, just twenty minutes from Jerusalem.
Eventually, we decided that it was time to stop for breakfast. Although we had seen next to no one on our hike that morning, a small group of trail runners had just passed by.
So rather than sit right on the trail, we decided to climb up off the trail into our own secret spot in the trees. Sitting there, all I could hear was birdsong, rustling leaves, and cicadas. It felt like summer – but a good kind of summer, where we were protected from the sun by the shade of tangled oak trees.
Perched on a rock, we pulled out our thermos of iced coffee and blueberry oat muffins. Our breakfast spot was simply delightful.
Let's Do This
Although we hadn't hiked slowly, we realized after breakfast that we needed to hoof it. We still had the bat cave to explore, and we needed to find a taxi back to the trailhead. And we had to do all of this and return home before our kids got back from their last day of school.
We continued on through the shadows, enjoying the spectacular scenery. Soon, we reached another main attraction at Nahal HaMeara – the rock slide. I sat down and felt the completely smooth rock, polished by thousands of visitors who use this rock as a playground. The rock was almost soft.
We slid down at top speed and continued on our way.
Bat Cave
Just a little bit further, and we were there, at Ma'arat HaTeumim – the stalactite/ bat cave with a spring inside. We knew we had to tackle this thing quickly. But wouldn't you know it – we had forgotten our flashlights at home!
We turned our cell phone lights all the way up, crawled underneath the oversized fig tree at the entrance, and made our way into the cool and creepy depths of the bat cave.
It was awesome.
From the moment we entered, shrieks echoed in our ears. There were bats everywhere (although we couldn't see them very well without our flashlights). We walked to the end of the cool and incredible cave, took a few pictures, and then vowed to return very soon with proper flashlights.
Next time, we would walk all the way to the end and feel the cool water of the spring inside the cave.
Spectacular
We left the bat cave, and high tailed it over rocks and boulders all the way to the end of the trail. The trail had been amazing, both beautiful and multi-faceted. I was so happy that we had chosen to hike Nahal HaMeara on that early summer morning.
We ordered a taxi on Gett, and a few minutes later, we were on our way back to the trailhead.
For a convenient and spectacularly beautiful (and challenging!) local hike, Nahal HaMeara is the perfect choice near Jerusalem.
Hikers' Notes:
Here's what you need to know to hike this trail at Nahal HaMeara:
This is a one-way trail.
This trail can be hiked year round. When hiking from November through March, the bat cave will be closed for bat hibernation season. When hiking this trail after heavy rains, take the detour onto the black trail at the beginning of the day. The black trail will reconnect with the red trail at Ein Hod. By doing this, you will avoid an extremely muddy part that is difficult to traverse on wet, winter days.
Suitable for dogs (we didn't bring ours because of the difficulty of the taxi at the end).
This trail is extremely simple to follow. Just get on the red trail and hike it until the end.
You can park a car at either side of the trail (use point B for the second parking point), or call a taxi with Gett at the end of the day. Ours cost about 70 NIS.
Don't forget to read my guide to the navigational features in this post before you hit the trail
Trail map from Amud Anan.
Questions? Have you hiked this trail at Nahal HaMeara? Let's hear about it in the comments!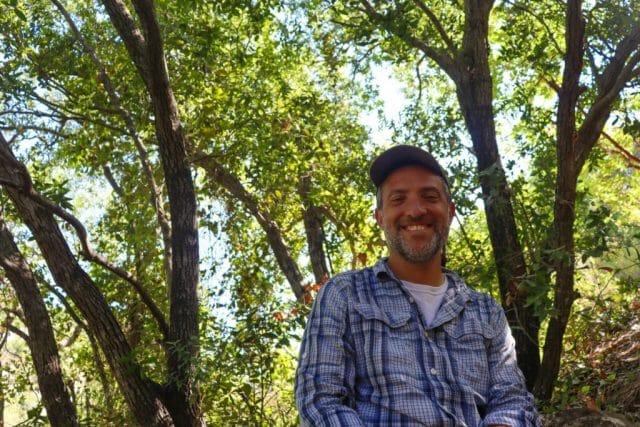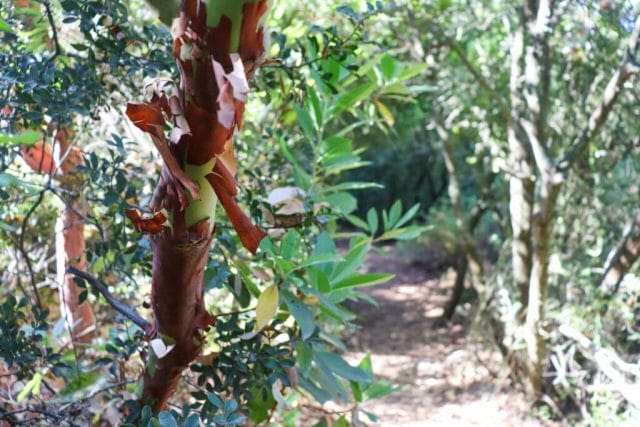 Hiking can be dangerous and is done entirely at your own risk. Information is provided free of charge; it is each hiker's responsibility to check it and navigate using a map and compass.