Click here to go straight to hike notes.
There is no shortage of awesome hiking trails in the Jerusalem area. For this reason, when people ask me if I'm running out of hiking trails yet, I always answer – not even close!
True, in the heat of the summer, it's hard to find just the right hiking trail in Israel. But during the months of February and March, when flowers are blossoming and the weather is just about perfect, there's a plethora of new and beautiful trails to choose from. The only trick is to create a manageable and fun hike out of the amazing network of trails in the area.
This past week, we set out on a hike in Adulam Nature Reserve. On a previous journey in the park (a very, very long one!), we had passed by a super-cool hurva, an area of ancient ruins. That day, we hadn't had time to stop and explore.
As is typical for Adulam, Hurvat Kayit was full of underground tunnels, cool bell caves, burial caves, and more, all topped off by a picturesque Ottoman era structure, made up of arched windows and crumbling walls. This time around, we planned out a circular hike that would be short enough to give us time to really stop and explore.
Of course, we saw more than just an amazing archeological site that day. We also took in beautiful views, fields of red flowers, and cool wildlife that is so often spotted in Adulam. The day was sunny, and the weather was perfect. And we enjoyed our underground explorations at Hurvat Kayit, too.
Here's how we hiked this 6 kilometer circular trail to Hurvat Kit at Adulam Nature Reserve:
Spring Beauty
We pulled up at the trailhead near Nehusha and set out on the trail, down a wide road that linked the green trail to blue.  It was a beautiful morning.  To our left, a thick forest filled with wildflowers beckoned.  Not long ago, we had stopped for a picnic in that forest, but on this morning, we reluctantly left it behind as we followed the planned trail.
Soon, I forgot about the forest completely. A different kind of beauty took over. Worlds of red anemone flowers blossomed, interspersed with yellow mustard, pink cyclamen, orange calendula and purple orchids. This place was heavenly. We walked along the trail, taking in the views of rolling hills and green valleys that surrounded us.
Must Stop to Frolic
Pretty soon, we reached fields of scarlet anemones that were too beautiful not to stop for. We were on this trail at Adulam in just the right season. In early March, red flowers dominated the landscape. First, we stopped to take pictures.
And we couldn't stop. The red flowers bobbed in the gentle wind, laid out like a carpet over the shallow, rolling hills.
After many photo ops, we decided that this was the right place to stop for breakfast – because who doesn't want to have their morning coffee in a field of red wildflowers? The area was shaded to one side and sunny on the other, perfect for that unseasonably warm March morning. We found a spot in a mixture of sun and shade and pulled out our thermos of coffee.
These are the moments that one looks forward to in Israel all year long. The scenery that surrounded us was simply surreal. It was the kind of spot that you would see in a fairytale. And best of all, we had it all to ourselves.
Guess We'd Better Go
After many cups of coffee and delicious blueberry oatmeal, I glanced at my watch and saw that it was time to get going. We were here to see a lot more than wildflowers. We packed up our things and continued along the trail. Luckily, the wildflowers accompanied us on our journey.
A short while later, we departed from the blue trail to reach Hurvat Kayit, a site of ancient ruins that we had passed up on our last hike in this area. As we approached, we were greeted by more fields of red anemones, making the crumbling structure at the hurva look like a storybook palace.
We made our way past the Hurva towards the hidden caves that waited just beyond.
The Best Kind of Fun
After a bit of consultation with our map, we found the first massive cave. I climbed down using a convenient rope left there by a fellow explorer. Then, we proceeded into the depths, through one hole, and then another, into a room that looked to us like underground stables.
Back in the other direction, I found one of my favorite things to discover: a narrow, carved out tunnel, leading into a secret underground network. In I climbed, following the tunnels until I reached an exit into the upper part of a large room. In that room, a ladder was propped against the tunnel, allowing me to climb down and back up the other side using another rope left by (perhaps the same?) thoughtful explorer.
This place was awesome.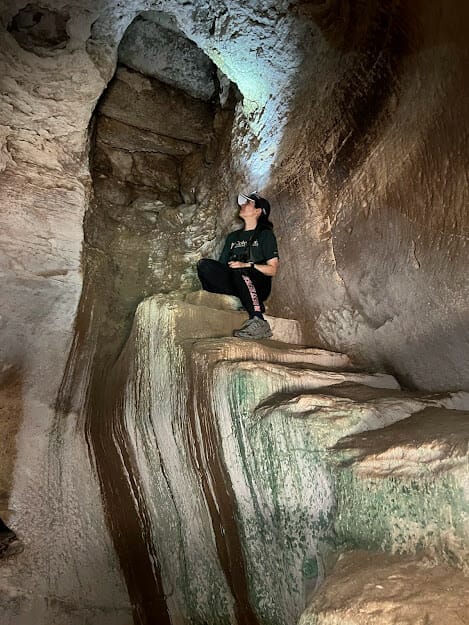 Never Enough Time
We peeked in at the Ottoman Era structure, which was more beautiful than exciting, and continued to scope out many secret caves and tunnels on the map. Unfortunately for us, our time was almost up – and we still had half a hike left to complete. We said goodbye to Hurvat Kayit, promising ourselves that we would be back to explore more another day, and set out on the trail again.
A World of Wilderness
From then on, we hiked at a relatively fast pace, up and down over small hills and rocks, past wildflowers aplenty. On our last hike in this area, we had spotted white tailed deer, a fox, and what appeared to be a jungle cat.
This time around, we encountered wildlife of a different sort: colorful birds and butterflies. We stopped to take pictures of pair of orange crowned Woodchat Shrikes. Then we stopped again to take pictures of a beautiful butterfly perched on a blossoming pink flower.
Soon, we had completed most of the green trail and were almost back at our car. Our hike that day had been awesome – so full of exciting surprises.
This mid-length circular trail in Adulam is the perfect choice for adventure and natural beauty on a winter or spring morning.
Hikers' Notes:
Here's what you need to know to hike this 6k circular trail through Adulam:
This trail is best hiked on cooler days during fall, winter, and spring.
Suitable for dogs.
Make sure to wear good hiking shoes, a hat, and sun protection. Bring plenty of water to hike the trail. Headlamps or a flashlight are useful for exploring the underground tunnel system.
To hike the trail: Park next to the green trail marker and follow the road until you reach the turn to the blue trail. Follow the blue trail. Use the trailmarker gallery to find the spot to turn onto an unmarked trail to the Hurva. After exploring the Hurva, follow the unmarked trail which leads into to the blue trail. Follow blue to green. Turn right onto the green trail, and follow the green trail back to your car.
Use our trail map, trail marker gallery, and Google Earth file to find your way on the trail.
Don't forget to read my guide to the navigational features in this post before you hit the trail!
Trail map from Amud Anan.
Questions? Have you hiked this trail in Adulam? Let's hear about it in the comments!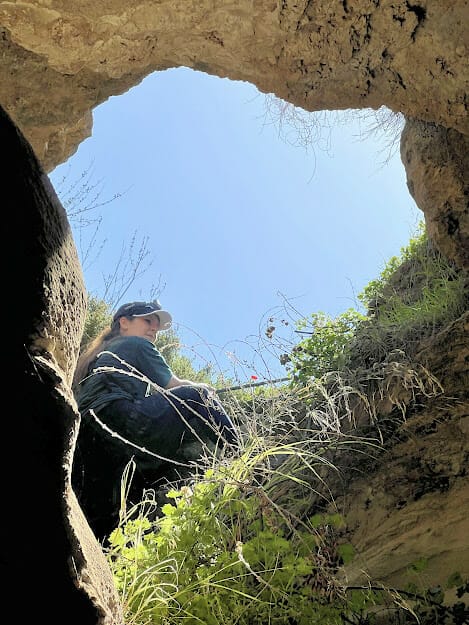 Hiking can be dangerous and is done entirely at your own risk. Information is provided free of charge; it is each hiker's responsibility to check it and navigate using a map and compass.