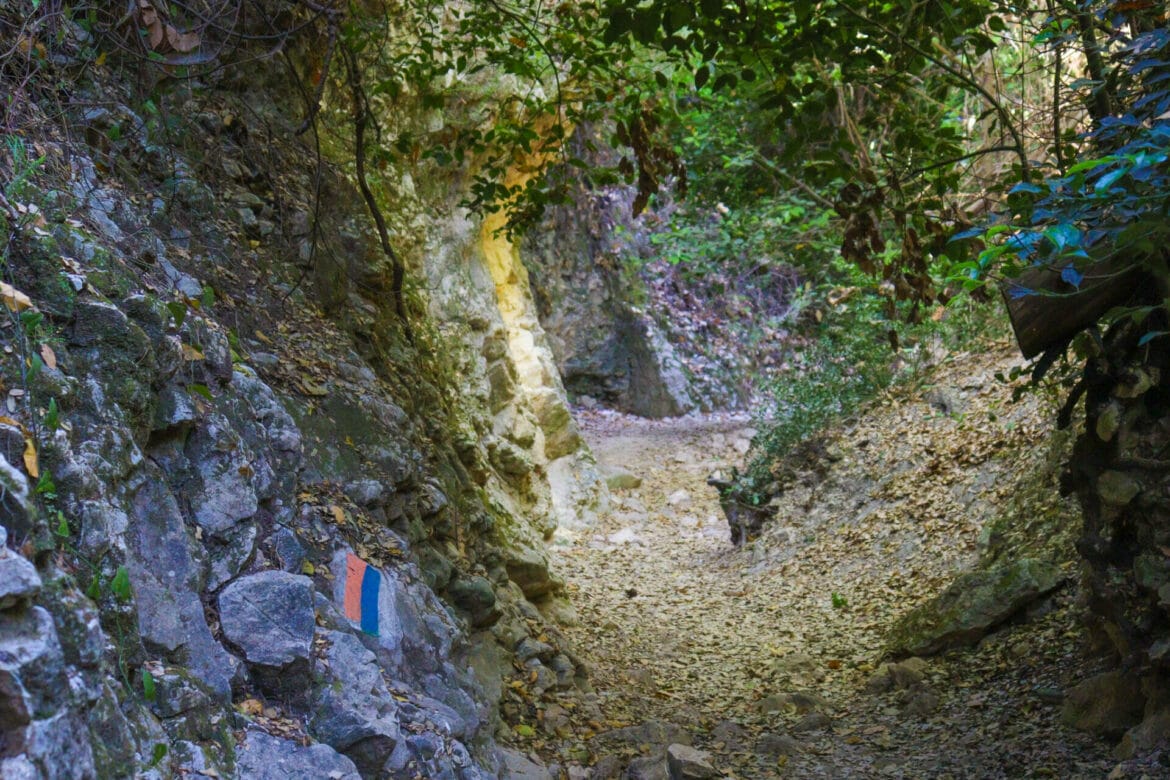 Click here to go straight to hike notes.
It's been hot lately. So hot, in fact, that it's becoming harder to find nearby hiking trails for our full day hikes. So last week, we decided to take a nice long drive up to the Carmel Mountains near Haifa.
From our experience, the Carmel Region is a great place to hike, even on hot days. In the shade of a cool valley, you can walk along under a canopy of trees, over cool rocks and boulders.  Even when you do emerge out into the sun, it's not so bad.  Just off the Carmel Mountain ridge, the deep blue Mediterranean Sea provides a cooling breeze that flows up into the mountains.
In advance of our Carmel adventure, we turned to the map to scout out a new trail, one we had never hiked before. My eyes drifted to Nahal Hik, a winding trail right in the middle of the Carmel Mountain National Park.
The hike at Nahal Hik began with a walk to a spring.  Then, after following the Israel Trail through a shady valley, it criss-crossed Druze farmland.  Along the way, we knew we would reach a killer lookout and a beautiful spring (Ein Alon) before ending the day at a place called "Machtzevet Kedumim".
We were going to have to find a way back to the beginning for this one-way hike, but with Haifa right nearby, we figured it wouldn't' be too difficult to call a cab if we needed it. Armed with a plan, we drove off towards our Friday morning adventure in the Carmel.
Here's how we hiked this 8.5 kilometer, one-way trail from Nahal Hik to Mahtzevet Kedumim in the Carmel Mountains:
Forest to Valley
We pulled off the road in a Druze city into a shady forest.  The beginning of this trail wasn't particularly well marked, but with a little bit of looking we found the trailhead.  This boded well for our hopes of a quiet day.
We descended along the green trail (also the Israel Trail), carefully following trail markers as we hiked down in the early morning sun.  Spiky, purple flowers bobbed in the gentle sunlight and a smattering of trees filtered the sun's rays.  We had to follow the path carefully, making sure to search out the green marked trail in several places.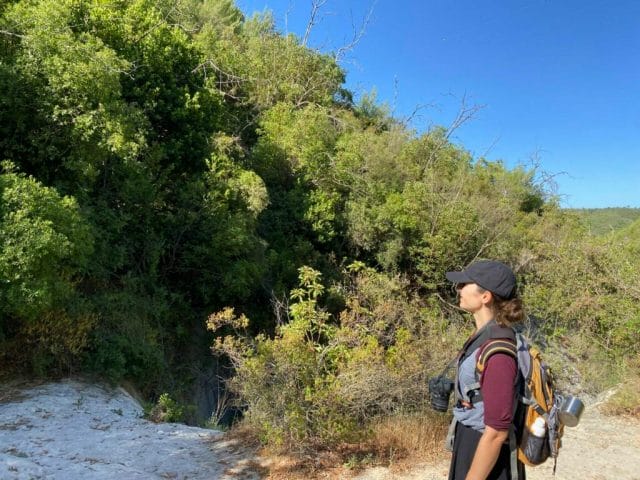 After a little while, we found ourselves at Hik Spring. I had been looking forward to this spot, hoping to encounter a full, cool pool as depicted in some of the photos I'd seen online. But it must have been too late in the year in early June – Ein Hik was almost completely dried up.
We passed on by and continued into the beautiful, glorious shade of Nahal Hik just below.
In a Valley
If you find yourself in a Carmel valley on a hot day, you can consider yourself lucky. At Nahal Hik, trees grew thick all around, over giant boulders and rock formations. The ground beneath us was covered in a thick carpet of fallen leaves. Birds flew between the branches, chirping whenever they stopped. Butterflies flitted around to flowers blossoming in stray rays of sunshine. It was absolutely beautiful.
Most importantly, it was cool down there, even on that hot day. It almost felt like there was natural air conditioning blowing through.
We hiked through Nahal Hike, enjoying the soothing scenery. There were rocks to climb down and a few hand hold rungs. I was in my happy place.
After a while, we reached a giant boulder perched over a perfect lookout to both sides of the valley. It was too perfect to pass up. We decided to stop there for iced coffee and muffins, in the cool shade of Nahal Hik.
Moments later, iced coffee in hand, I was so cold that I had goosebumps.
Back into the Sunshine
After breakfast and a long walk through Nahal Hik, we finally emerged into the sunshine. We passed by a small Druze farm where we met some friendly farmers, then continued to follow the path.
Although we were no longer in a shady valley, it was still relatively cool. There were trees every so often, providing ample shade. And something about the glorious green views at the Carmel seem to keep you mentally cool.
On the Ascent
A little while later, we found ourselves on the ascent, climbing up Har Shokef. This was probably the toughest part of the day, but it wasn't too bad. We ascended quickly, not really taking the time to notice the intensity of the climb.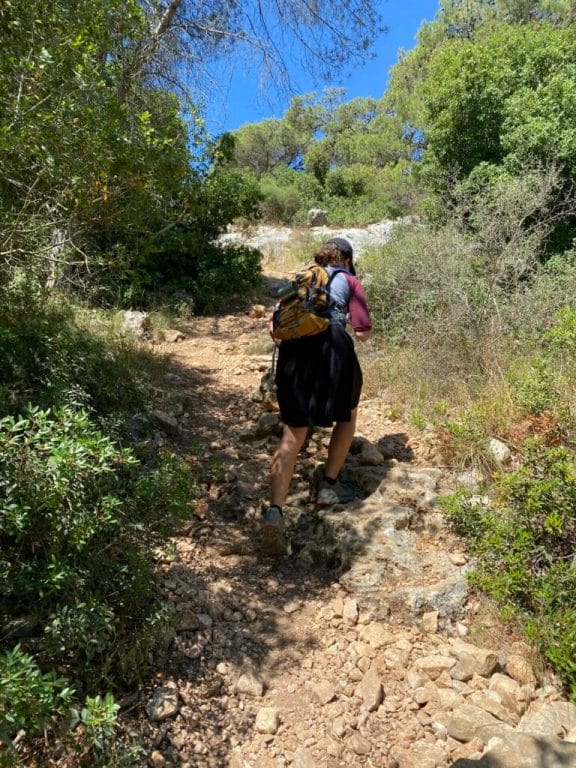 After a bit of exertion, we reached the top of the mountain, and a beautiful lookout from the highest point in the Carmel.
Mount Shokef
It was beautiful up there. From our spot, you could see the entire coastline – Atlit, Caesarea, and beyond. The green mountains of the Carmel seemed to extend in every direction, petering towards Central Israel. On the other side, we could see the city of Haifa, large and full of life.
But where we were there was no one – just us and beautiful views of the Carmel Mountains all around. The deep blue Mediterranean Sea lay low under the horizon. It was blissfully peaceful up there.
After taking in the views, we continued on our journey, through long and twisty trails in the Carmel.
Wildflowers, Sea Views, and More
Then, we just walked for a while. We walked down larger dirt roads and narrow pathways, the overgrown brush scraping at our feet. Thick greenery grew everywhere – pine trees, katlav trees – and the remnants of tall trees burnt in the Carmel fires 12 years ago popped out above the tree line. In the distance, views of the sea kept us company the whole time.
After a long ramble, we found ourselves nearing Ein Alon. Pink oleander and tall reeds indicated that water was indeed flowing. We departed from the path to seek out the spring itself.
A Popular Spring and a Climbing Wall
For the first time that day, we found ourselves surrounded by people. A big group of teens was hiking through the Carmel on a trip, and they had all stopped at Alon Spring.
If there hadn't been a million people there, it would have been a wonderful place to stop. At Ein Alon, a full, cool pool of water lay under bushes full of falling pink petals. The clear water looked enticing. The spring seemed like a great place to cool off.
As it was, we were more interested in getting away from the crowd than getting wet. We took a few pictures, then followed the pink flowers back to the trail and up towards the final ascent.
Next, we climbed through a shady woodland towards the end of the trail at Mahtzevet Kedumim – an ancient quarry turned climbing wall. At the site, families were rappelling down, enjoying an adventurous day out in nature. We checked out the quarry, then made our way over to the cab waiting for us at the end of the trail.
Our journey through Nahal Hik to Ein Alon had been a perfect way to spend a summer morning in the Carmel. On this trail, shady beauty and quiet peace come together to create a wonderful adventure.
Hikers' Notes:
Here's what you need to know to hike this trail at Nahal Hik in the Carmel Mountains:
This is a one-way trail. Park a car at each end of the trail or call a taxi for the return trip (from Haifa). It is a 7 minute drive between the start and end point.
This is an all season trail. On very hot days, it's best to hike early or late in the day.
Wear good hiking shoes, sun protection, and long pants to hike this trail. Parts of the trail are overgrown, and pants will protect against scratches.
There are no facilities at any point along the trail.
Bring plenty of water to hike this trail. Much of the path is exposed to the sun.
To follow the trail, use the trail marker gallery and trail map in the table up top. The Google Earth file will help you follow your location along the path we took as you hike.
Trail colors: Israel Trail (also green, black, red). At red/blue crossroads, make a right on blue. Then make a left on green towards Machtzevot Kedumim.
The trail markers on this hike are not always easy to follow or obvious. Keep a close eye out for trail markers at every point. If you find yourself wandering, backtrack to the last trail marker to see where you went wrong (we had to do this several times).
The trail begins in a small Druze city (Ussefiya). The people there are friendly towards Jews/ Israelis. Being there is not a safety concern.
Don't forget to read my guide to the navigational features in this post before you hit the trail!
Trail map from Amud Anan.
Have you hiked this trail at Nahal Hik? Let's hear about it in the comments below!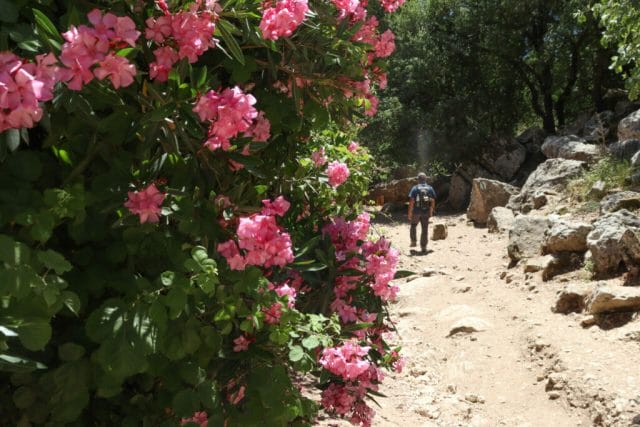 Hiking can be dangerous and is done entirely at your own risk. Information is provided free of charge; it is each hiker's responsibility to check it and navigate using a map and compass.