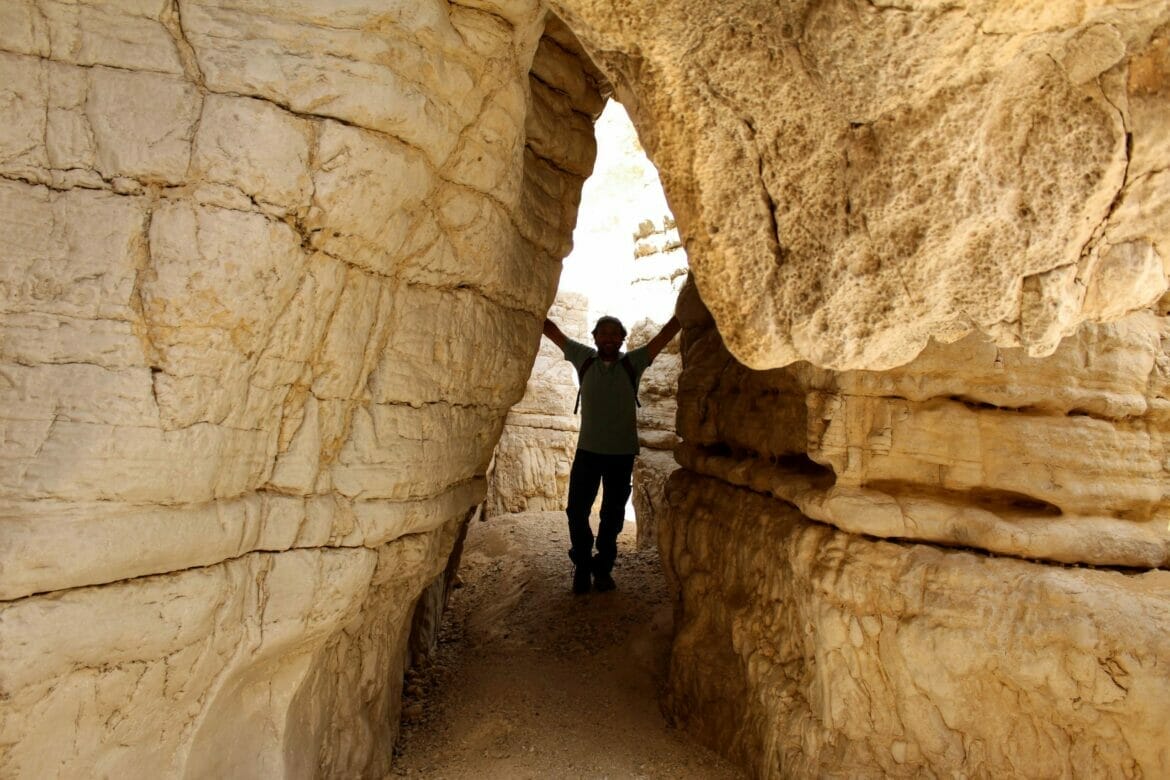 Friday, May 15. The thermometer was pushing 90 degrees Fahrenheit (32 Celsius) as we set out from our home in Gush Etzion. We were heading towards the desert again.
Most normal people would (and should) stay away from the desert when it's this hot outside. But we had been waiting for rain free Fridays all winter long. It's dangerous to hike in a desert valley in the rain. And now that sunny days were here, we wanted to get to the hikes that we had been pushing off all winter.
So this past Friday, we decided to take on one of the most challenging hikes in the Judean Desert – Nahal Dragot. Rather than complete the one-way, full day hike, we chose the easier, circular route.
We'd read online that this hike was "for families" and only 4 kilometers long. So, when we pulled up at the National Parks booth, we were surprised to learn that all of that information was completely wrong.
Instead, we had gotten ourselves into an intense, 9 kilometer (but circular!) hike that was supposed to take 3-4 hours. It was definitely not for families. Unless your family is made up of two very athletic adults and two very fit teenagers.
And although we were sweating buckets and practically falling apart by the time we finished, we were so thankful that we hiked Nahal Dragot that day. The scenery was absolutely incredible. By the end, we had probably pushed ourselves harder than we'd pushed ourselves on any hike, ever.
Here's the lowdown on the Nahal Dragot circular route – one of the most intense and awesome hikes in the Judean Desert:
In for the Long Haul
When we heard that the hike was twice as long as we thought it was, there was nothing for us to do but start moving – fast. We had driven over an hour to get there. And we weren't going to give up so easily.
So, we slathered ourselves with sunscreen and headed out on the green trail. The good news was that the green trail was relatively flat. So even though it was boiling hot and sunny outside, we were able to walk through the first couple of miles at high speed.
While this may not have been the most pleasant way to enjoy the green trail, at least we made it through quickly. We were mostly there for the awesome views and climbing we were going to get in the canyon below. And truthfully, on that hot day, there wasn't much to enjoy about walking on flat desert terrain in the sun. (But on a cool and overcast day, it's probably delightful.)
We're Going Down
After passing by a few turnoffs and staying straight on the green trail, we eventually came to the red trail crossroads. It was here that we began our descent into the Nahal Dragot canyon.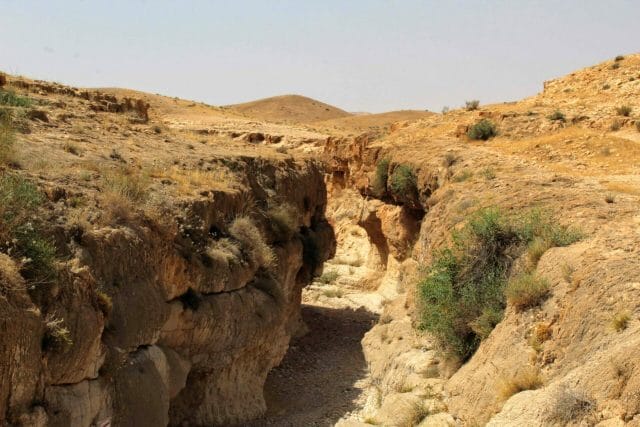 At this point, we were ready to get into some shade and see incredible scenery. The trail descended slowly, with mild downhill climbing and an interesting perspective into the red rock and caves up above.
Soon we reached smooth white rock. Then we climbed down into the riverbed below.
We were starving by now, and definitely ready to drink something cool and refreshing. So, we chose a shady spot under a giant boulder (which was suspended above our heads by the sides of the canyon), and we parked ourselves on the ground.
Let me just say: iced coffee in 90 degree heat is heavenly. There's really nothing quite like it. We slogged away at our tin cups, gulping in the cold, then sipping slowly to savor the experience.
There was no one else around. Even the birds seemed to be hiding away for the day. The heat slowly drained from our faces as we sat in the shadows. Turns out that inner quiet and contentment can be found even on a hot day in the desert.
Let's Keep it Real
After cooling down from the inside out, we were ready to continue. We still had a lot of ground to cover. And we knew that most of it would be twice as intense as everything we had hiked so far.
We began the rest of our journey by walking along cliffsides with fear -inducing drops. Luckily, we're not afraid of heights.
Next obstacle in our path – many, many descents down difficult terrain. Some of them required heavy foot traction or placement of the body at odd angles. Others, we slid down. And many of the descents required a big jump down at the end.
There were some handholds here and there. But most of what we had to hold onto (besides the rocks) were broken guardrails – that were boiling hot to the touch.
Needless to say, these climbs along the red trail put our bodies to the test. Which made the hike much more exciting.
Spectacular Scenery
Even if it wasn't for the exhilarating climbing down the riverbed, the scenery itself was just incredible. It really and truly felt like a scene out of Star Wars. Rocky crags were everywhere. Boulders were flung about at random. The colors alternated from milky white to bright red.
Every once in a while, we would see something incongruous – a flourishing flowering plant, one single colorful butterfly, or a bright green pool of water sitting in the middle of the canyon. All along the rocky walls of the canyon were mini caves, where we could see lots of birds camping out in the shade.
After a lot of intense downward climbing and really incredible views, we finally made our way (past a Pirates of the Caribbean Cave) to the black trail.
Homeward Bound
I was really excited to get to the black trail so we could try our hand at climbing up rather than down. But I had to wait for that.
The trail started off with cliffside walking. Soon we saw the turnoff to another one of major attractions at Nahal Dragot – the Muraba'at Caves. In the 1950's, letters written and signed by Bar Kochba himself were found in these caves. (Up until that point, many had believed that Bar Kochba and his revolt were only a legend.)
We veered off the path and began the steep ascent towards the cave up above. And all I kept thinking as I climbed is that Bar Kochba must have been in incredible shape.
When we got to the cave, it was nothing more than a large and dark pigeon den. The place was filled with birds, and many flew out as we approached. It was hard to believe that men had lived here, in this harsh environment, in a place that was practically un-reachable.
Back to Black
We made our way back down to the black trail, then started the long and difficult ascent. This was, by far, the hardest part of the hike. The sun was unrelenting. Since we were climbing out of the canyon there was almost no place to stop in the shade.
Some of the climbing was vertical, requiring the use of metal handholds (which were, again, blistering hot). But most of it was just a long and steady uphill. I'm not going to lie – it wasn't easy.
But soon enough, we were back at the green trail. We both huddled up in the shade of the sign at the crossroads and drank as much water as we could while we caught our breath.
High Fives All Around
We made a right on the green trail and headed back on flat ground to the trailhead. There was nothing fun about this part of the walk – but we were feeling pretty good about all of the hard work and beautiful sights of the morning. So slowly (or not so slowly) and steadily we made our way back to our car.
Nahal Dragot turned out to be a lot more than we bargained for. It took us the whole rest of the day to actually cool ourselves down. But every step of the challenge was completely worth it.
It's nice to know that there are really formidable hikes in Israel. Hikes that take you to otherworldly places, the stuff of fairy tales.
Next time we'll hike the long version of Nahal Dragot. But we'll wait until a cold day in the winter for that.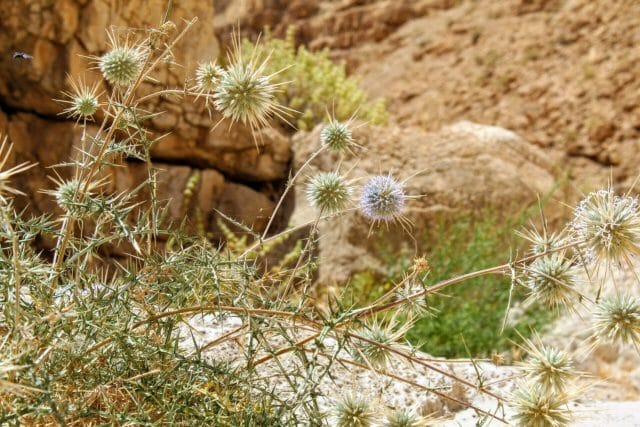 Hiker's Notes:
This was one of the most fulfilling hikes we have been on in Israel. It was really challenging. And although the scenery is not the same as some of the beautiful forested areas in Israel, it is incredibly unique and worth experiencing.
That said, this hike is only for people in great physical condition. I'm sure it would be much easier on a cool day, but there is still climbing, jumping, and holding on required. There are also narrow cliffsides with big drops. So if you are afraid of heights, this is not the hike for you.
Whenever you go (I recommend a cooler day!), bring lots of water, a hat, sunscreen, and sunglasses. Make sure to wear good shoes – your feet will hurt at the end of the day no matter what. And please make sure to drink the whole way through!
Even though it doesn't seem like such a great distance for a hike, the climbing and the terrain make it difficult. Try this hike if you love a good challenge.
Although its a National Park, there are no facilities, and there's no fee to get in. Not a good hike for dogs.
Re: directions on this hike. Use the trail map. Take the green path straight for about 3 kilometers. Then turn left on the red trail. Always look for and follow the trail markers. When you hit the crossroads (there's a big sign), take a left onto the black trail. If you want to explore Bar Kochba's cave, take a detour on the clear trail (marked white, clear, white) up to see the cave. Then return the way you came and continue on the black. When you reach the green again, make a right to return to your car.
Trail map from Amud Anan.
Don't forget to read my guide to the navigational features in this post before you go!
Questions? Have you hiked Nahal Dragot? Do you have tips for fellow hikers? Leave them in the comments below!
Hiking can be dangerous and is done entirely at your own risk. Information is provided free of charge; it is each hiker's responsibility to check it and navigate using a map and compass.