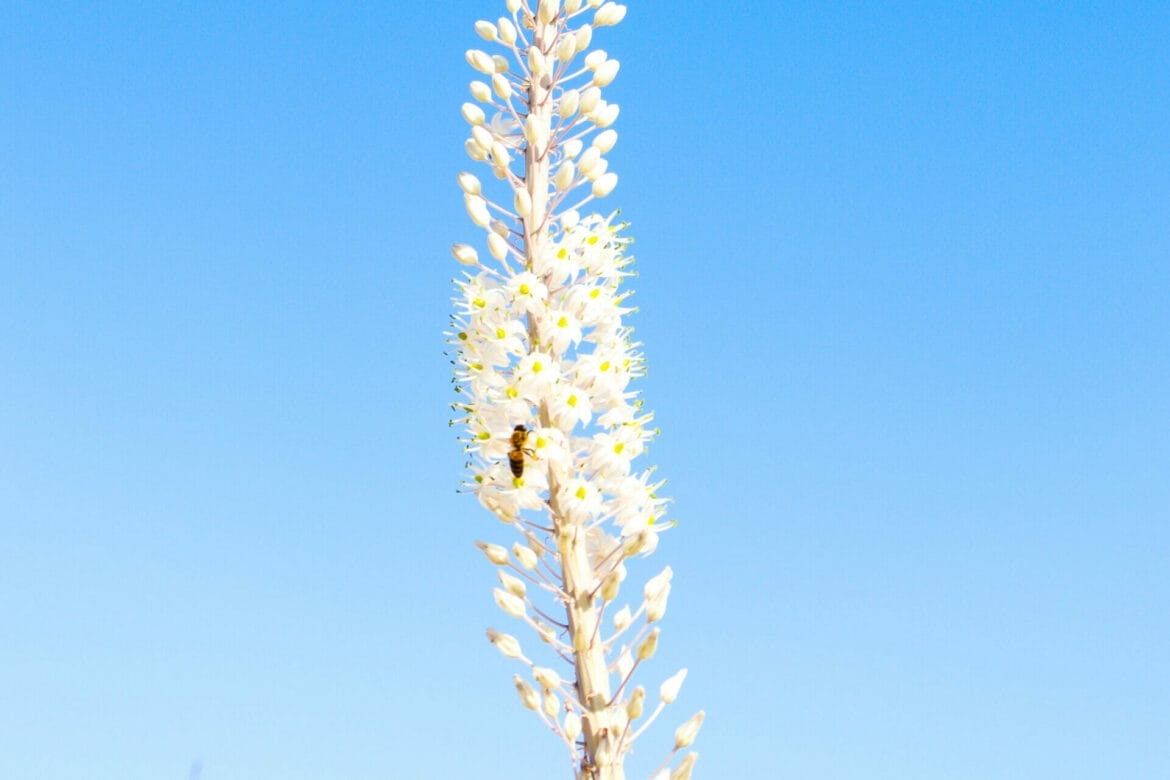 Click here to go straight to hike notes.
The fall season is a tricky time to hike in Israel.
Although the weather is beginning to cool down, late season heat waves make an appearance. This makes hiking during this season a hit or miss affair, all the more so because Israel's terrain is dry and less than lovely after a long stretch without rain. For this reason, fall hikes must be chosen and planned with care.
This past week, I was set on scoping out some signs of fall. At this season in Israel, squill flowers begin to blossom in abundance. All too often, we miss the sight of these tall, white flowers because we avoid hot, open trails (where they tend to sprout). This time around, we weren't going to miss them.
So on Thursday afternoon, my husband (G-d bless that guy!) suggested a fun trail at Gibton Springs National Park. This tiny National Park had a lot of points in its favor. First of all, there was no way to park right inside. Rather, one had to park a kilometer or so away, and then walk along an open, exposed trail. That meant that the place would most likely be empty, at least at this time of year.
Not only that, but there was a tel (a mound made of ancient cities) in the park. There, squill flowers were said to blossom plentifully in September. And last but not least, there was a pond in the park where birds gathered, especially during migration season.
This turned out to be the perfect fall hike. And although we hiked it during a heat wave, we still had an amazing time. The trail was quiet, pretty, and very relaxing.
Here's how we hiked this 4 kilometer trail at Gibton Springs National Park:
It's an Early Morning Thing
Although we were willing to hike in a heat wave, we wanted to get onto the trail early in the day, before the temperatures really rose. So we made plans to set out early and arrive to the trailhead by 7 AM.
Even at that time of day, it wasn't cool. Donned in hats and sunglasses, and with plenty of water, we pulled into the parking lot, and easily found our way onto the trail.
At the end of summer, the first part of the trail was pretty unexciting, just as we had expected. We crossed under a graffiti covered bridge, towards a little hangout area that looked like it may be surrounded by water during the winter months. Then, we proceeded down a long dusty trail lined with tall golden grasses and light colored flowers.
Although there wasn't much to see on this trail, we enjoyed covering ground at a fast pace early in the morning. We saw birds perched on some of the tall reeds. Two trains zipped through the countryside on the tracks right nearby. It was a picturesque late summer scene.
At the Park
After a little while, a thick looking forest in the distance came into view. This, we knew, was Gibton Springs National Park itself, with its pond and birding lookout.
Soon, we reached the entrance to the park. Rather than walk right into the forest, we decided to continue along the straight path towards Tel Malut in the distance. We followed the path up to the top of the Tel.
And to our great pleasure, we were greeted by chatzavim (squill flowers), lots of them. It was still early in the season, so most of them were sporting tightly closed buds. Some were even still low to the ground, not yet developed to full height. Bees buzzed merrily around the blossoms. In a few weeks time, this area would be covered with white squill.
Tel Malut
Tel Malut has been identified as the ancient town of Gibton, mentioned in the book of Joshua. This town, which is in the territory of Dan, was the site of many battles and was alternately held by Philistines and Israelites.
Although the site has not been thoroughly excavated, a treasure trove of almost 30,000 coins from the Byzantine era was discovered here, the largest in Israel.
Nowadays, the tel serves as a beautiful lookout to Maayanot Gibton, a pond which sustains many types of animal and plant species.
On to the Pond
After taking in the sights from the top of Tel Malut, we continued along towards Ma'ayanot Gibton. There, a fun walkway led us through tall reeds and trailing vines. It was clear from the elevated pathway that during the rainy season, this area was a lot wetter.
At the end of the walkway, a twisty staircase led up to a lookout platform. We climbed to the top and gazed down at the lake below.
We had been hoping to see lots of birds here, but we were too late. Although some of Israel's best bird photographers frequent this site, there wasn't much to see here during the late morning on this hot day. We enjoyed the site of the pond, and vowed to return at sunrise or sunset.
The Eucalyptus Forest
From here, we followed the path into a gorgeous forest. I think it was the prettiest eucalyptus forest we've ever seen.
Tall trees towered into the sky, providing complete shade to the flat earth beneath. Little paths ran through the trees, inviting us to follow them off the main trail. We broke into the forest.
Soon, we stumbled upon a little campsite that someone had created, with a natural shelter, a pull up bar, and a fire pit. This was most definitely our breakfast spot. We pulled out our thermos of iced coffee and blueberry oat muffins.
It was incredibly relaxing there. We were amused to find that even a simple hike like this could give us such pleasure and boast such a beautiful picnic spot. It was clean, shady, and peaceful.
When we were finished with our picnic, we took turns trying out the pull up bar before heading back onto the main trail.
Back We Go
Back on the hot, sunny trail, we considered our day. Our trip to Gibton Springs National Park had been a major success. It had checked all the boxes for a perfect fall hike – squill flowers, a place to see birds, and a shady spot to sit on those hotter days. In a few weeks time, on a slightly cooler day, I hoped to return with the kids.
This trail at Gibton Springs is a great choice for a chilled out autumn adventure.
Hikers' Notes:
Here's what you need to know to hike this trail at Gibton Springs National Park:
This trail is not long or hard, so it's really suitable for all seasons. The stretch at the beginning is exposed to the sun.
No dogs allowed (so as not to disturb the birds and animals at the park).
Great for kids.
This place is a real find, and is very quiet. That said, it is not far from the main road, so you will hear traffic noise in some parts of the park.
Wear good walking shoes, a hat, and sun protection to hike this trail. Bring plenty of water. There are no facilities in the park.
To hike this trail, use the trail marker gallery and trail map in the table at the top of the page. Follow the blue trail out to the tel, then continue on the blue trail to loop through the park and back to the entrance. Then follow the same path back the way you came.
Don't forget to read my guide to the navigational features in this post before you hit the trail!
Trail map from Amud Anan.
Questions? Have you hiked this trail at Gibton Springs? Let's hear about it in the comments!
Hiking can be dangerous and is done entirely at your own risk. Information is provided free of charge; it is each hiker's responsibility to check it and navigate using a map and compass.