Click here to go straight to hike notes.
And we're back… at Adulam Nature Reserve, one of my favorite parks in the Jerusalem area.
What makes Adulam so great? First of all, it's big. We've been hiking through Adulam for many years and we still haven't covered all of the trails in the reserve. Second, it's quiet. Adulam is one of the few places in the Jerusalem area where you can really escape into nature, into a world where all you see are hills and wildflowers. And it's not too hard to get away from the crowds.
And what's the very best thing about Adulam? It's an incredible place, filled with rich history and natural beauty! Every time we visit, we are awestruck all over again by the new things we discover. There are underground caves and dwelling places, winding tunnels from the time of the Bar Kochva revolt, and ancient cities. You can spend a day at Adulam hiking through a forest or through fields of flowers. But one thing is certain – you will always encounter some piece of ancient history while out on the trail at Adulam. This nature reserve is amazing.
So this past Friday morning, when we were looking for a low key hike nearby, we chose a trail in Adulam, one that we've been wanting to get to for a while. The out and back trail began at the parking lot for Burgin Ruins (a cool ancient town, worth visiting all on its own), and snaked over the flower filled hills towards a place called Hurvat Yonim.
We had already seen many, many Hurvot, or areas of ancient ruins, in Adulam. But we had never seen Hurvat Yonim. So, we figured that this would be a great way to spend a beautiful morning in nature, discovering new things. At 3.5 kilometers each way, we wouldn't even have to work too hard to enjoy the incredible natural beauty and history at Adulam. We packed up our bags and set out for a day's adventure.
Here's how we hiked this new trail to Hurvat Yonim in Adulam Reserve:
The Drive
I don't usually start the description of a hike with the drive. But I feel that with this hike, it was part of the adventure.
Burgin Ruins is deep within Adulam. Most people will have to drive quite a distance through the park to get there. At least fifteen minutes of our total drive was on a winding road through beautiful Adulam Reserve.
Early spring is the absolute best time of year in Adulam. Wheat fields grow tall, along with fields of colorful flowers. Rolling hills all around complete the scene. That morning, the views were spectacular, especially in the early morning light.
Usually, I'm kind of eager to get where we're going. But this time around, I sat back and enjoyed the views through the window, as we went on a "driving hike" through the magnificent terrain of Adulam Reserve.
I wasn't impatient at all.
Guess it's Time to Hike
Eventually, we reached our destination: Burgin Ruins. We hopped out of the car, strapped on our backpacks, and set out on the green trail.
Of course, before we even got started walking, we had to stop. A cute little dog wanted to say hello to our border collie. And wouldn't you know it? The dog was wearing four adorable little sneakers. We struck up a conversation with the dog's owner (a runner), who told us that his pup's feet couldn't take the long distances on hot asphalt in the summer. Makes sense. But it was also one of the cutest things I've ever seen.
Eventually, we pulled ourselves away and set out into nature.
Flowers, Flowers Everywhere
There's one thing that always stays the same on every visit to Adulam in the springtime: there are flowers. Lots of them.
We walked along a quiet path past blossoming mustard and little chamomile flowers. Green rolling hills spread out all around, topped by ancient structures. This place was certainly picturesque.
Before we had a chance to get too deep into the trail, we passed by a beautiful tree, surrounded by wildflowers of every color and type. Underneath the tree, large rocks created an inviting place to sit in the shade while gazing out to the gorgeous views all around. This was going to be our coffee spot.
But first, we had an underground cave to explore. We passed by our picnic place and sought out a spot we saw on the map.
Underground Secrets
The crazy thing about Adulam is that there are so many hidden places underground. Some are well marked, with railings, signs, and all. And others require the seeker to scout out a random hole in the ground, just past a tree or another ancient structure.
We followed the map, past a crumbling structure, our eyes peeled for an opening in the ground. And then we found it – a large crevice full of overgrown greenery, including lots of stinging nettle. It seemed like there was no way to approach, but then we saw a little staircase covered in overgrowth.
Down we climbed, into an underground structure, complete with arched walls, doorways, and windows. It was absolutely beautiful.
Let's Not Forget About Coffee
After exploring underground, we made our way back to our picnic spot. Surrounded by miniature wildflowers and flitting butterflies, this place was just as dreamy as we had thought it would be. We poured our coffee, and settled in. This was going to be a slower-paced hike than usual.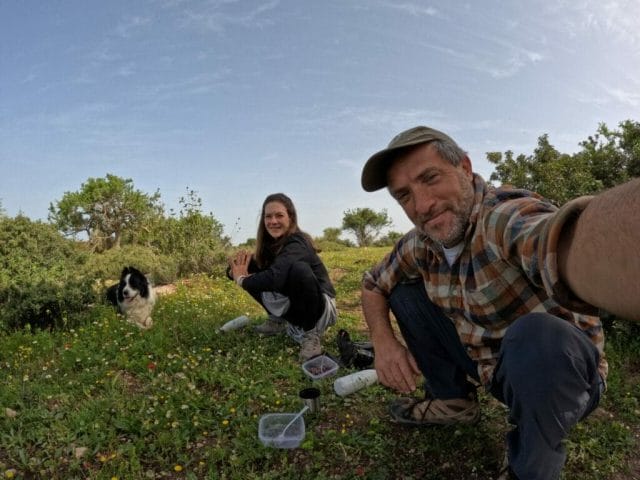 Eventually, we pulled ourselves away and continued along the trail.
The Main Event
With all the spring vibes in the air, it was easy to forget why we were really here: to explore Hurvat Yonim, a new area of underground ruins that we had never been to before. As we walked along the flower filled trail, we passed by many burial caves, most of which we had already entered on previous visits to Adulam. We popped into one cave from Byzantine times, then another from the time of the Second Temple Period.
But mostly, we just enjoyed the scenery as we approached Hurvat Yonim. After hiking for a while along the narrow trail, we reached Hurvat Yonim and a world of underground exploration.
Let's Be Real
Want to know the truth? I wasn't really in the mood to climb through tunnels that day. So we just peeked into several hidden caves, discovering the intricate columbarium that gave Hurvat Yonim (Dove Ruins) its name.
Then, I laid down in a patch of wildflowers under a tree and closed my eyes while my husband flew his drone all around the hill. Birds chirped and the sound of the drone blended into the buzzing bees in the tree. A gentle breeze blew through the flowers. I was in heaven. And so was my husband, who was free to fly his drone for as long as he pleased without me pestering him to move along.
All in a Day's Adventure
Eventually, the drone landed and I emerged from my half-sleep. We picked ourselves up and headed back the way we came, enjoying every step through the beautiful terrain of Adulam.
Our hike to Hurvat Yonim that day wasn't a long or physically challenging adventure. Instead, it was an easy way to enjoy the uniquely beautiful, fascinating, and wild scenery of Adulam Grove Nature Reserve.
Hikers' Notes:
Here's what you need to know to hike this out and back trail to Hurvat Yonim:
This is an out and back trail.
This trail is best suited to cooler days in the fall, winter, and spring.
Suitable for dogs.
Wear good walking shoes and bring along sun protection, water, and a headlamp to hike this trail.
To hike the trail: Follow green trail markers from Hurvat Burgin out to Hurvat Yonim. Hurvat Yonim is at the top of a small unmarked trail that is difficult to locate (off of the green trail). Use the Google Earth file to find your way there. When you are finished exploring, head back the way you came.
Don't forget to read my guide to the navigational features in this post before you hit the trail!
Trail map from Amud Anan.
Questions? Have you hiked this trail at Adulam Reserve to Hurvat Yonim? Let's hear about it in the comments!
Hiking can be dangerous and is done entirely at your own risk. Information is provided free of charge; it is each hiker's responsibility to check it and navigate using a map and compass.