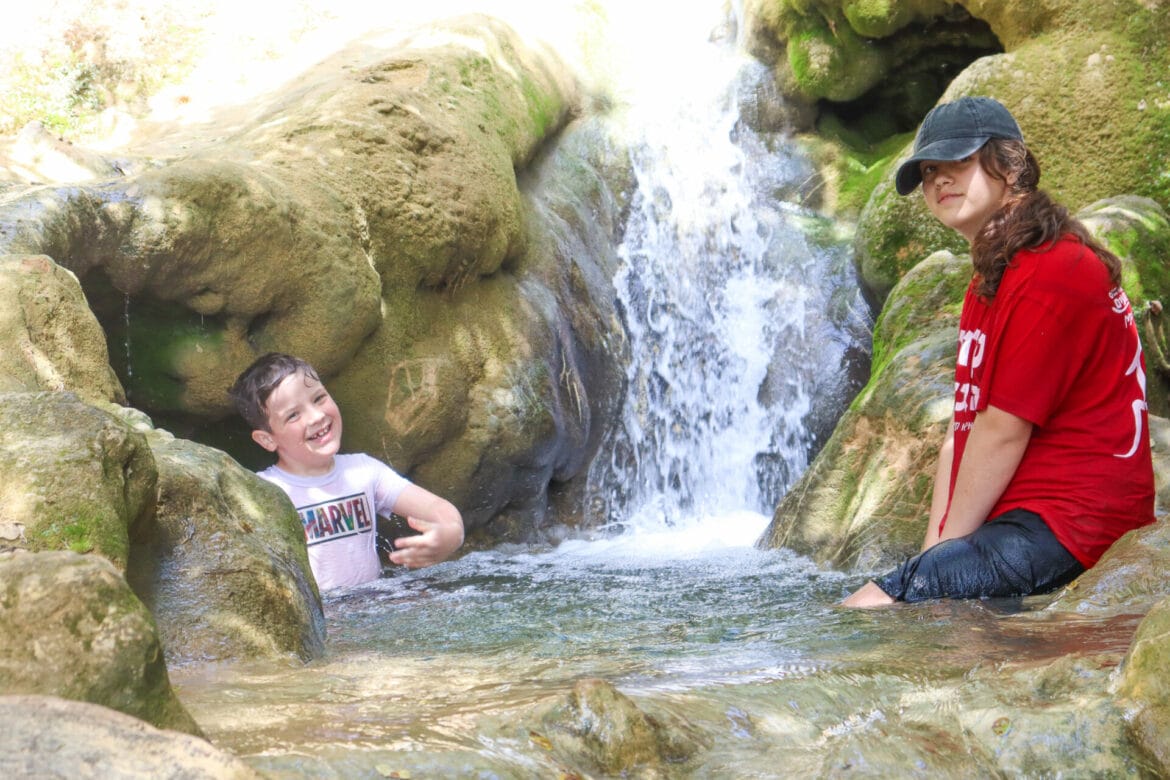 Click here to go straight to hiker's notes.
In Israel, there are many natural wonders that can only be enjoyed for a fleeting moment. Farood Falls in the Galilee is just such a place. This incredible waterfall only flows in the wintertime, it's forceful rush of water drying up by the end of the spring.
On a recent trip up North, we decided to try to catch this natural wonder in action before it was too late. Farood Falls was going to be the first stop on our trip, a refreshing break after a long drive. Since the trail at Farood is only about a kilometer each way, we thought it would be a quick activity before getting to our main hike of the day.
But Farood Falls isn't just a quick stop on the way to somewhere else.  This waterfall paradise was simply spectacular.  Along the trail, a freshwater rush pours down a rocky incline, creating cool pools and miniature waterfalls.  The hike at Farood is less of a hike to a waterfall and more of a hike in a waterfall.
We were all taken in with the spectacular beauty of the place. And on a hot day (which it was), Farood is the perfect place for a refreshingly cool water hike.
The season for Farood Falls isn't long, but it's worth it to drive a couple of hours just to experience this trail on an early spring day.

Here's how we hiked this out and back trail at Farood Falls in the Galilee:
Ready for an Adventure
Driving along the highway, Farood was hard to miss. There were lots of cars parked just off of the highway at the trailhead, hidden in the trees. We were a little concerned when we saw the full parking lot. But as is so often the case, most of the visitors seemed to be gathered around the picnic area at the trailhead, barbecuing and enjoying the day.
We decked ourselves out in water shoes and headed straight towards the stream.  A miniature river flowed right through the picnic area.  And my boys wasted no time in getting into the water. 
This was our first water hike of the season: the kids were splashing one another and sopping wet within moments.
As nice as this spot was right by the trailhead, we coaxed our boys away to continue along the trail. Up we climbed, in the shade alongside a rushing stream.
Choose Wetness
There are ways to stay (mostly) out of the water on the trail up Farood Falls. But we didn't choose those paths.
Instead, we plowed straight through the falls, following the trail up the grey rocks in pursuit of the next incredible waterfall.  And we found many.  There were little pools of crystal cool water, perfect for swimming in (if you're 6 years old).  And there were powerful streams of whitewater rush, perfect for putting your head under (at any age).  As we hiked up, we seemed to find every place to stop.
While my kids played, I sat on a rock in the falls and enjoyed the incredible beauty all around. Tall trees arched over, providing the perfect combination of sun and shade. The rocks themselves were covered with cyclamen and thick moss, growing in the moisture of a waterfall spray. In between the trees, more flowers grew, like late blossoming anemones and mustard. This place was a spring paradise.
It was hard to believe that in just a few weeks, Farood Falls would be completely dry.  But I knew this to be true.  In fact, arriving on that hot day in early April, we weren't sure whether there would still be water there.
Keep Up the Climb
We could have stopped at any point along the way to turn around. But we wanted to get to the very top of the falls. Maybe there was something interesting up there!
So, we climbed and climbed, navigating our way over tricky rock inclines and fallen tree trunks, through the rush of water, all the way to the top.  At some point, we left our kids playing in a particularly appealing pool so that my husband and I could complete the tricky ascent on our own.
When we got to the top, we were surprised. There was no massive waterfall or anything that seemed like it would cause such an incredible rush of water. Instead, there was a small stream veering off into the distance, through uninteresting looking flatland.
The combination of layered rocks, water, and plentiful shade is what makes Farood Falls spectacular. We were lucky that were able to experience it in all of it glory.
Choose Dryness
After that, we reclaimed our children and allowed them to spend lots of time playing in the various pools at Farood. Then, when everyone was thoroughly soaked and absolutely freezing, we decided it was time to head back down.
This time, we took the previously rejected dry path through the trees.  In the shade, there were a few couples picnicking, enjoying a quiet outing near the rushing water.  It really was lovely.
After following the dry path down for a while, we crossed some rocks over the falls and continued down on the opposite side. A while later, we were back at the trailhead. Here, children played, and the smell of hamburgers and hot dogs filled the air. It was kind of hard to believe that so many people arrived at this gorgeous place and stuck to the trailhead.
Just a bit off the beaten path, a world of wild, wet, beauty awaits along the trail at Farood Falls.  This winter and springtime only wonder is fleeting, but oh so spectacular.  It's worth a long drive to the Galilee to experience the incredible sight of Farood Falls, rushing and gushing from the winter rains.
Hikers' Notes:
Here's what you need to know to hike this trail at Farood Falls:
This trail is a good choice for winter and early spring. It's hard to believe, but there is no water here in late spring, summer, and fall.
Great for families and kids.
Dogs are allowed.
This is a free entry site. There are no bathrooms at the trailhead, but there is a nice picnic area and water point.
On a cool day, come here to hike along the dry trail and enjoy the waterfall. On a hot day, wear water shoes and head straight into the water.
To hike this trail, simply follow the blue trail markers as far up as you would like. Turn around and go back the way you came when you're done.
Make a day of it: We hiked this trail on the same day that we hiked Nahal Aviv to Nahal Dishon, another perfect for spring trail in the Galilee.
Don't forget to read my guide to the navigational features in this post before you hit the trail!
Trail map from Amud Anan.
Questions? Have you hiked this trail at Farood Falls? Let's hear about it in the comments!
Hiking can be dangerous and is done entirely at your own risk. Information is provided free of charge; it is each hiker's responsibility to check it and navigate using a map and compass.