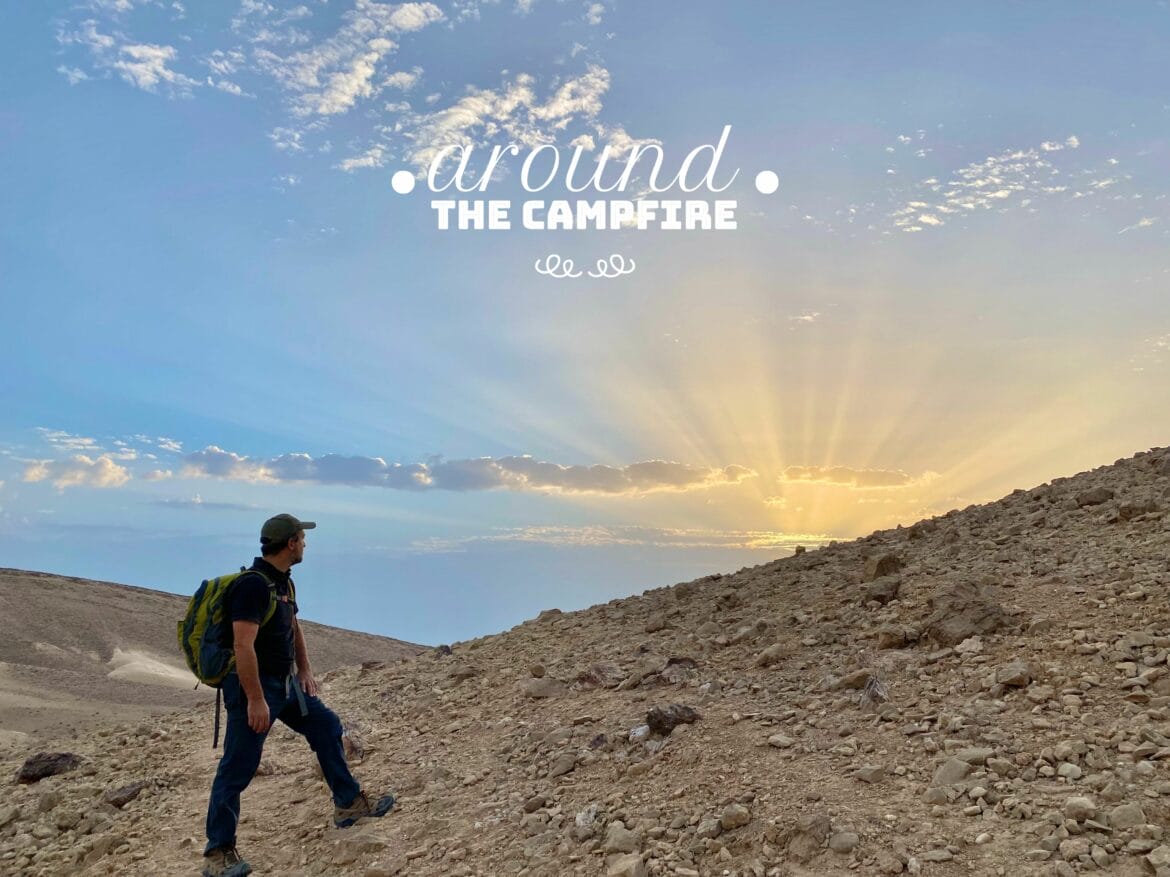 Serendipity. Karma. Providence. Whatever you call it, it's a wonderful thing.
By nature, I'm a systems girl. I tend to believe in my heart that logical action A produces logical consequence B.. and so on and so forth. But life proves me wrong again and again.
Last week, on a cool, autumn-like Wednesday morning, we met our friend and hiking guide Ben. The previous week, we had to cancel our planned meeting due to an unforeseen circumstance.  But we were here now. Together, we mapped out our winter group hikes.  And while we sat there talking on a mountain top in Tzora Forest, I started jotting down some new trails I wanted to try.
As it just so happened, my husband and I were planning to go hiking the very next morning.  Usually, Friday is the day, but that week we had another obligation.  So later that night, we set our alarm for 5:00 AM and planned a hike near Arad, perfect for the cool fall weather.

But guess what happened?  We both woke up at 4:00 AM instead.  And rather than toss and turn in bed, we decided to get up early and drive far away to try one of the Negev trails that Ben had mentioned the day before: Har Tzrur and Nahal Tzrur near Sde Boker.

When we arrived, the sun was just coming over the horizon.  A spattering of thick, grey clouds filled the sky.  As we climbed up the mountain, it was chilly and dramatic.  The early morning light made the whole scene absolutely spectacular.  The view was incredible.

And I thought it was funny how many twists and turns had to happen to bring us to that perfect dawn.  If it weren't for the delayed meeting, the weather, brainstorming with Ben, a rescheduled hike, and an unexpected wakeup, we never would have experienced those magical moments at Har Tzrur.  I never would have seen that particular sunrise and those spattered grey clouds over a flat topped mountain.  Yes, we would have gone on another hike.  But it wouldn't have been the same.
Go-with-the-flow types already know all about the magical quality of serendipity. To some, life is a great ocean with many waves to ride. At every turn of events, they see valuable opportunity. But to Type A people like me, surprises can feel like an obstacle, a challenge to our systematic ways.
Serendipity is a gift to all those who allow it to guide their actions.  We can discover avenues towards new opportunities when we recognize the power of providence in our lives.