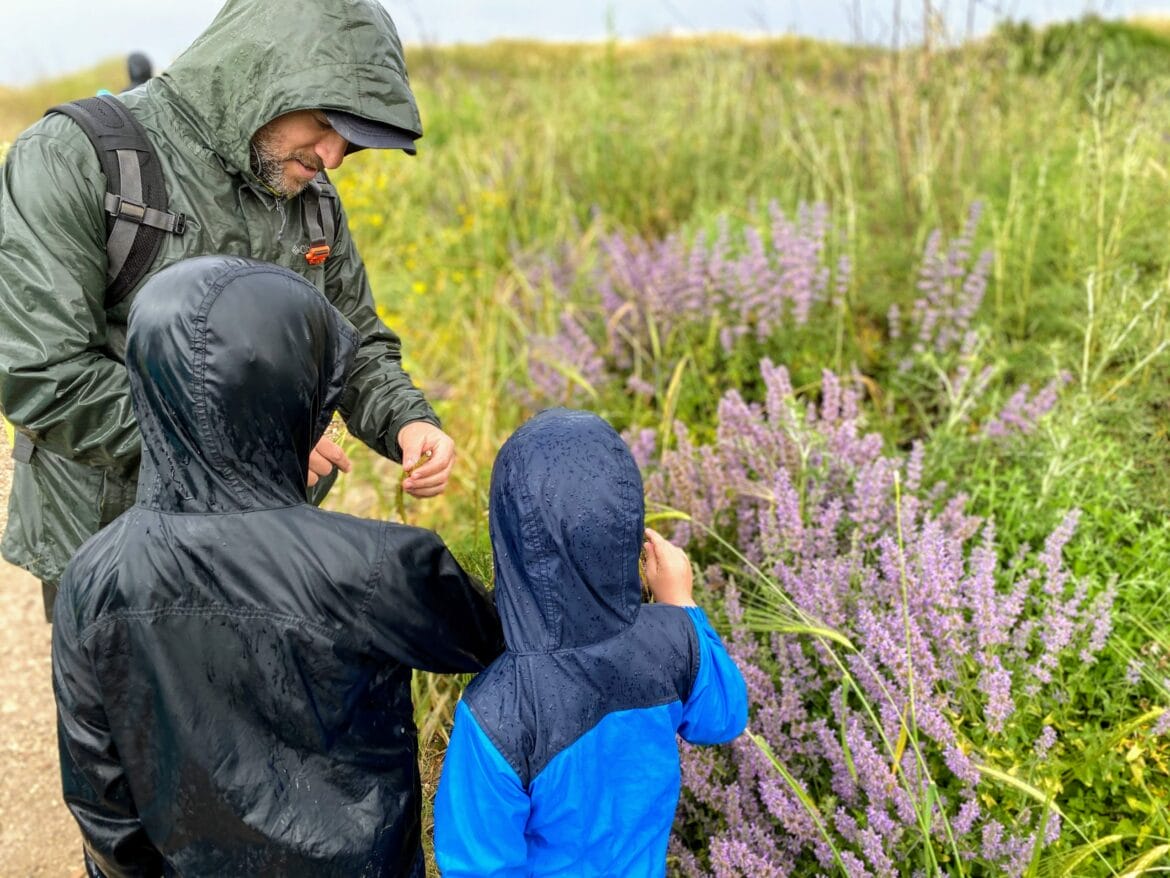 Israel is a land of great natural beauty. Between its temperate climate and vast network of hiking trails, our Land is a hiker's paradise. But if you didn't grow up here, you may need to learn some basics before you begin hiking in this new environment. This series will take you through the essential knowledge you need to start hiking in Israel.
Part One of the Hiking Basics guide covered the different types of parks and natural spaces in Israel. In Part Two, I'll explain the different hiking seasons in Israel and what you can expect at each time of the year:
What are the Different Hiking Seasons in Israel?
Most places have four distinct seasons: winter, spring, summer, and fall. Israel has these, too. Plants and flowers come and go with each passing month, along with migrating birds, and seasonal herbs and fruits. Wind patterns and temperatures change with the four seasons. But as far as hikers are concerned, Israel's weather patterns can be divided into two distinct times of year: the dry season and the rainy season.
The rainy season begins in November and continues through April. Usually, most of the rain falls in January, February, and March. Many people would think that the rainy season would be a good time to stay indoors and cuddle up on the couch. But in Israel, the opposite is true – the rainy season is the most beautiful time of year and the best time to get outdoors.
The dry season begins in May and continues through October. While conditions do change over the course of these months (and there may be rain in May and October), hiking concerns remain mostly the same throughout this time period.
The Rainy Season
Anyone from Europe or North American would probably imagine that November and December aren't the ideal months to plan a hiking trip. In many places, winter is a time for snow, sleet, and other obstacles to hiking. In the United States, some National Parks even close down (at least partially) in the wintertime.
But in Israel, temperatures during the fall and winter months are notoriously mild. Yes, it does rain. But the rainfall arrives just in time give much-needed moisture to the land and turn the terrain green and glorious. During the rainy season, flowers begin to blossom in abundance. By the end of March, most parks and nature reserves are full of colorful wildflower displays that turn every hike into a beautiful adventure.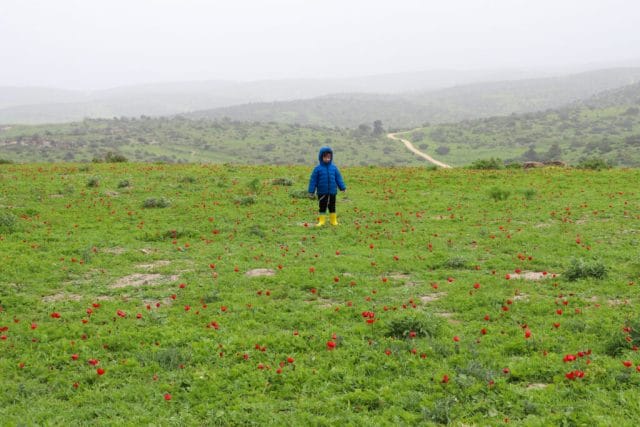 As the rainy season progresses, seasonal rivers begin to flow again. By December or January, spring pools fill up, and some seasonal waterfalls appear as if out of nowhere.
Aside from all of the beauty, it is just much more pleasant to go hiking during the rainy season. The temperatures are cool (and very rarely- cold!), making it a pleasure to hike and climb outdoors. Even when rain does appear, it's often in the form of a light drizzle. As long as you're prepared with hiking boots and a light rain jacket, you can enjoy the outdoors for the majority of the season.
The Downside of Rainy Season
There are some drawbacks to rainy season hiking, though. During this time of year, you'll have to keep an eye on the weather reports. In the desert, just the threat of rain can result in a flash flood warning. You'll have to steer clear of desert trails on days when these warnings are in effect. These floods that come out of nowhere can be dangerous and even life threatening.
The rain can also make some mountain trails treacherous and slippery. Be sure to check for closures before attempting any mountain hikes during rainy season.
Beach hikes, forest hikes, and lowland trails are all great choices for this time of year. Unless the forecast predicts heavy rain, you should have no issues on most of the country's trails.
The Dry Season
The dry season in Israel typically begins sometime in May and lasts through October. That isn't to say that it won't occasionally rain in late May. But for the most part, you have to worry less about rain during these months of the year.
During the dry season, you'll get to enjoy the refreshing coolness of Israel's streams, springs, and waterfalls. On cooler days at the beginning and end of the season, you can hike on hills and through caves and forests (without worrying about mud or rain). During the dry season, the days are long: it's the perfect time of year for a long, multi-day hike.
Israel's dry season is also a great time for camping. It's nice to know that you can plan an overnight trip outdoors during the summer months without having to worry about getting rained out.
And the Downside of the Dry Season
Unfortunately, once the rain stops falling in the springtime the land begins to dry out. Over time, the outdoors begins to look parched and dusty. Even the most beautiful parts of Israel start to seem a little tired and worn out once October rolls around.
As soon as the temperatures start to rise in April and May, many of the country's hiking trails become unpleasantly hot. You won't want to plan a desert hiking trip from May through October.
During these months, stick to mountainous regions and water hikes where you can stay cool. Seek out shadier trails, and hike early in the morning and late in the afternoon as much as possible. (This is also a great way to avoid the summer crowds!)
The dry season comes along with its own set of hiking dangers, as well. Invariably, some of Israel's many streams become contaminated and unsuitable for swimming during the long, dry summer. If you're planning a water hike at one of the country's streams, make sure to check the Parks website for closures before you go.
The Best of Every Season
While each season comes along with its own set of challenges here in Israel, they also both offer their own special hiking opportunities. Stick to trails that are well-suited to the season, and you'll be able to maximize your enjoyment of Israel's beautiful and diverse terrain.
You can learn more about seasonal hiking and find the best hiking trails for every month of the year in my eBook: Hiking Israel All Year Long.
I hope this short guide to Israel's different hiking seasons helps you understand how to choose the right hiking trail for each time of year.  Stay tuned for Part Three of our Hiking Basics Series, which will cover the many magnificent types of terrain around Israel, from the Golan Heights to the Southern Negev!